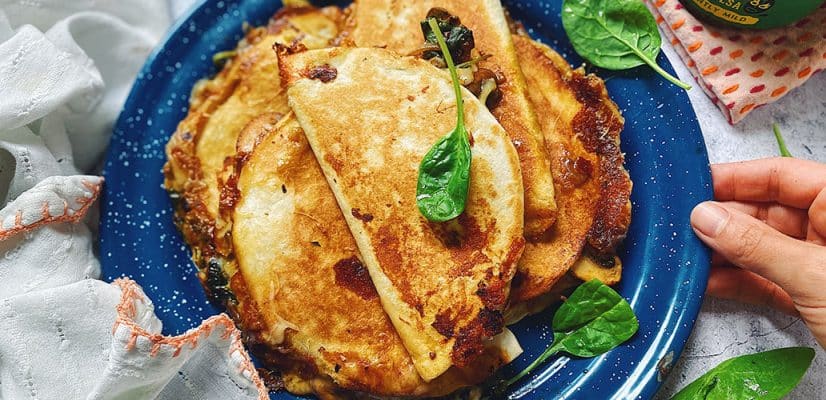 Mushroom Quesadilla
This Mushroom Quesadilla is perfect for a quick lunch, lazy dinner, snack, or any time of the day really. It's so easy to prepare that we know you'll find this mushroom quesadilla recipe very handy in your home.
The key for this mushroom quesadilla is to make sure to pack the mushrooms with plenty of flavour. Fry them with olive oil, a bit of butter and our bestseller and pantry favourite Gran Luchito Chipotle Paste. Add a little splash of vinegar, baby spinach, a pinch of salt and pepper and your filling is ready.
All that's left to do is to add grated cheese and a generous spoonful of the chipotle mushroom mixture. Fold your tortillas in half and warm them up over a hot pan. Let the cheese melt, and for them to get all toasty. Make sure both sides of the quesadilla are golden brown and serve them with a good amount of Gran Luchito Tomatillo Salsa.
For further quesadilla recipe inspiration check out our Pulled Pork Quesadilla and our Fajita Quesadilla!
Prep time

10 mins

Cook time

20 mins

Total time

30 mins

Ideal for

Lunch

Make it

Mexican

Serves

4
How to make it
Heat up a frying pan over medium heat with the olive oil and butter. Once it's hot enough add in the shallots and fry gently. Add the mushrooms, the

Chipotle Paste

and stir. Cook them over a high heat for a minute or two.

Once the mushrooms get a bit softer add a splash of vinegar, the baby spinach and let it wilt with the mushrooms. Simply season with a pinch of salt and pepper, and set aside.

Get your

Soft Taco Wraps

, the grated cheese and the mushroom mixture. Add grated cheese into each

wrap

, then top with a spoonful of mushrooms and finish with a bit more grated cheese on top. Fold them in half and repeat the same process with the rest of the filling and cheese.

Heat up a nonstick frying pan, and when it's nice and warm place two quesadillas at a time into it. Let the bottom get toasty and golden brown, then flip to get the other side cooked and the cheese melted.

Serve your quesadillas warm with a spoonful of Tomatillo Salsa. Enjoy!
What to serve with Mushroom Quesadillas?
Here are our recommendations of the best side dishes to serve with this Mushroom Quesadilla:
More about Quesadillas
There's lots more to discover about these cheesy delights!
Our How To Make Quesadillas blog will help you to master everything you need to know about making delicious Quesadillas at home.
Our Quesadilla Recipes is our collection of tried and tested Quesadilla recipes with more flavours, protein and veggie options.
Download Our Free Guide To Quesadillas
Your free guide will be emailed to you immediately.
Similar Recipes You Might Like to Try
FAQs
How many calories in a mushroom quesadilla?
What type of mushrooms are best to use for a mushroom quesadilla?
We have used chestnut mushrooms, but you can use any (shiitake, oyster, closed cup, portobello, button)
Can I use other types of cheese for this quesadilla?
We have used grated mozzarella and cheddar, but you could also use Oaxaca cheese, asadero cheese, manchego cheese, or Chihuahua cheese (all very authentic). If you want a good quesadilla you have to use a good quality cheese.
Please let us know what you think of this recipe