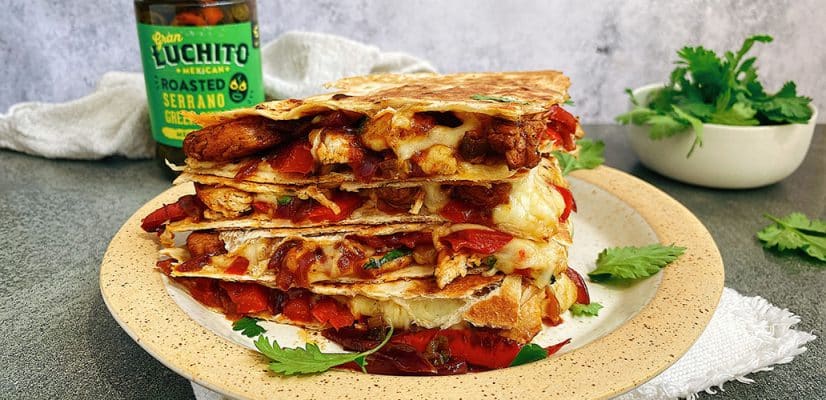 Fajita Quesadilla
Do you love fajitas? Do you also love cheese? If you answered 'yes and yes' (we did!), then let us introduce you to the Fajita Quesadilla which takes the yumminess of sizzling fajitas and combines it with a cheesy, toasty quesadilla!
Quesadillas, if you aren't already familiar, are like the sandwich of the Mexican food world. A tortilla is filled with grated cheese and other fillings and then toasted in a hot pan. They are so convenient and easy to prepare, you can add any kind of filling you want and they can be adapted effortlessly for vegetarians as well as for meat-eaters.
For this fajita quesadilla recipe, we start with the best fajita marinade made with our Gran Luchito Chipotle Paste, a bit of lime, and coriander to marinate the chicken. Once sizzled, the chicken fajitas are placed over two Burrito Wraps with a good amount of grated mozzarella. They are then left to toast over a hot pan until golden and crispy on the outside and with gooey cheese on the inside. You could also use steak or go meatless in this recipe – we like to add mushrooms when we do. We find this fajita quesadilla recipe is especially nice when served with a cold beer on the side on a hot summer's day!
We hope that this easy chicken fajita quesadilla recipe will bring some inspiration for the next time you find yourself craving a tasty quesadilla! 
Prep time

Cook time

Total time

Ideal for

Lunch

Make it

Mexican

Serves

2
Nutrition: Per serving
kcal 118
fat 3.1g
saturates 0.6g
carbs 8.5g
sugars 1.8g
fibre 1g
protein 12.3g
salt 0.98g
How to make it
Begin by preparing your quick chicken fajitas. In a pan, heat up the olive oil and add the chicken strips in as well as the Gran Luchito Chipotle Paste. Fry the chicken with the paste over high heat for 6 to 7 minutes, and once cooked remove them from the pan and place in a bowl while you fry your vegetables.
Now add the peppers and red onion into the same pan and fry for a couple of minutes.
Add the cooked chicken back into the pan with the peppers and red onion. Add in the spring onions, tamari sauce, lime juice, a pinch of salt and freshly ground black pepper. Stir and taste, and adjust any seasoning if necessary. Cook for a couple of minutes and finish your fajitas with the fresh coriander scattered on top, then set aside.
Place one of the Gran Luchito Burrito Wraps over your kitchen counter or a chopping board, and add a good amount of cheese on top. Then add a good amount of the chicken fajitas, and finish it with a bit more cheese. Top it with another Burrito Wrap and it'll be ready to cook.
Prepare a non-stick large pan and once it's hot enough, place your quesadilla in the pan. Once the cheese begins to melt inside, and the bottom of your tortilla looks golden and toasty, that's when it's time to flip it with a spatula. Following that, then simply finish cooking the other side.
Remove your quesadilla from the pan and cut it into quarters with a sharp knife. Serve while it's still warm and delicious, adding a few Gran Luchito Fire Roasted Serranos for extra added heat!
What To Serve With Quesadillas
If you are wondering what to serve with this fajita quesadilla recipe, why not go for some:
More About Quesadillas
Our How To Make Quesadillas blog will help you to master everything you need to know about making homemade Quesadillas. And our Quesadilla Recipes is our collection of tried and tested Quesadilla recipes with more flavours, protein and veggie options.
Download Our Free Guide To Quesadillas
Your free Quesadilla guide will be emailed to you immediately.


Similar Recipes You Might Like to Try
FAQs
Which wraps should I use for these quesadillas, large or small?
Either our large Burrito Wraps or our small Soft Taco Wraps would work for these quesadillas. If you prefer them just halved and fried then the smaller ones. If you prefer to quarter them (fold them over once more), then use the larger Burrito Wraps.
What cheese can you put in this fajita quesadilla?
Mexican cheese of course! Oaxaca and Chihuahua cheese are ideal because they melt easily and have a luxurious stretch. Manchego cheese is also a good option and may be more readily available. If you can't find any of these near you, we recommend using mozzarella (as shown in the recipe), cheddar or Monterey Jack.
How healthy is a fajita quesadilla?
Generally, it depends on how much cheese you put in them. Some people would argue that cheese is healthy protein! However, too much can be rather calorific.. but cheese tastes delicious and makes a quesadilla a quesadilla!
They are usually between 300 - 400 calories for each quesadilla.
Comments / Questions / Tips

Subscribe now for a free copy of the Gran Luchito e-cookbook filled with delicious, authentic Mexican recipes and join our mailing list for all the latest recipes, news and blog updates.

wpDiscuz