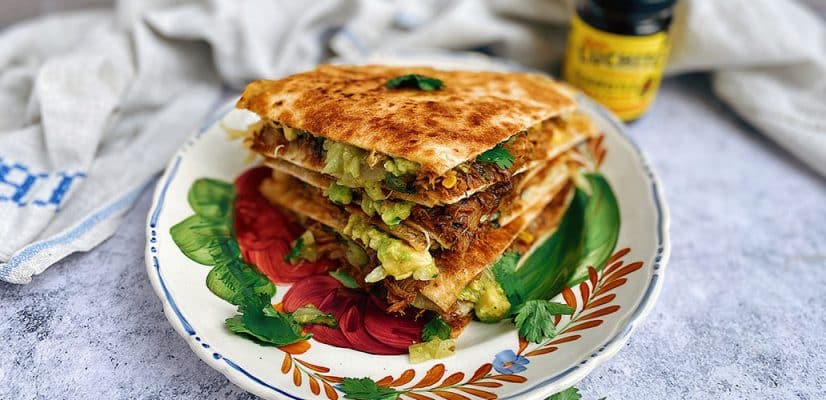 Pulled Pork Quesadilla
Prep time

Cook time

Total time

Ideal for

Lunch

Make it

Mexican

Serves

4
Nutrition: Per serving
kcal 175
fat 9.2g
saturates 3.4g
carbs 15.2g
sugars 2.4g
fibre 1.5g
protein 6.4g
salt 0.98g
How to make it
Heat up the olive oil over a frying pan and add the red onion, then cook slowly over medium heat. 

Add the brown sugar and corn kernels, then season with salt and pepper. Stir and cook for another 10 minutes until the onions have begun to caramelize.

Add the pulled pork and cook for another 5-6 minutes. Once ready, remove from the pan from the heat and finish with fresh coriander scattered on top.

Place one of the Burrito Wraps over your kitchen counter or on a chopping board and add the grated cheese on top. Add a layer of pulled pork and finish with a bit more cheese. Place another burrito wrap on top and brush with a bit of olive oil.

Heat up a large frying pan and place your quesadilla in it. Once the bottom gets golden and crispy and the cheese begins to melt, flip your quesadilla and finish cooking the other side.

Once ready, remove your quesadilla from the pan and place it over a chopping board. Cut it into quarters and serve warm with a good amount of our homemade guacamole recipe, and enjoy!
What To Serve With Quesadillas
If you are wondering what to serve with this pulled pork quesadilla recipe, here are a couple of ideas:
More About Quesadillas
Our How To Make Quesadillas blog will help you to master everything you need to know about making homemade Quesadillas. And our Quesadilla Recipes is our collection of tried and tested Quesadilla recipes with more flavours, protein and veggie options.
Download Our Free Guide To Quesadillas
Your free Quesadilla guide will be emailed to you immediately.


Similar Recipes You Might Like to Try
FAQs
What to serve with pulled pork quesadillas?
Mexican Corn, Mexican Coleslaw, Pico de Gallo, Mexican Black Beans, Mexican Salad, Guacamole and Chips or some Mexican Chipotle Rice.
Can you reheat pulled pork?
Yes you can, just make sure that you heat it to a high temperature. You can do this in the microwave, on the stove, or in the oven. It doesn't matter how you reheat it, just so long as it's heated properly. It should have an internal temperature of 165°F before consumption.
What veg goes with pulled pork quesadillas?
Corn goes very well with pulled pork, as does a fresh pico de gallo salsa. A serving of black beans would also compliment the dish very well.
Comments / Questions / Tips

Subscribe now for a free copy of the Gran Luchito e-cookbook filled with delicious, authentic Mexican recipes and join our mailing list for all the latest recipes, news and blog updates.

wpDiscuz