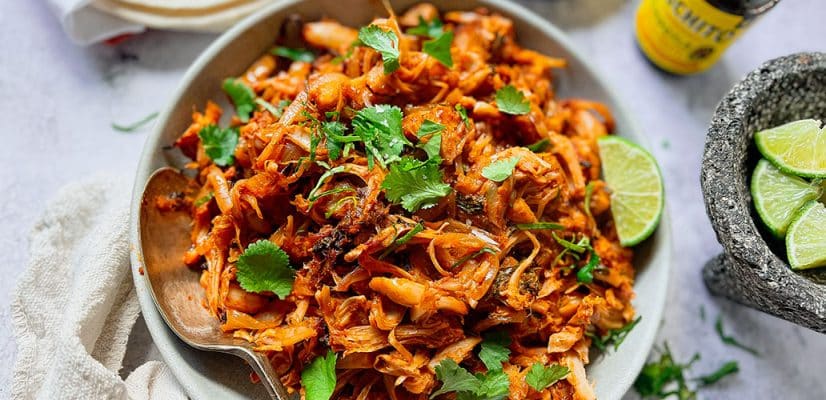 Vegan Pulled Pork
When it comes to vegan Mexican food we find that it's very easy to substitute any meat for a plant-based option. It's all about building flavours and to cook it in a nice rich sauce like a mole, a tomatillo salsa, or covered in an adobo sauce like we did for this recipe. 
Our adobo or sauce is prepared with Gran Luchito Chipotle Paste, that's already packed with smoky flavour. We blend the paste with roasted tomatoes, garlic and a few other ingredients that help to enrich the taste of our vegan pulled pork.
Jackfruit is one of our favourite ingredients to swap for meat when it comes to vegan food. We love how well it absorbs other flavours as well as the texture resembling one of shredded chicken or beef. It's also very healthy as well as delicious!
This vegan pulled pork is not only great when served in tacos, but offers many other possibilities in terms of tasty meals. You can serve it in a bun with a plant-based slaw, or use it as a filling to make a quesadilla or a nice warm burrito. You could also use this vegan pulled pork to top your nachos next time you have friends coming over, or simply prepare yourself a healthy vegan burrito bowl for lunch.
Cook up a big batch and keep half in the freezer for future meals! Just make sure it thaws completely before reheating it in the oven. To reheat, place the defrosted vegan pulled pork into a small baking dish, then cover with foil and bake it in the oven for 20 minutes at 180˚C/360˚F.
Even if you're a fully signed up carnivore you should definitely try our vegan recipes, as they will surprise you! Our favourite recipes are Vegan Tacos and our now famous Vegan Chilli Con Carne.

---
---
Prep time

Cook time

Total time

Ideal for

Dinner

Make it

Mexican

Serves

4
Nutrition: Per serving
kcal 92
fat 2.8g
saturates 0.4g
carbs 15.2g
sugars 9.7g
fibre 0.8g
protein 1.7g
salt 0.09g
How to make it
Preheat the oven to 200˚C/390˚F. In a small tray place the tomatoes and garlic cloves (with skin). Drizzle 1 tablespoon of the olive oil on top and bake in the oven for 25 minutes.

In the meantime in a pan add the remaining olive oil and heat up over medium heat. Once hot enough add the onion and fry slowly until they caramelize, for around 8 to 10 minutes. Once they get a bit of colour, add the jackfruit chunks and season with a pinch of salt and freshly ground black pepper. Cook for a further 3 to 4 minutes, stirring occasionally, and when ready remove from the heat and set aside.

Once your roasted veggies are ready, remove them from the oven. Place the roasted tomatoes into the blender and squeeze your garlic cloves out of their skins with your fingers and place them into the blender as well. Add the pomegranate molasses, tamari sauce, oregano, cumin, Chipotle Paste, and a pinch of salt. Blend smoothly.  

In a medium-sized baking dish place the jackfruit onion mixture, then pour in the chipotle tomato sauce. Scatter the coriander on top and season with freshly ground pepper. Cover your dish with tin foil and bake it in the oven for 30 minutes.

After 30 minutes, remove the baking dish and the foil from the oven. With the help of two forks, shred the jackfruit chunks and bake it in the oven for a further 15 minutes until the top of your vegan pulled pork crisps up. 

Once it's ready, remove it from the oven and serve with some warm Soft Taco Wraps and lime wedges on the side.
What To Serve With Vegan Pulled Pork
Download Our Free Guide To Mexican Classics
Your free guide will be emailed to you immediately.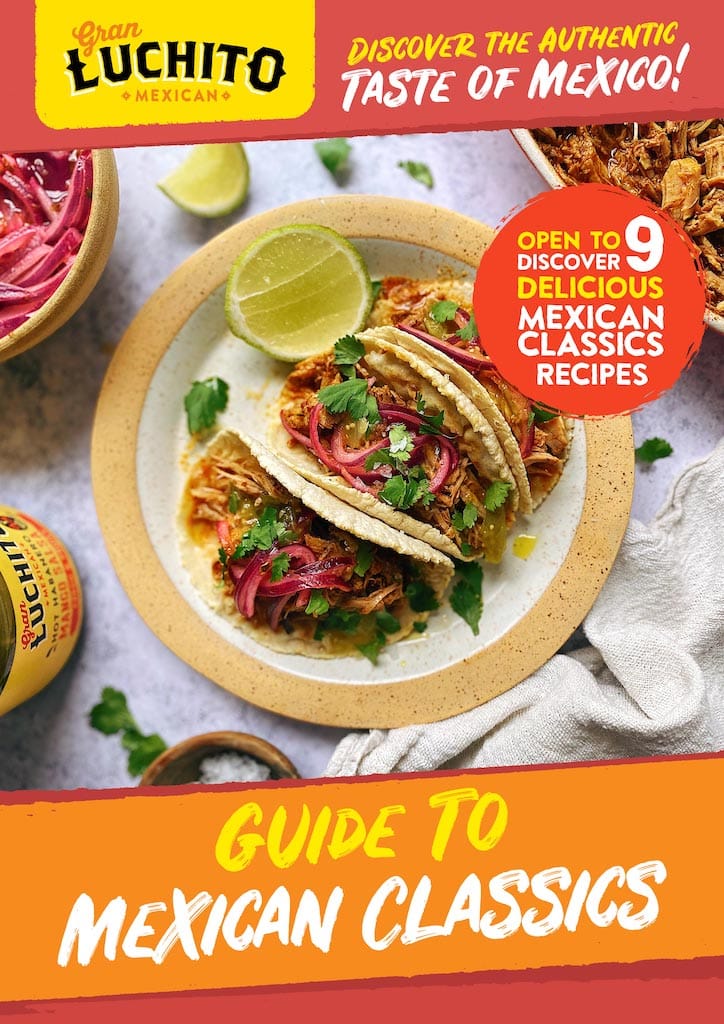 Similar Recipes You Might Like to Try
FAQs
What is the vegan alternative to pulled pork?
Apart from jackfruit, you could also use seitan, a type of plant-based meat made from vital wheat gluten. Meatier mushrooms like chanterelles, shiitake, or even minced creminis can also stand in for pork in a variety of dishes. Also lentils, when seasoned just right, can replace ground pork.
Does jackfruit taste like meat?
Jackfruit has the look, taste, and texture of real meat. This makes it the rightful king of meat substitutes. It has a strong, meaty smell, without an overly fruity flavor, which makes it perfect for pulled pork.
Where can you find jackfruit?
It's still rare to come across fresh jackfruit in the Western world, but you can occasionally spot it in the produce section at Asian food stores or health food stores like Whole Foods. For tinned varieties look in Aldi, Lidl, Sainsbury's, Tesco, Asda, Morrisons and Waitrose. In addition, Ocado also sells a good variety of tinned jackfruit, so be sure to check them out online.
Comments / Questions / Tips

Subscribe now for a free copy of the Gran Luchito e-cookbook filled with delicious, authentic Mexican recipes and join our mailing list for all the latest recipes, news and blog updates.