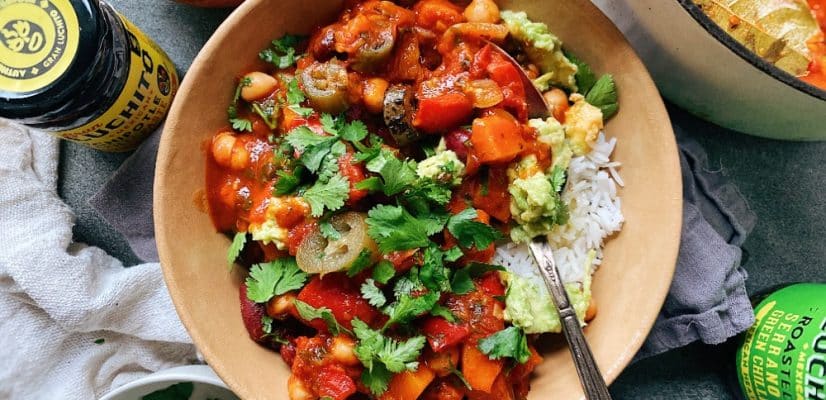 Vegan Chilli
Prep time

20 mins

Cook time

50 mins

Total time

1hr, 10 mins

Ideal for

Dinner

Make it

Mexican

Serves

6
How to make it
Preheat the oven to 180°C / 350°F / Gas 4.

Place the squash in a roasting pan with the onion, garlic, peppers, thyme and oregano. Drizzle with the olive oil on top and season with salt and pepper. Bake in the oven for 25 minutes until cooked through and the squash begins to blacken on its edges.

Once ready, remove the tray from the oven, then discard the thyme stalks and squeeze out the garlic flesh (discarding skins). Mash the garlic with your knife into a paste and mix with the rest of the roasted veggies.

Meanwhile, in a large saucepan mix the tomatoes, chickpeas, kidney beans, vegetable stock,

Chipotle Paste

and coriander stalks. Cover with a lid and simmer for 30 minutes over low heat, then season with salt and pepper.

Now is a good time to prepare the rice and guacamole.

After 30 minutes, add the roasted vegetables with the sauce and stir. Keep warm until ready to serve.

Just before serving, stir through the coriander leaves and serve with a side of white rice. Top with a bit of guacamole and

Fire Roasted Serranos

. 
For more vegan recipe inspiration, check out all of our Mexican Vegan Recipes.
Download Our Free Guide To Chilli Con Carne
Your free guide will be emailed to you immediately.
What To Serve With Vegan Chilli
Here are some good sides you can serve with your vegan chilli:
Homemade Guacamole
Mexican Rice
Alternatives are some Mexican Coleslaw or a Mexican Salad
If you have any vegan chilli leftovers we have some brilliant and inventive ideas – you can stuff vegan chilli into peppers, wrap up in pastry for empanadas, roll up in a burrito or layer over nachos
Similar Recipes You Might Like to Try
Please let us know what you think of this recipe