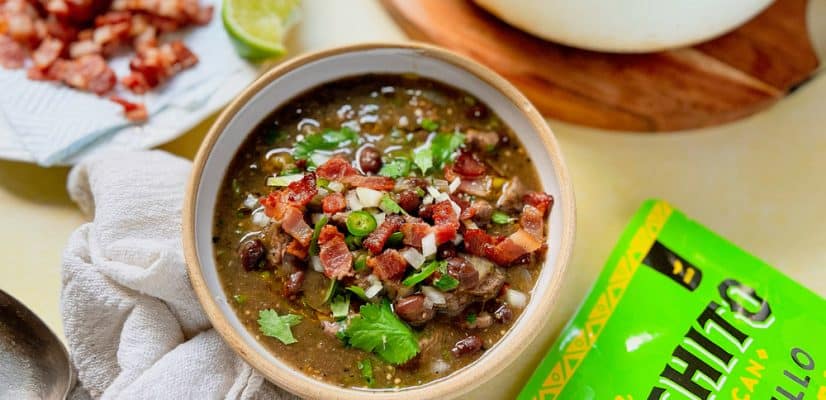 Carne En Su Jugo
Carne en su Jugo is a typical dish from Guadalajara, Jalisco, in Mexico. It mainly consists of beef steak cooked 'in its own juices', which is where the name of the Mexican beef stew recipe comes from. A smooth mixture made with tomatillo, jalapeno, onion and coriander is added to the beef plus a bit of stock. Homemade beans then go in at the end to give more texture to the dish. 
This Mexican stew is served warm, with previously fried crispy bacon on top, finely diced onion, finely chopped coriander, with tortillas on the side. Pure Mexican comfort food in a bowl! The beauty of this Carne en su Jugo recipe is that Gran Luchito Tomatillo Enchilada Sauce and Gran Luchito Cantina Beans do half the work for you when preparing this quick beef stew, so you're able to have all the comfort of this dish in no time.
For those of you who've never tried Carne en su Jugo before, we can tell you that not only is it delicious and hearty, but it's also very easy to prepare and will save you time during busy days midweek. All you have to do is cook the steak, add our Tomatillo Enchilada Sauce, stock and finally our Cantina Beans. It can then be served with diced onion, coriander, and a bit of crispy bacon on top.
Prep time

Cook time

Total time

Ideal for

Dinner

Make it

Mexican

Serves

4
Nutrition: Per serving
kcal 120
fat 3.6g
saturates 1.1g
carbs 12.1g
sugars 7.2g
fibre 2.5g
protein 10.4g
salt 0.80g
How to make it
In a large casserole dish heat up the olive oil over high heat. Once it's hot enough, add the bacon and let it crisp up. Once ready, remove the bacon from the casserole dish and place it over kitchen paper to absorb any excess oil. In the same dish, add half of the onion and the diced steak. Stir and let it get a bit of colour for 6 to 7 minutes.

Add the cumin, salt and pepper, and cook for a further 2 mins. Pour in the

Tomatillo Enchilada Sauce

, the stock, and let it simmer on a low heat for 8 mins approx. Finish by adding the

Cantina Beans

and juices with the lime juice. Keep simmering it for 2 to 3 minutes, and get ready to serve.

Serve a good amount of Carne en su Jugo into a bowl with enough juices. Garnish it with some of the crispy bacon, the leftover diced white onion, and a sprinkle of coriander on top. Enjoy!
What To Serve With Carne en su Jugo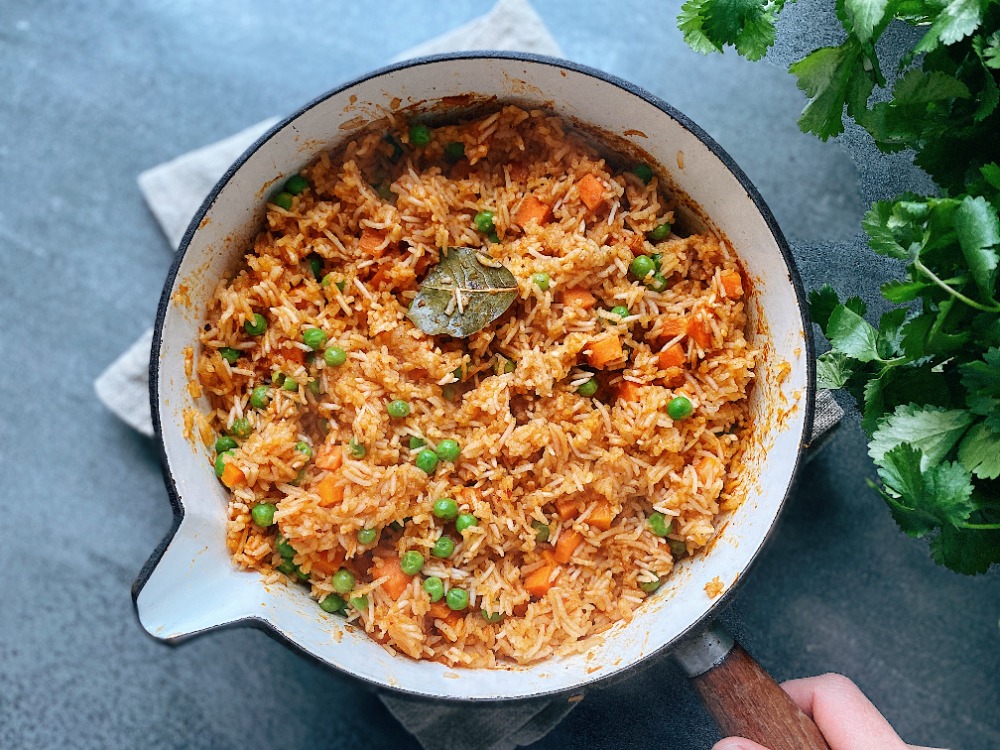 Serve it with a portion of our Mexican Rice recipe.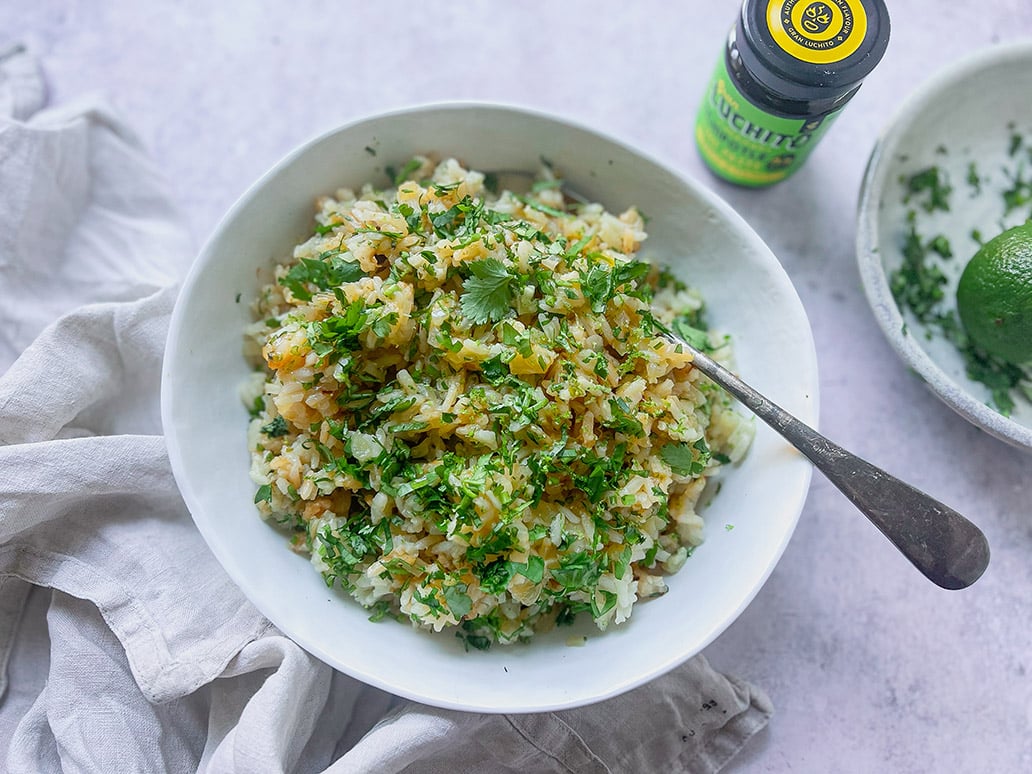 Or some Lime and Coriander Rice.
Download Our Free Guide To Mexican Classics
Your free guide will be emailed to you immediately.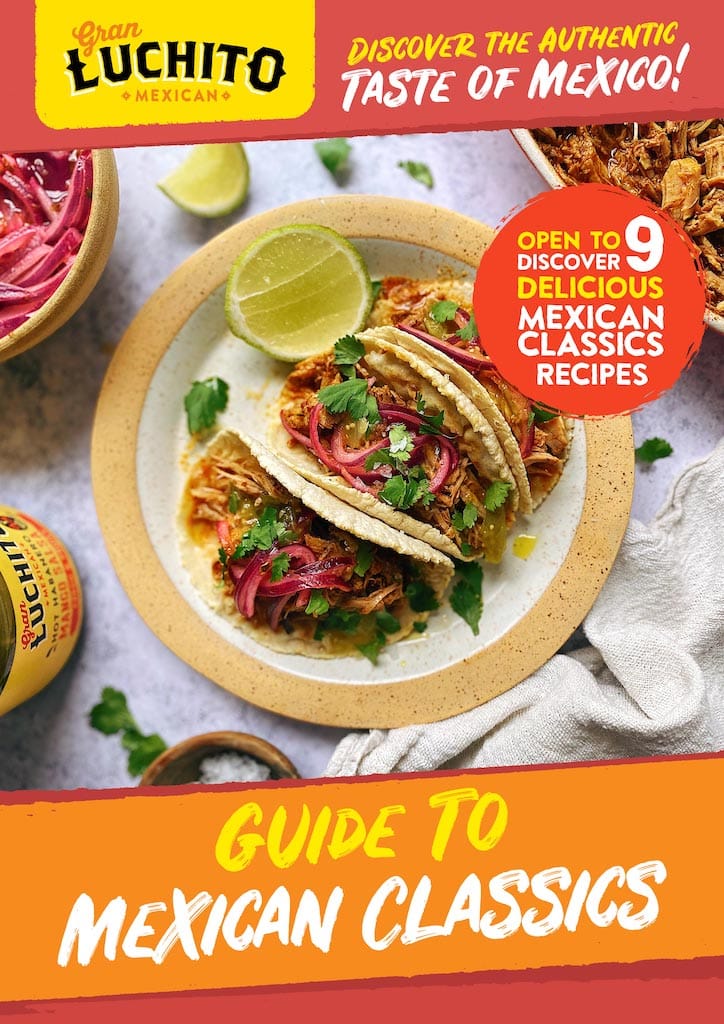 Similar Recipes You Might Like to Try
FAQs
What does Carne en su Jugo mean?
It means Meat in its Juices. It's a cross between a soup and a stew. A simple beef stew with bacon and a broth made with blended tomatillos, served also with whole beans.
How do you pronounce Carne en su Jugo?
Carne en su Jugo (pronounced hoo-go).
How many calories is in Carne en su Jugo?
There are 120 calories per 100g serving, in our recipe.
Comments / Questions / Tips

Subscribe now for a free copy of the Gran Luchito e-cookbook filled with delicious, authentic Mexican recipes and join our mailing list for all the latest recipes, news and blog updates.