Beef Picadillo
Beef Picadillo has to be one of the easiest meals to prepare, a secret weapon that many Mexican cooks use to feed their families during a busy week. It mainly consists of beef mince fried with onions and garlic, then cooked with diced vegetables, can be spicy or mild (as you prefer), normally served with Gran Luchito Refried Beans and Mexican rice on the side. 
What makes Picadillo such a life saver is that there isn't just one recipe for it, you can adapt to what you have at home and make use of any vegetables or herbs that perhaps are looking a bit sad over your kitchen counter, it's a great way to clean up your fridge before getting a fresh shop. You can even substitute the beef mince for cooked brown lentils to make a vegan version of this dish.
At Luchito we like to use a bit of Gran Luchito Garlic and Guajillo Fajita and Taco Mix to add more depth of flavour to our Picadillo. Gran Luchito Fajita and Taco Mixes are a great way to add seasoning in a speedy way to any of your meals, and what we love about our garlic and guajillo mix is that it provides a lot of flavour without being spicy which makes it perfect to season your family meals. 
Don't forget to serve your Picadillo with  Gran Luchito Chipotle Refried Beans on the side and warm Gran Luchito Soft Taco Wraps. If you are unsure about refried beans, check out our blog What Are Refried Beans.
Our Mexican Beef Recipes has lots of great ideas and recipes to bring even more flavour to your beef.
Prep time

Cook time

Total time

Ideal for

Dinner

Make it

Quick and Easy

Serves

4
Nutrition: Per serving
kcal 140
fat 8.1g
saturates 3.5g
carbs 11.3g
sugars 2g
fibre 0.9g
protein 5.6g
salt 0.37g
How to make it
Heat up half 1 tablespoon of the olive oil in a large frying pan. Once hot enough add the shallots and garlic and fry gently until it softens. Now add the butternut squash, potato, carrot and red pepper, stir and cook everything for a further 6 minutes (the potatoes, squash and carrots don't need to be cooked through). Once ready, place the fried vegetables in a bowl and reserve on the side.
Add the remaining oil into the same pan and fry the minced beef, season with Garlic and Guajillo Fajita and Taco Mix and cook your meat over medium-high heat until it gets a bit of colour.
Once it gets a bit of colour add in the vinegar, orange juice, stock, a pinch of salt and freshly ground black pepper and the pre-cooked vegetables. Integrate everything with a wooden spoon and cover your pan with a lid, simmer on medium heat for 15 minutes or until your potatoes are cooked through.
In the meantime open the Chipotle Refried Beans sachet and place them into a pan, heat them up on low heat, until nice and warm.
Serve a few spoonfuls of your Picadillo in a bowl with a nice portion of refried beans on the side. Garnish with fresh coriander, avocado slices and  a spoonful of creme fraiche. Don't forget to serve with warm Soft Taco Wraps on the side, enjoy!
What To Serve With Beef Picadillo
It's traditionally served with sides of:
Download Our Free Guide To Mexican Classics
Your free guide will be emailed to you immediately.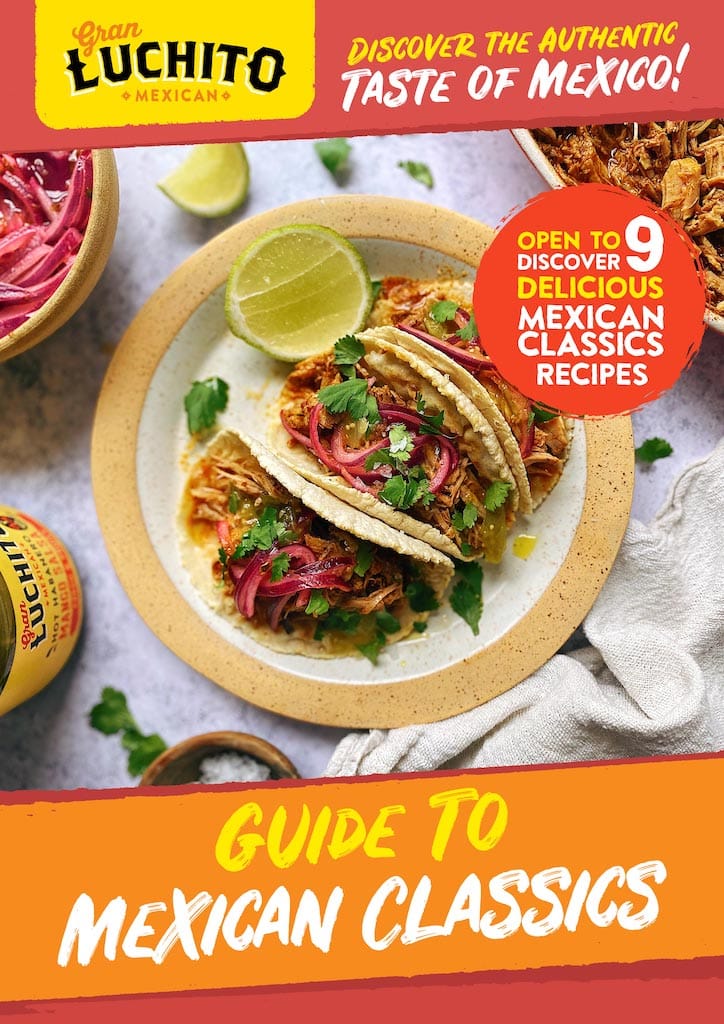 Similar Recipes You Might Like to Try
Comments / Questions / Tips

Subscribe now for a free copy of the Gran Luchito e-cookbook filled with delicious, authentic Mexican recipes and join our mailing list for all the latest recipes, news and blog updates.

wpDiscuz