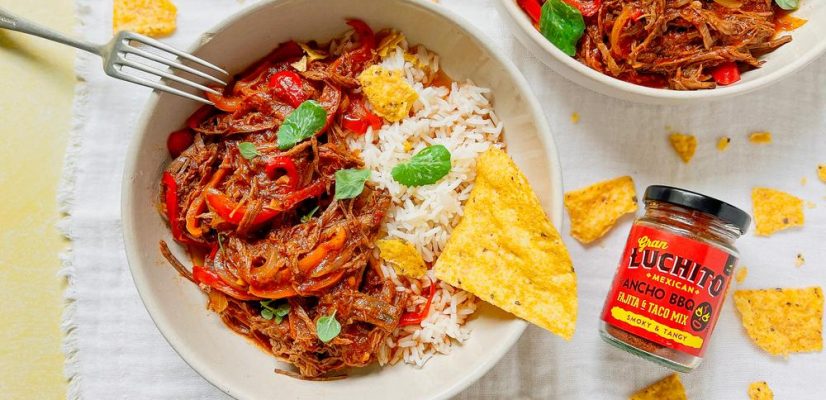 Ropa Vieja
Ropa Vieja is a classic Cuban recipe, but you see variations of this dish across Latin American countries. The words "ropa vieja" translate as old clothes in English. The name refers to the way that the shredded meat and colorful peppers look like old rags. 
In Mexico, a ropa vieja recipe is also known as "carne deshebrada", alluding to the shredded meat that's used to prepare the dish. It's where a cut of meat such as brisket or flank steak is cooked slowly in liquid and aromatics until tender, making it very easy to shred with the help of two forks. Once the meat is ready, you can combine it with sauce and vegetables and make a hearty stew that can be served alongside rice and warm beans. It can also be used to make burritos, add to quesadillas, or make tacos.
Our ropa vieja dish is inspired more by the Cuban version, where the shredded meat is combined with a sauce prepared with white wine, peppers, tomato sauce, spices, broth, and you can also add olives too. Gran Luchito Ancho BBQ Fajita & Taco Mix is the perfect seasoning for this recipe, adding depth of flavour, smokiness, and a light sweetness into the dish, with the perfect blend of spices.
Traditionally ropa vieja is served with fried plantain, however we have swapped that for some Gran Luchito Lightly Salted Tortilla Chips that serve as the perfect vessels to pick up the flavoursome beef. Don't forget to serve your instant pot ropa vieja with steamed white rice and warm Gran Luchito Cantina Beans on the side.
Prep time

Cook time

Total time

Ideal for

Dinner

Make it

Mexican

Serves

5
Nutrition: Per serving
kcal 121
fat 4.2g
saturates 1.1g
carbs 12.7g
sugars 2.6g
fibre 0.9g
protein 8.1g
salt 3.7g
How to make it
Begin by cooking your meat. You can do this the evening before, or in the morning. Prepare a large pan with 1 tablespoon of olive oil over high heat. Once it's smoking hot, place the brisket seasoned with salt and pepper in it and sear your meat. When ready, remove from the pan and place the brisket directly into the slow cooker. Add the water, bay leaf, garlic, onion, salt and black peppercorns, then close the lid. Depending on your slow cooker functions you can either cook it for 6 hours on high mode or on the pressure cooker mode for 2 hours.

Once your meat is ready, release the safety valve if cooked in slow cooker mode, as this will release all the pressure inside so it's safe to open. Remove the lid and place the meat in a bowl. With the help of two forks shred the meat. Your brisket should be tender, juicy, and easy to shred. Reserve the cooking liquid and strain it using a fine mesh sieve to get rid of the aromatics and obtain a clear broth.

Heat up the remaining olive oil in a heavy-based casserole dish. Once it's hot enough fry the peppers, onion and garlic. Stir, and let them cook for 2 to 3 minutes before adding the oregano,

Ancho BBQ Fajita & Taco Mix

, and the white wine. Let the alcohol evaporate for a couple of minutes before adding the passata and homemade broth. Bring to a boil and add the shredded brisket into the sauce. Season with salt and pepper to taste, and let it simmer on low with a lid on for 30 minutes.

When your ropa vieja is ready, serve it in bowls with steamed white rice, Lightly Salted Tortilla Chips and a side of warm Cantina Beans.
What To Serve With Ropa Vieja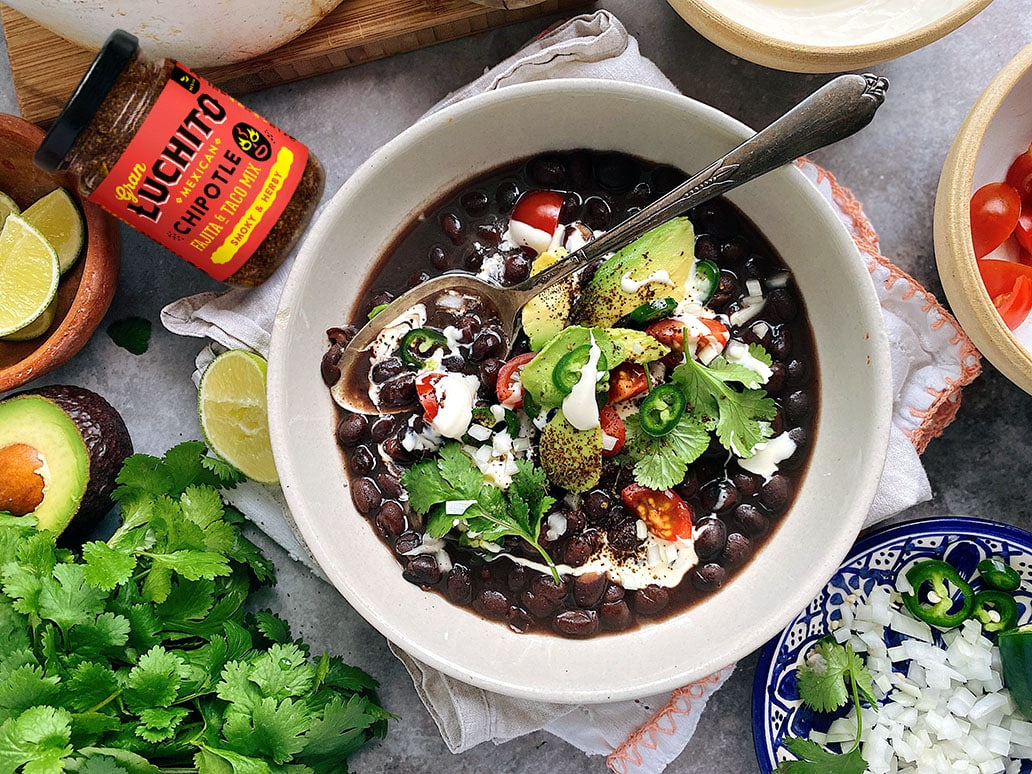 Serve it with a portion of this Mexican Black Beans recipe.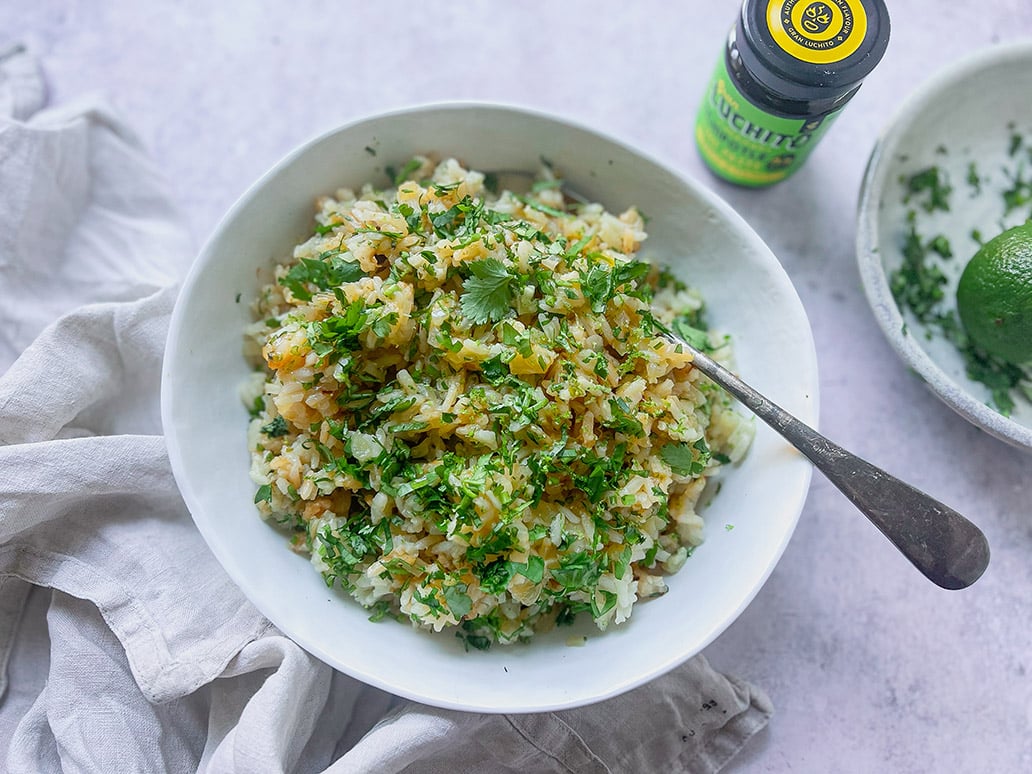 Also alongside some Lime and Coriander Rice.
Download Our Free Guide To Mexican Classics
Your free guide will be emailed to you immediately.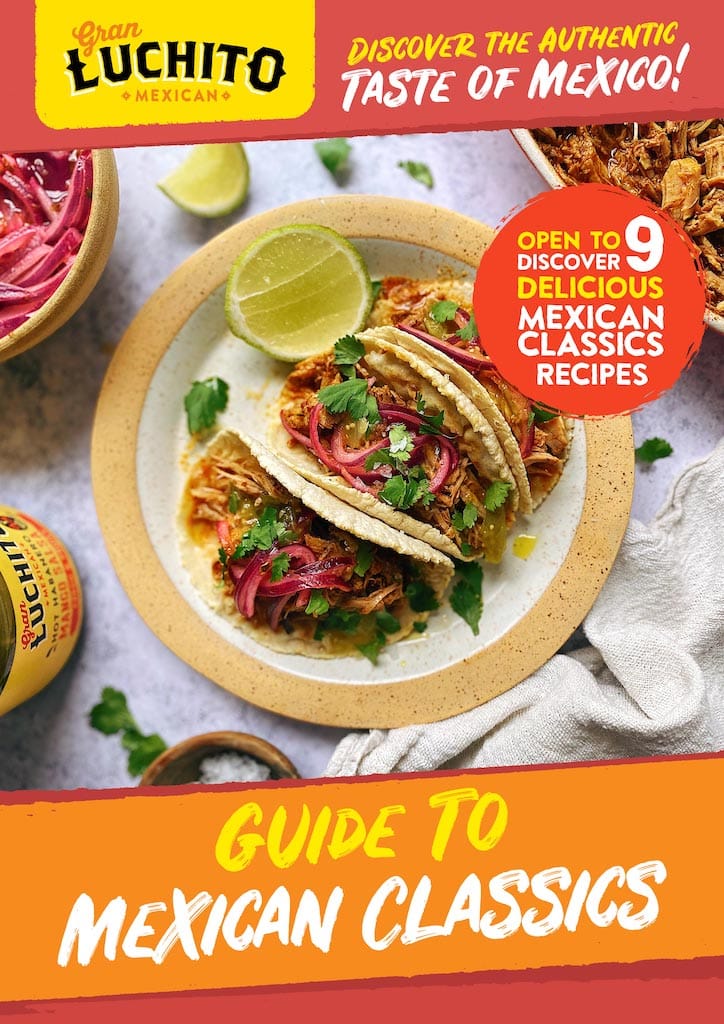 Similar Recipes You Might Like to Try
FAQs
How to make ropa vieja without a slow cooker?
You can cook brisket or chuck steak in the oven in a baking dish, covered with tin foil for 3 to 4 hours at 180C. Make sure there's enough liquid as it cooks so that you can add broth or water on top half way through the cooking time.
What meat to use for ropa vieja?
Beef brisket, flank or chuck steak. This is because they are lean cuts with thick long strands of muscle fiber that lend itself well to slow cooking and then shredding.
Is ropa vieja healthy?
This dish is made with lean steak and so is perfect if you're trying to be healthier. It also contains lots of veggies, protein and nutrients.
Comments / Questions / Tips

Subscribe now for a free copy of the Gran Luchito e-cookbook filled with delicious, authentic Mexican recipes and join our mailing list for all the latest recipes, news and blog updates.

wpDiscuz