Vegetable Skewers
Here at Luchito we love serving a good spread and we think it's always important to have something for everyone, just as delicious as any meat counterpart. Chef Susy has therefore whipped up one of the best veggie bbq ideas, some seriously tasty Vegetable Skewers. 
We use bbq halloumi and homemade chipotle mayo in this vegetable skewers recipe which makes this perfect for vegetarians! Just make sure to check the label to see if the halloumi is vegetarian friendly, as sometimes this can be produced using animal derived rennet. If needed, you can also adapt these veggie skewers for vegans by using a vegan halloumi and vegan mayo. You could also always omit the halloumi altogether and just go for a variety of veggies instead.
To season these veg skewers we drizzled the halloumi with olive oil and then we spiced them up with Gran Luchito Guajillo Fajita & Taco Mix. The guajillo spice brings the Mexican chilli flavor without being overly spicy, and helps to create a very tasty coating for your bbq halloumi. 
We also recommend trying this vegetarian bbq recipe with Gran Luchito Habanero or Chipotle Fajita & Taco Mix, they both bring a different flavour altogether. Use the Habanero for a more herby and zingy taste or the Chipotle for a more spicy and smoky touch.
Here's a list of our favourite veggies for skewers:
White or red onions

Spring onions

Peppers

Padron peppers

Courgette

Sweetcorn

Broccoli florets

Aubergine

Mushroom

Cherry tomatoes

Parboiled baby potatoes
Top tips when cooking your vegetarian skewers:
Cut your ingredients into more or less the same size and shape. This will help to cook more evenly over the grill.

If using bamboo skewers, soak them in water for 20 minutes before using to avoid them from burning too quickly over the grill.

This recipe serves 4, you can duplicate or triplicate this recipe according to how many people you are hosting.
Prep time

Cook time

Total time

Ideal for

Main

Make it

Mexican

Serves

4
Nutrition: Per serving
kcal 194
fat 17g
saturates 5.9g
carbs 3.2g
sugars 2.7g
fibre 1.0g
protein 8.2g
salt 1.6g
How to make it
Begin by lighting your charcoal grill and calculate about 25 minutes for it to be ready. You won't need a lot of heat to grill your halloumi skewers. If using a gas grill, turn the temperature to medium.

In a bowl place your halloumi chunks and drizzle them with 1 tablespoon of the olive oil. Add the

Guajillo Fajita & Taco Mix

and with your hands make sure the halloumi is coated evenly in the spice.

Now on your kitchen surface have your ingredients ready with the bamboo skewers on the side. There is no right or wrong order on how to stab the veggies and halloumi, just try to do one at a time to have some variation of ingredients. Make sure to pack your veg skewers tightly, then repeat the same with the rest of the skewers. Place them over a tray and drizzle with the remaining olive oil. Season with a pinch of salt and pepper, and reserve.

Once your grill is ready, grease it with vegetable oil to avoid your skewers from sticking and place the veggie skewers over it. Let them char all around and your veggies and halloumi will turn soft and gooey. This should take about 10 minutes or so. Make sure to flip them from time to time with the help of kitchen tongs.

While they are cooking quickly prepare your homemade chipotle mayo dressing by adding the mayo,

Chipotle Lime Paste

, lime juice and half of the coriander into a bowl. Whisk energetically until you get a smooth dressing, then season with a pinch of salt and pepper.

When your vegetable skewers are ready, remove them from the grill and place them over a serving platter. Spoon a good amount of chipotle mayo dressing over your charred veggies and sprinkle coriander on top. Serve with the remaining bbq dressing on the side and enjoy!
What To Serve With Vegetable Skewers
What goes with bbq vegetables or halloumi kebabs? Try serving them with sides of:
For more inspiration, take a look at our BBQ Sides blog.
Download Our Free Guide To Mexican Classics
Your free guide will be emailed to you immediately.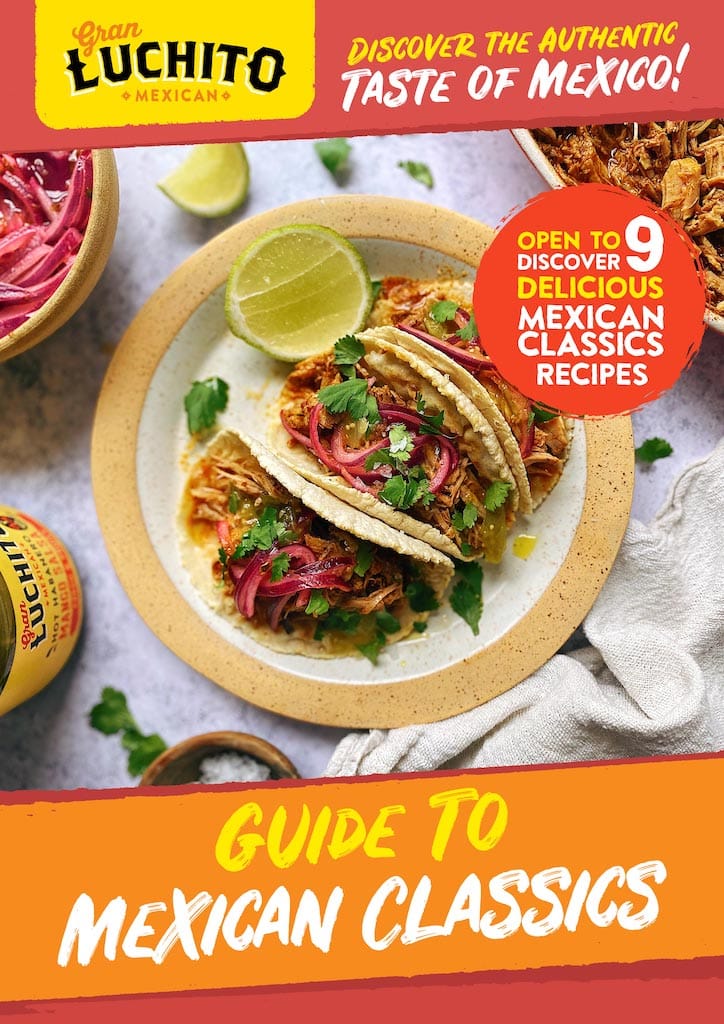 Similar Recipes You Might Like to Try
FAQs
How long do you grill vegetable skewers?
On a grill or bbq that's been on medium heat for about 25mins, place your veg skewers on it for about 10mins, turning occasionally until softly charred.
What are the best vegetables for skewers?
Bell peppers, multi-coloured for a beautiful look. Red and white onions. Zucchini or yellow squash (or a combination of both). White button mushrooms, and cherry tomatoes.
How long should you marinate vegetables before grilling?
For semi-hard vegetables such as green beans, asparagus, peppers, etc. marinate them for at least 30 minutes and up to several hours. For softer vegetables like broccoli, tomatoes, greens, etc. about 10 minutes is good. Don't marinate these for longer than 30 minutes because they will release water and get soggy.
Comments / Questions / Tips

Subscribe now for a free copy of the Gran Luchito e-cookbook filled with delicious, authentic Mexican recipes and join our mailing list for all the latest recipes, news and blog updates.