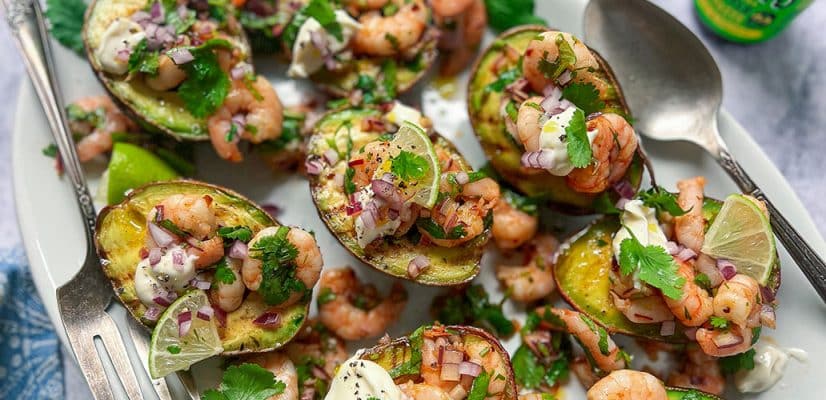 Grilled Avocado With Chipotle Prawns
This grilled avocado recipe is actually very quick to prepare and perfect for hot summer days or when you're in need of a light and healthy meal. 
The avocados are griddled very quickly (just long enough to get some nice char marks without cooking them), and this can be done on the bbq or over a griddle pan in your kitchen.
Once they are done, we top the bbq avocado with a fresh king prawn salad made with a dressing using Gran Luchito Chipotle Lime Paste.
The grilled avocado is then served with their skin which provides the perfect vessel to carry the spicy prawn salad. For a fun party snack, try serving this avocado side dish with little spoons and napkins for your guests ready to pick up and eat. 
These avocado and prawns would make a great BBQ starter. Serve them alongside Chicken Taquitos and our BBQ corn recipe!
Are you an 🥑 lover like us?! Be sure to check out our avocado recipes for more recipe ideas.
Prep time

Cook time

Total time

Ideal for

Snack

Make it

Mexican

Serves

4
Nutrition: Per serving
kcal 189
fat 18g
saturates 3g
carbs 1.7g
sugars 0.8g
fibre 1.9g
protein 6.2g
salt 0.41g
How to make it
Place the cooked prawns in a bowl with the red onion. Add the

 Chipotle Lime Paste,

½ of the lime juice, extra virgin olive oil and the coriander. Season with salt and freshly ground black pepper. Mix well and leave in the fridge while you prepare the avocados.

Cut the avocados in half lengthways and remove the stones. Squeeze the remaining lime on top and add a drizzle of olive oil. Rub the oil and lime into the avocados gently and season with a pinch of flaky salt and freshly ground black pepper.

Place the avocado halves onto a very hot griddle pan and cook for about 4–5 minutes just until charred. Try not to move them around whilst they cook, as you won't get the nice clear char marks otherwise. Once ready, remove carefully with a spatula and set aside.

Arrange the griddle avocados nicely over a pretty platter and top them with the spicy prawn salad. Add a spoonful of mayo, drizzle extra virgin olive oil on top and garnish with fresh coriander leaves. Serve to your guests along with a few margaritas!
Download Our Free Guide To Mexican Classics
Your free guide will be emailed to you immediately.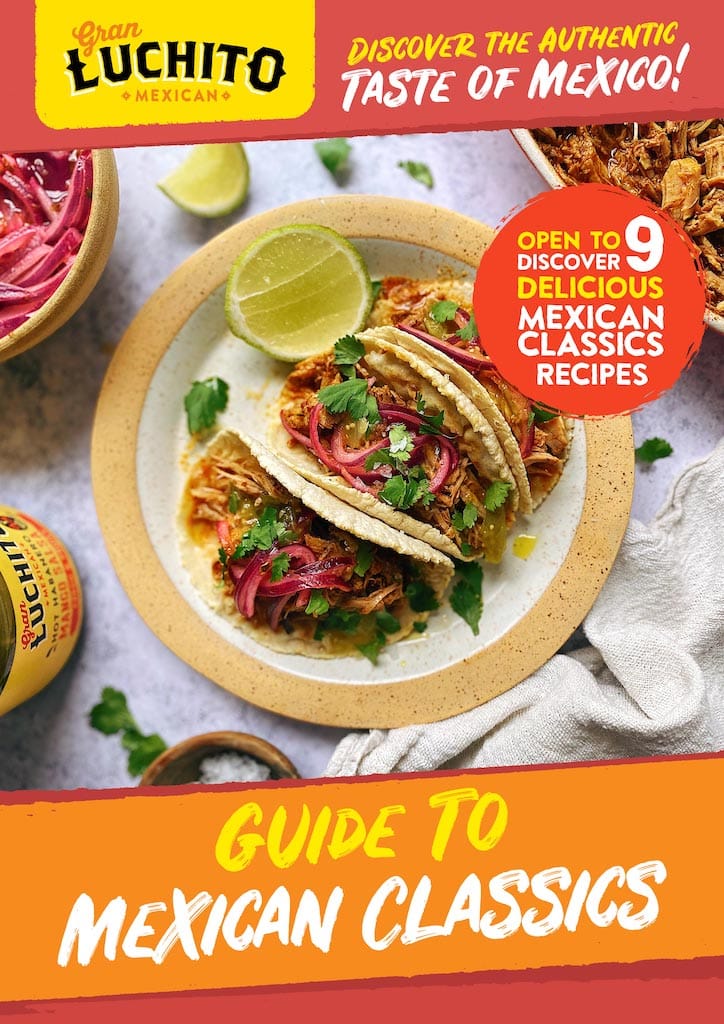 Similar Recipes You Might Like to Try
FAQs
What if I don't have chipotle lime paste?
You can use our Chipotle Paste instead - maybe just squeeze some lime over them before eating instead.
What are the best prawns to use for this recipe?
We like using king prawns, due to their texture and size, but you could also use smaller prawns if you'd prefer.
Why do you grill avocados?
Next time you fire up the grill just try out grilling avocados. Grilling an avocado infuses a smoky flavor into every bite, and is also a great way of speeding up the ripening process. It's a go-to move if they're a little underripe.
Comments / Questions / Tips

Subscribe now for a free copy of the Gran Luchito e-cookbook filled with delicious, authentic Mexican recipes and join our mailing list for all the latest recipes, news and blog updates.