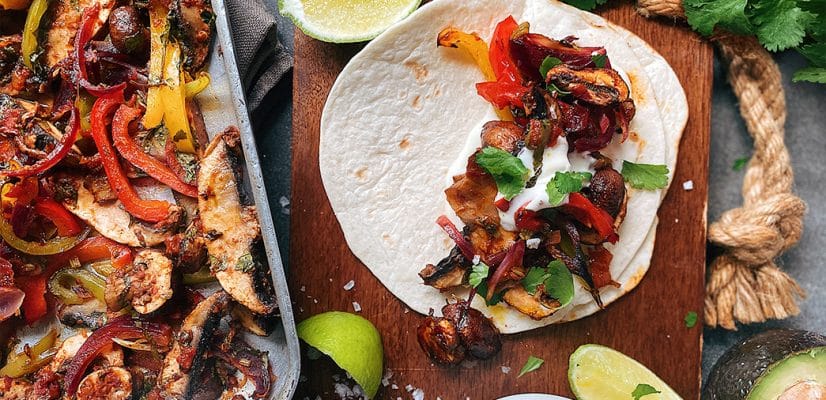 Mushroom Fajitas
What everybody loves about fajitas is how easy they are to put together. By only following a few steps you are able to transform simple ingredients into a delicious and nourishing meal for your family.
Whether it's chicken, steak, seafood or plant based, fajitas are normally cut into strips and pan fried with peppers, onions, Mexican spices, a bit of lime juice and fresh coriander. So simple and delicious!  They always turn out so tasty, hence why everyone loves them.
Mushroom Fajitas are one of our favourite ways to make veggie friendly fajitas. They are quite easy to prepare already but this recipe makes them even more convenient to cook. All you have to do is to place all the veggies in a bowl and cover with our mild Gran Luchito Red Fajita Simmer Sauce and Gran Luchito Garlic & Guajillo Fajita & Taco Mix. This will bring all the flavour to your fajitas. Following on from that, coat your mushrooms and peppers in the mixture and finally place them on a baking tray to let the oven do its magic.
Once ready, simply serve with steamed rice or Gran Luchito Chipotle Refried Beans on the side and some warm Gran Luchito Soft Taco Wraps. Then dig in and enjoy!
This recipe is not spicy which makes it ideal to feed both little ones and grown ups. Be sure to check out our Vegetarian Recipe Collection for more veggie meals and tips.
Prep time

Cook time

Total time

Ideal for

Lunch / Dinner

Make it

Mexican

Serves

4
Nutrition: Per serving
kcal 86
fat 2.4g
saturates 0.3g
carbs 12.5g
sugars 2.7g
fibre 1.3g
protein 3.1g
salt 0.51g
How to make it
Preheat the oven to 200°C / 390°F.
Place your veggies into a big bowl, then season with the Gran Luchito Garlic & Guajillo Fajita & Taco Mix. Pour in half of the mild Gran Luchito Red Fajita Simmer Sauce, olive oil, lime juice, tamari sauce, half of the coriander, a pinch of salt and freshly ground black pepper.
Mix everything with your hands making sure the veggies are all well coated.
Then place them on a large baking tray so there is enough room to spread them out and bake in the oven for 20 to 25 minutes.
Warm up the Gran Luchito Soft Taco Wraps over a hot pan and keep them warm wrapped up in a tea towel.
Remove your mushroom fajitas from the oven and serve with Mexican rice on the side. Don't forget the warm tortillas, and enjoy!
What to Serve with Mushroom Fajitas
Download Our Free Guide To Fajitas
Your free Fajita guide will be emailed to you immediately.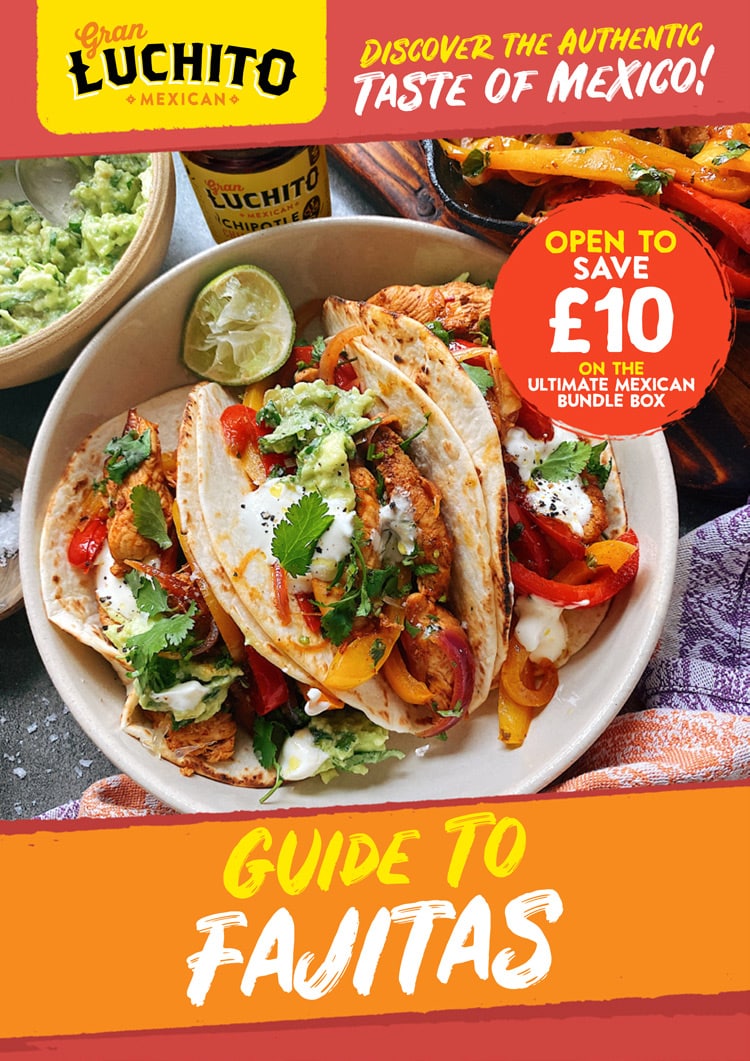 Similar Recipes You Might Like to Try
Comments / Questions / Tips

Subscribe now for a free copy of the Gran Luchito e-cookbook filled with delicious, authentic Mexican recipes and join our mailing list for all the latest recipes, news and blog updates.