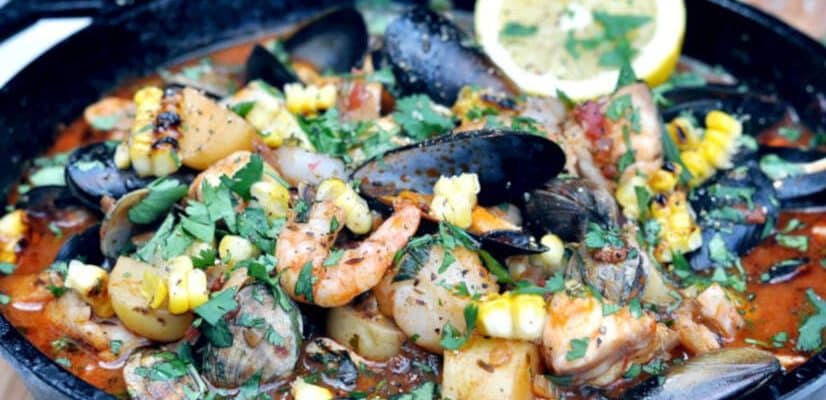 Mexican Fish Stew
A Mexican fish stew isn't something you have every week, so when you do have one it should be a really special treat. We used a flavoursome mix of fish and shellfish in ours, picking out what looked good and exciting on the day at the fishmongers. You should do the same – for fish or any other fresh produce – to get the best flavour! We used monkfish, clams, mussels, prawns, cod cheeks and hake.
Try serving this Mexican fish stew with either this roasted pepper salad or some Mexican mashed potato.

---
---
Prep time

Cook time

Total time

Ideal for

Dinner

Make it

Mexican

Serves

4
Nutrition: Per serving
kcal 113
fat 3.9g
saturates 1g
carbs 11.3g
sugars 2.2g
fibre 1.4g
protein 7.9g
salt 0.29g
How to make it
Par-boil the new potatoes in salted water, drain then leave aside.
Add a slug of olive oil and a knob of butter to a pan and fry the red onion and garlic with the thyme leaves, chorizo, smoked Gran Luchito Chipotle Paste, fennel and fennel seeds for 15 minutes until the onion has softened.
Add a slug of sherry or white wine and cook for a few minutes.
Add the canned tomatoes and the tomato purée and cook for 10 minutes.
Add the fish stock or water and potatoes. Bring to the boil, then turn the heat to low and simmer for 20 minutes, or until reduced and thickened.
Prepare the fish by removing the bones and cutting the flesh into large chunks. Discard any mussels that don't close when tapped and remove the beards. Shell and de-vein the prawns.
Add the seafood to the pan and leave on a low heat for about 5 minutes, or until you're happy that the fish is cooked through.
Scatter the corn over the stew with a sprinkle of coriander and some lemon wedges. Serve the Mexican fish stew with crusty bread.
Similar Recipes You Might Like to Try
Comments / Questions / Tips

Subscribe now for a free copy of the Gran Luchito e-cookbook filled with delicious, authentic Mexican recipes and join our mailing list for all the latest recipes, news and blog updates.