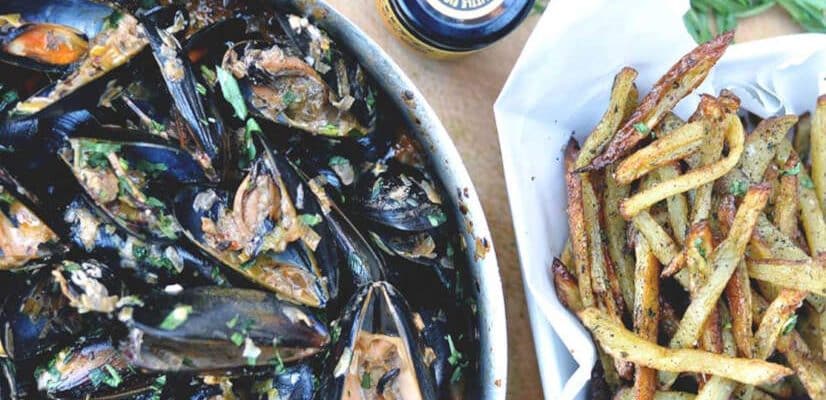 Chilli Mussels and Fries
We're not sure there 's a recipe that says summer holiday more so than these chilli mussels and fries. These moules frites are best enjoyed when the sun is shining with the sound of the ocean in the background, preferably cooked and served by someone else. For when you can't get away, here's our Mexican version with a hint of smoky spice (apologies to the French purists).
As a starter before these chilli mussels and fries try serving this tuna tostada recipe and accompany the moules frites with this courgette salad.
Prep time

Cook time

Total time

Ideal for

Mexican

Make it

Mexican

Serves

2
Nutrition: Per serving
kcal 104
fat 5.3g
saturates 0.8g
carbs 7.8g
sugars 1.1g
fibre 1g
protein 5.8g
salt 0.5g
How to make it
In a large pan over medium heat, add butter, olive oil, onion, garlic, leek, thyme, Gran Luchito Chipotle Paste, salt and pepper to a pan over low heat. Stir occasionally.
After 15 minutes, add the wheat beer / wine and allow alcohol to cook off for a few minutes.
Carefully add the mussels to the cooked onion mix and add a lid. Give them a shake and leave to cook for about minutes (when they are open they are done; discard any that don't open).
Remove from heat and serve with your home-made chips.
Similar Recipes You Might Like to Try
Comments / Questions / Tips

Subscribe now for a free copy of the Gran Luchito e-cookbook filled with delicious, authentic Mexican recipes and join our mailing list for all the latest recipes, news and blog updates.