Like the mighty smoky chilli dog, this indulgent delight is a classic from over the pond. And just like 'the dog', it's a wonderful idea that ticks all the right boxes and hits all the right spots.
Get this going for your next film night / big match and invite all your friends round to dig in. Guac and sour cream provide the perfect dips and Sticky Honey Wings are the perfect accompaniment.
If you have some extra time on your hands, instead of using the frozen french fries you could try our homemade chips recipe.
Prep time

Cook time

Total time

Ideal for

Classics

Make it

Mexican

Serves

4
Nutrition: Per serving
kcal 117
fat 7.1g
saturates 2.6g
carbs 7.1g
sugars 2.3g
fibre 2.3g
protein 5.5g
salt 0.48g
How to make it
Start with the chilli. Finely chop all the fresh veg (onion, garlic, celery, carrot, peppers) and gently fry in olive oil for 8-10 mins or until nice and soft in a large casserole dish.
Throw in the Gran Luchito Chipotle Paste, cumin and cinnamon.
Add the tomatoes, kidney beans and finely chopped coriander stalks.
Fry the minced beef in another frying pan to brown (this will add flavour to the meat) then add to the other ingredients.
Add salt & pepper.
Put a lid on it, leaving a small gap and cook on a low heat for about an hour (longer if you have time).
About 30 mins before you're ready to serve, get your fries in the oven sprinkled with a little salt.
Whilst they're cooking, make your guacamole.
Remove the flesh from the avocados and mash them with the lime juice until at your preferred consistency (we prefer ours slightly chunky).
Chop up the coriander and tomatoes and stir through avocado. Season to taste.
Taste your chilli and add more seasoning if necessary. If too liquidy, remove the lid and cook uncovered for a while.
Spoon the chilli over the chips, sprinkle with cheese and return to oven to melt.
Once ready, spoon on the sour cream and guacamole and sprinkle with chopped coriander leaves. Enjoy your Chilli Cheese Fries.
You can also use Gran Luchito Serranos Chillies as an optional topping to serve with.
Download Our Free Guide To Chilli Con Carne
Your free Chilli guide will be emailed to you immediately.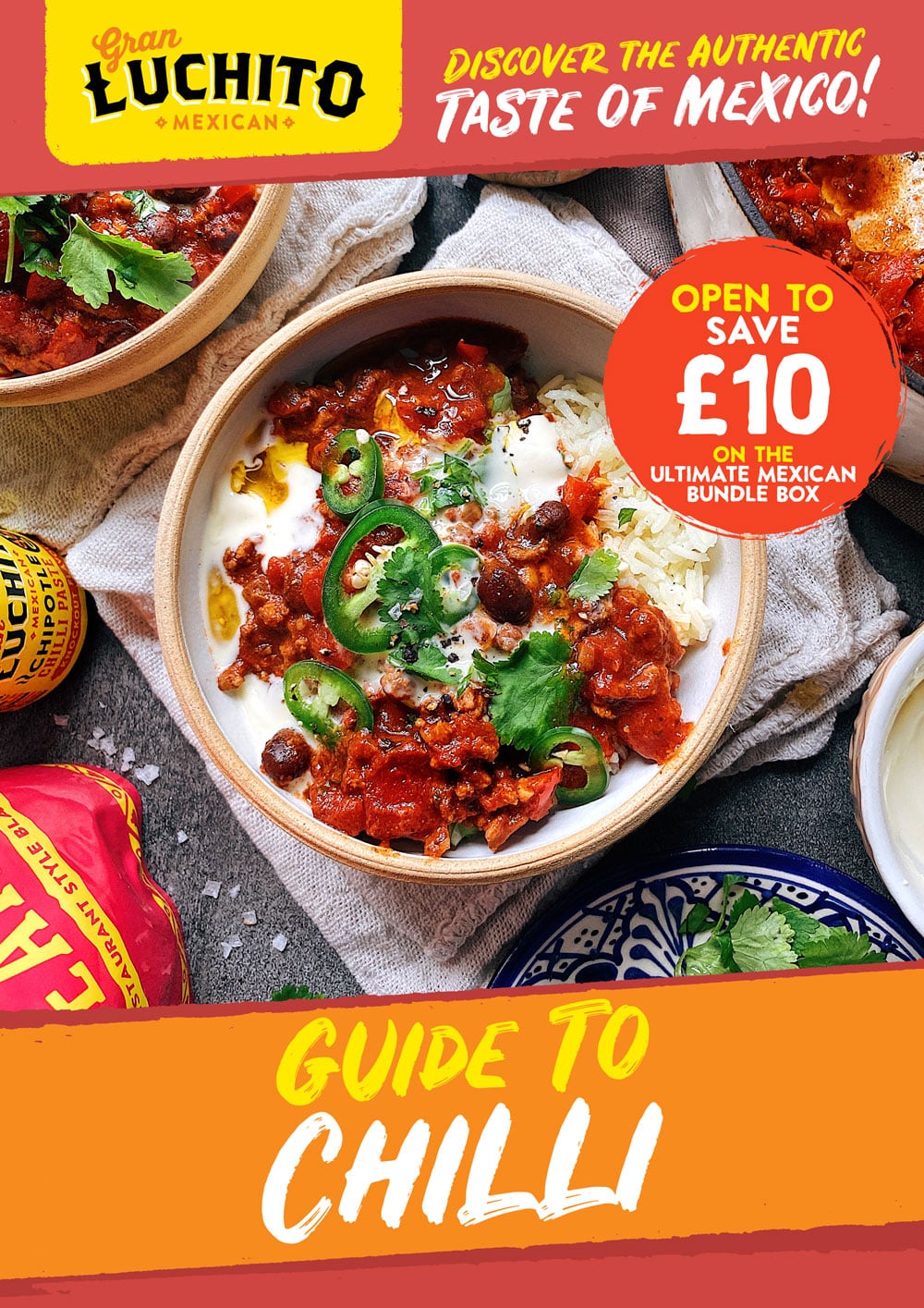 Similar Recipes You Might Like to Try
Comments / Questions / Tips

Subscribe now for a free copy of the Gran Luchito e-cookbook filled with delicious, authentic Mexican recipes and join our mailing list for all the latest recipes, news and blog updates.