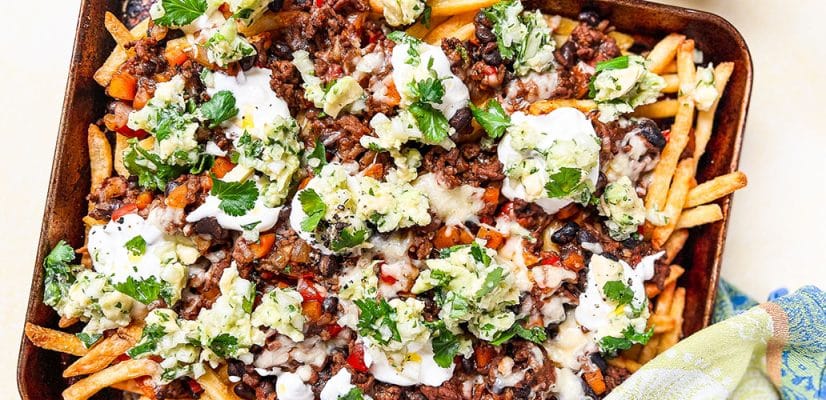 Chilli Cheese Fries
Like the mighty Smoky Chilli Dog, these Chilli Cheese Fries are an indulgent delight, an American classic, and a favourite amongst chilli lovers. Our recipe is perfect for entertaining: make a batch or two of these tasty chilli fries for your next film night or big match, and invite all your friends round to dig in.
You can prepare our chilli cheese fries recipe using leftover chilli con carne you may have in the fridge or freezer, or try our quick chilli recipe below. To save yourself more time, you can prepare the chilli recipe the evening before and have it ready to assemble on the day. Either way, we recon that you can always make some room for tasty chilli cheese chips!
Serve this chilli fries recipe with freshly made guacamole and sour cream on the side as dips, or on top of the fries to make them even more scrumptious.
If you have some extra time on your hands, instead of using frozen french fries, you could try recreating our Crispy Homemade Chips recipe. We recommend serving this recipe alongside Pulled Pork Nachos and Pico de Gallo served with Gran Luchito Lightly Salted Tortilla Chips.
Prep time

Cook time

Total time

Ideal for

Snack

Make it

Mexican

Serves

5
Nutrition: Per serving
kcal 166
fat 11g
saturates 2.6g
carbs 12g
sugars 1.9g
fibre 1.5g
protein 5.4g
salt 0.67g
How to make it
Start by making the chilli con carne. In a large casserole dish, heat up 1 tablespoon of the olive oil. Add the onion, garlic, celery, carrots and red peppers. Stir gently and fry them over medium heat for 8-10 mins or until nice and soft. Add the

Chipotle Paste

, the cumin,

Cantina Beans

(with juices), the chopped tomatoes and coriander stalks, a pinch of salt and freshly ground black pepper. Let it simmer over medium heat while you fry the meat.

In another pan, heat up the remaining olive oil and fry the minced beef until it's nice and brown (this will add extra flavor to the chilli), then simply season with salt and pepper. Once it's ready, add the cooked beef to the rest of the ingredients in the casserole. Place a lid on, and let it cook over low heat for 30 to 40 minutes at least.

Preheat the oven to 200˚C/390˚F.

About 30 mins before you're ready to serve your chilli fries, place the frozen fries in a baking tray and sprinkle a little salt on top. Follow the instructions on the package and bake in the oven until nice and crispy.

Prepare a quick guacamole by adding the avocado flesh into a bowl and mash it roughly with a fork. Then add the onion, half of the coriander, lime juice, olive oil and season with salt and pepper. Mix everything with a spoon and set aside.

Taste your chilli and add more seasoning if necessary. If too liquidy, remove the lid and cook uncovered for a while. When ready, spoon the chilli over the crispy chips and sprinkle with the grated cheese. Return to the oven for 10 mins approx or until the chilli cheese turns lovely and gooey.

Serve your chilli fries while they are still warm with the guacamole, spoonfuls of sour cream and the remaining coriander scattered on top. For extra heat you can also add Fire Roasted Serranos as an optional topping to serve with your chilli cheese fries.
What To Serve With Chilli Cheese Fries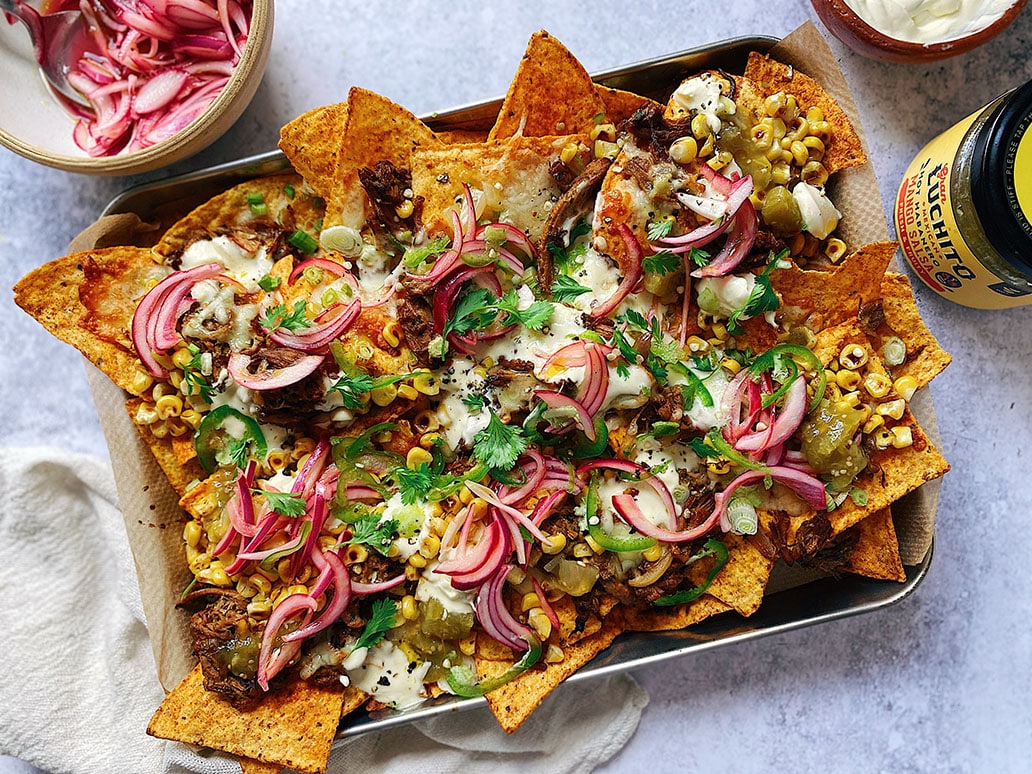 Serve these Pulled Pork Nachos with your Chilli Cheese Fries, for the ultimate party snacks.
A delicious fresh batch of Pico de Gallo can also be served on the side.
Download Our Free Guide To Chilli Con Carne
Your free Chilli guide will be emailed to you immediately.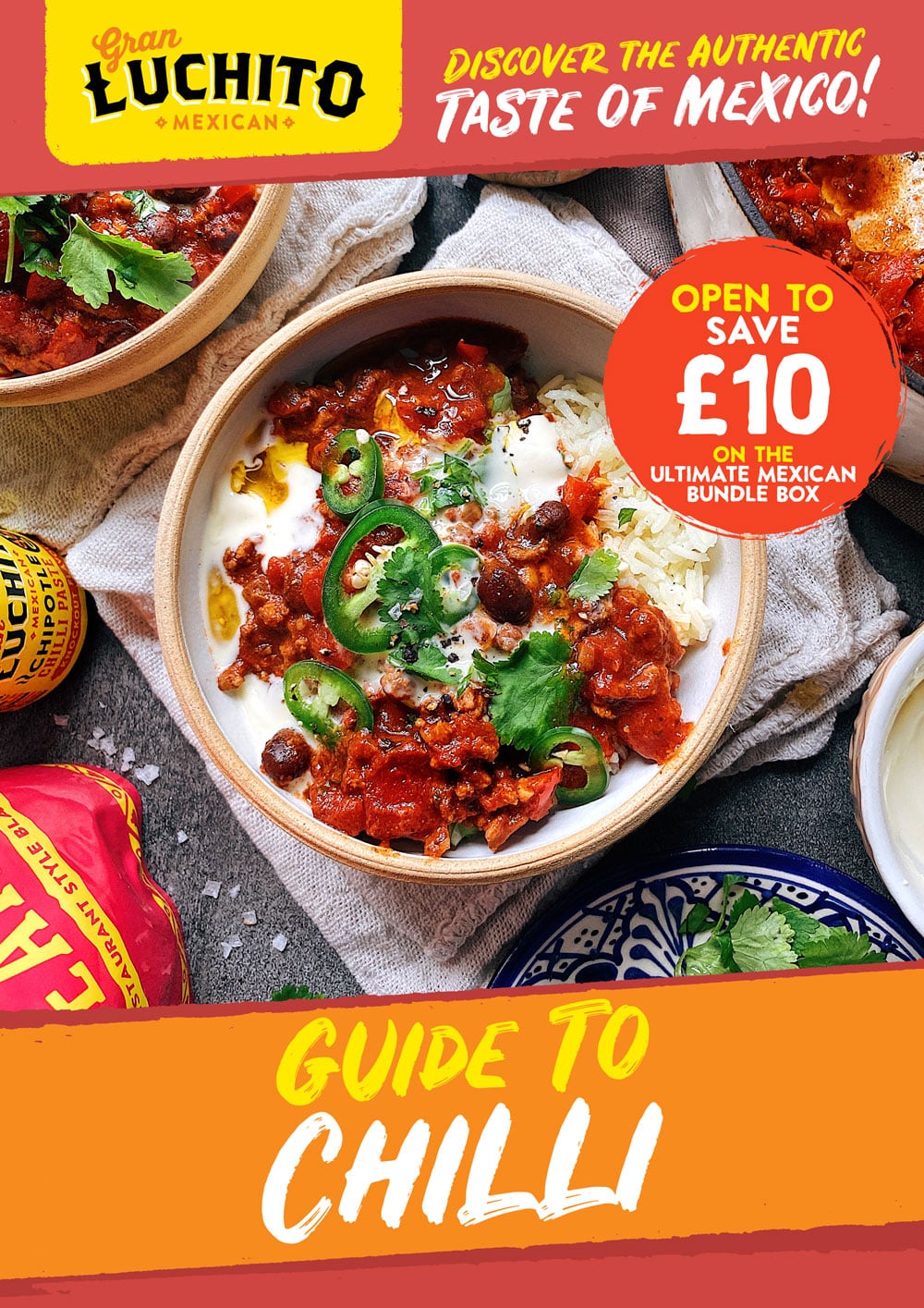 Similar Recipes You Might Like to Try
FAQs
What kind of cheese should I use for chilli cheese fries?
For our recipe, we have used grated cheddar, but you could also use mozzarella or any meltable cheese. You could even use a homemade cheese sauce.
Where did chilli cheese fries come from?
Chilli cheese fries are an American dish originally from Texas. So we can definitely call them Tex Mex! Don A. Jenkins is said to have invented chilli cheese fries at the age of 16, in Tomball, Texas.
How many calories are in chilli cheese fries?
There are 166 calories in a portion of our chilli cheese fries.
Comments / Questions / Tips

Subscribe now for a free copy of the Gran Luchito e-cookbook filled with delicious, authentic Mexican recipes and join our mailing list for all the latest recipes, news and blog updates.

wpDiscuz