Chilli dogs are a classic American dish that we knew would work really well given the Gran Luchito treatment. We used our Gran Luchito Chipotle Paste to make an easy chilli con carne and spooned the chilli beef onto meaty toulouse sausages in a bun topped with grated mature cheddar.
One for the meat-lovers for sure!
Prep time

Cook time

Total time

Ideal for

BBQ

Make it

Mexican

Serves

6
Nutrition: Per serving
kcal 154
fat 8.6g
saturates 3.8g
carbs 9.5g
sugars 2.6g
fibre 2g
protein 8.8g
salt 0.58g
How to make it
First, get your chilli con carne cooking. Finely chop all the fresh veg (onion, garlic, celery, carrot, peppers) and gently fry in olive oil for 8-10 mins or until nice and soft in a large pan (preferably with a lid).
Throw in the Gran Luchito Chipotle Paste, cumin, coriander powder and cinnamon.
Add the tinned tomatoes and kidney beans.
Fry the minced beef in another frying pan to brown in a little oil (this will add flavour to the meat). Drain off any water. Then add to the other ingredients and stir.
Add salt & pepper.
Put a lid on it, leaving a small gap and cook on a low heat for about an hour (longer if you have time).
Taste and add more seasoning if necessary. Sprinkle with fresh coriander once ready.
Meanwhile, griddle/BBQ your sausages until nicely coloured on the outside. Finish them in a pre-heated oven if necessary.
Cut the buns down the centre and place a sausage in each. Top with a generous spoon of the chilli con carne and top with grated cheese.
Download Our Free Guide To Chilli Con Carne
Your free Chilli guide will be emailed to you immediately.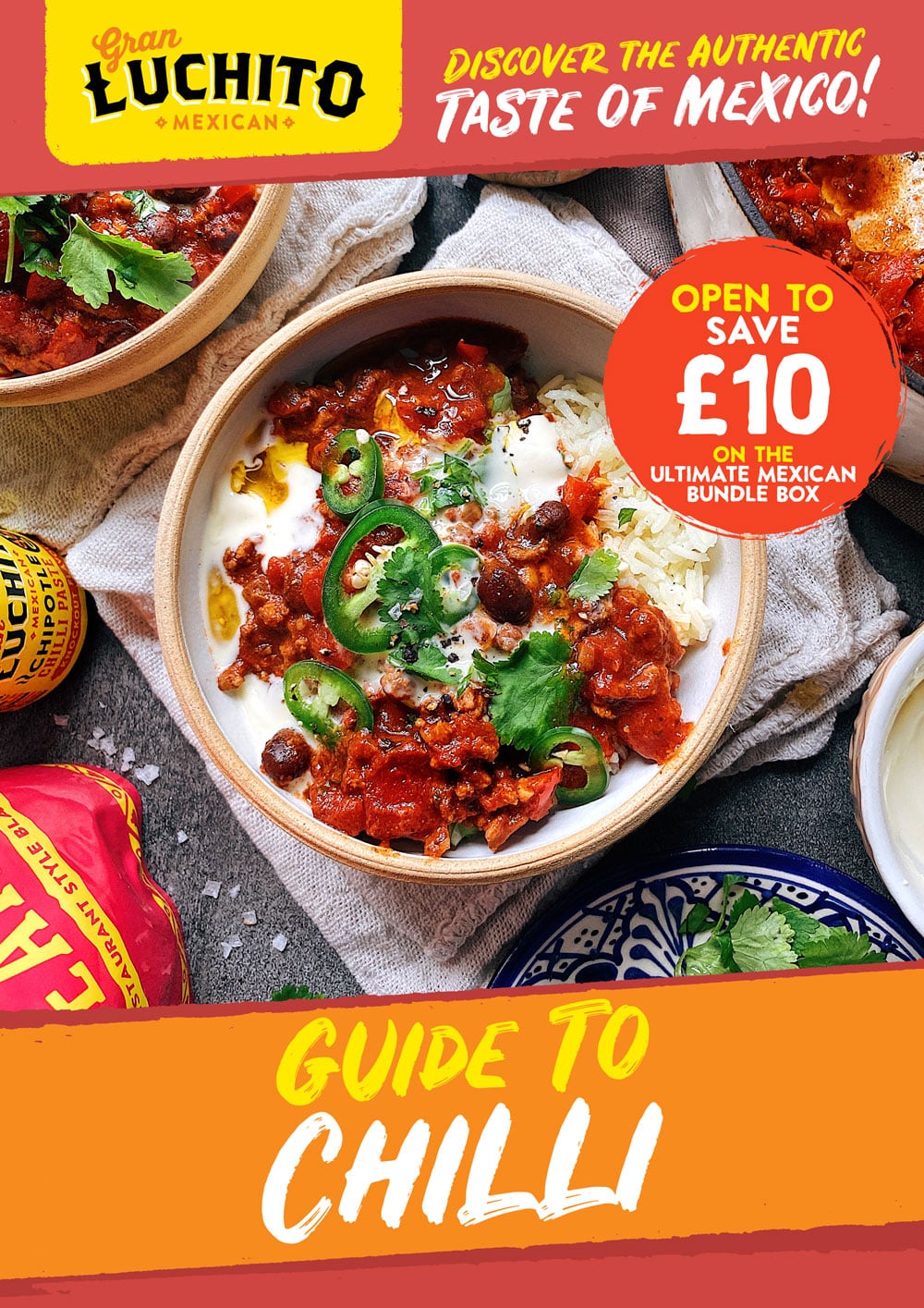 Similar Recipes You Might Like to Try
Comments / Questions / Tips

Subscribe now for a free copy of the Gran Luchito e-cookbook filled with delicious, authentic Mexican recipes and join our mailing list for all the latest recipes, news and blog updates.