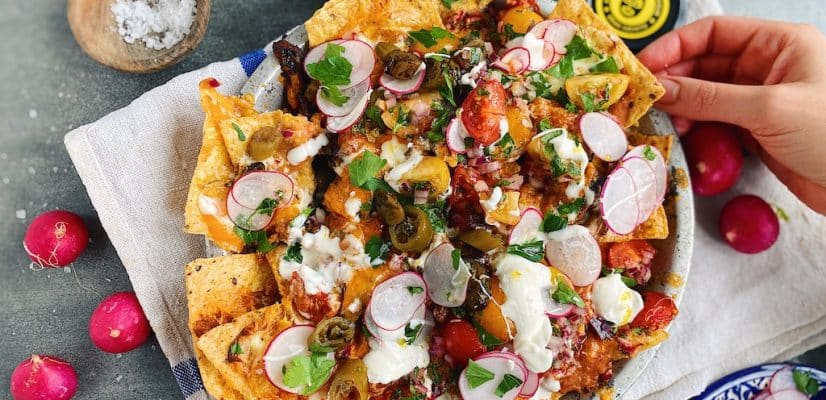 Chicken Nachos
When it comes to Nachos it's always handy to have a quick recipe for a movie night in, one that doesn't involve hours of preparation and that you can put together in no time. Our Chicken Nachos is just that recipe! It is perfect for two people but can easily be increased depending on how many are watching that film together.
Chicken thighs are so delicious and quicker to cook than chicken breast which is why they are perfect for this recipe. The thighs are coated in a delicious quick marinade made with Gran Luchito Chipotle Paste, lemon juice, parsley and olive oil. All you need to do is pan-fry your chicken. Once ready shred your meat with the help of two forks.
Another handy tip for when you make nachos is to add bit of water to our Gran Luchito Refried Beans when you warm them up in a pan, in that way they will take a sauce-like consistency much easier to add on top of your nachos. 
Our final tip is to make a fresh salsa using our Gran Luchito Fire Roasted Serranos, kind of like a pico de gallo when instead of using fresh chillies you add our pickled serrano chillies that we all know work so well with Nachos.
Quesadillas Luchito Style would be a great addition to movie night as well. If you are catering for non-meat eaters, our Vegan Nachos and Vegetarian Nachos are also great options.
Prep time

Cook time

Total time

Ideal for

Snack

Make it

Mexican

Serves

2
Nutrition: Per serving
kcal 244
fat 18g
saturates 8.5g
carbs 12.4g
sugars 1.6g
fibre 0.4g
protein 7.5g
salt 0.49g
How to make it
Preheat oven at 180°C/ 350°F

In a bowl add the Chipotle Paste, lemon juice, parsley and olive oil, mix everything with a spoon and place your chicken thighs into the mixture, make sure they are well coated and season with a pinch of salt and freshly ground black pepper.

Fry your chicken thighs with juices in a very hot frying pan, sear on both sides and then cover with a lid and let the chicken cook through. Once ready remove the pan from the hob and shred your meat with the help of two forks, set aside

Add the Refried Beans into a small saucepan with the water, simmer on a medium heat until your beans are lovely and warm
In a medium size bowl add all the ingredients for your pico de gallo with Fire Roasted Serranos, season with salt and pepper and integrate everything with a spoon, reserve.
Prepare a baking dish with a layer of Lightly Salted Tortilla Chips, then add ½ of the shredded chicken on top, ½ of the warm Refried Beans, cheese and creme fraiche, also add ⅓ of your fresh salsa.

Add a second layer of Lightly Salted Tortilla Chips with the remaining chicken, Refried Beans, cheese and creme fraiche and another ⅓ of your salsa.

Place your baking dish in the oven for 10 minutes or so, until your cheese is melted on the top.

Serve your Chicken Nachos with more creme fraiche on top and the remaining fresh salsa, garnish with fresh radish and roughly chopped parsley, enjoy!
What To Serve With Chicken Nachos
Serve your chicken nachos with sides of:
Download Our Free Guide To Nachos
Your free Nachos guide will be emailed to you immediately.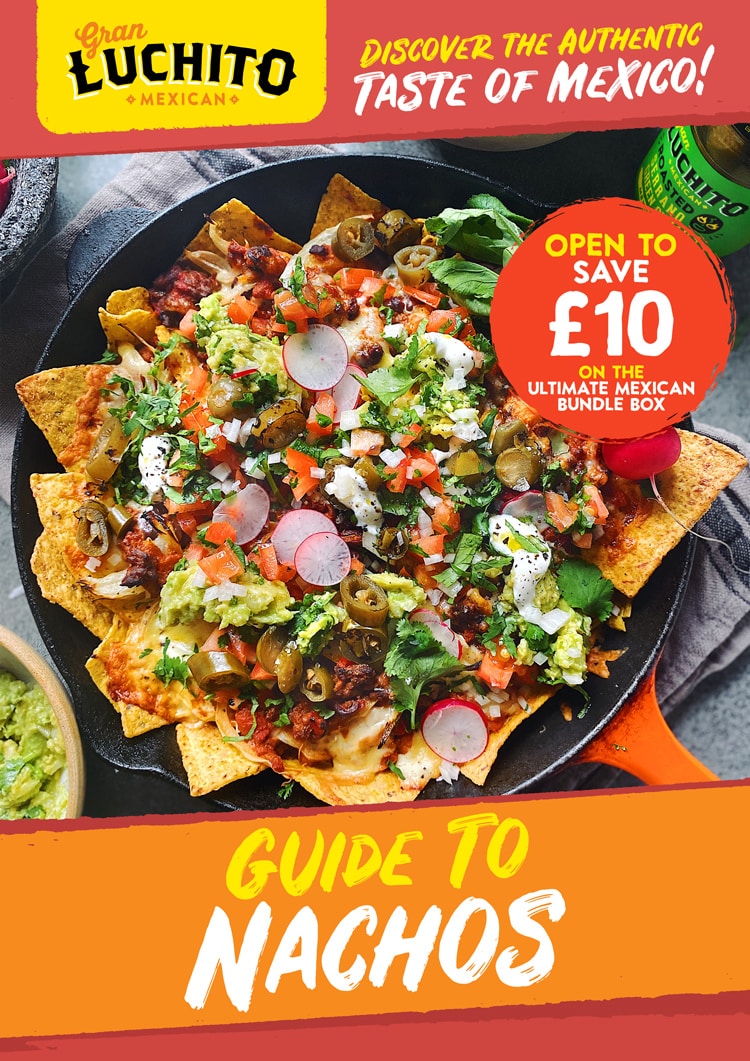 Similar Recipes You Might Like to Try
Comments / Questions / Tips

Subscribe now for a free copy of the Gran Luchito e-cookbook filled with delicious, authentic Mexican recipes and join our mailing list for all the latest recipes, news and blog updates.