Pork in Salsa Verde Tacos
These Pork in Salsa Verde Tacos are inspired by the Mexican stews known as "Guisados" or "Guisos".  There isn't just one recipe for guisados, but they mainly consist of a protein (chicken or beef most commonly) that is cooked slowly in a pot and combined with a flavoursome sauce and vegetables making it the perfect one pot meal. The sauces used can be tomatillo based or made with dried Mexican chilies that are prepared into a paste which is then cooked with the meat, vegetables and perhaps a bit of stock.
Every family has their own recipes and variations of this meal and something from what their "abuelitas", "grandmas" or certain "aunties" are known for. 
This is perfect for sharing in the middle of the table and to have everyone helping themselves to make their own tacos with warm soft tortillas, or also just served with a bit of mexican rice and freshly made beans on the side.
Our guisado is made using pork shoulder cooked with fried onions, potatoes and seasoned with our Gran Luchito Garlic & Guajillo Fajita and Taco Mix, then covered and simmered in our delicious Gran Luchito Enchilada Cooking Sauce, finished with freshly chopped coriander and served with Gran Luchito Soft Taco Wraps.
A favourite recipe of our family and friends,  we hope that your family will love it too!
If you enjoy this recipe, we recommend trying out some of our other Mexican stew recipes including our Slow Cooked Mexican Chicken Stew and Chipotle Pork Cheek Stew.
Prep time

Cook time

Total time

Ideal for

Dinner

Make it

Mexican

Serves

4
Nutrition: Per serving
kcal 154
fat 7.9g
saturates 2.1g
carbs 12g
sugars 1.8g
fibre 0.8g
protein 8.7g
salt 0.39g
How to make it
Heat up the oil in a heavy base sauce pan over medium heat, add in the onion and garlic and cook slowly, stirring occasionally until the onions soften.
Add the pork shoulder chunks into the pan with the onion and garlic mixture, season with the Garlic & Guajillo Fajita and Taco Mix, freshly ground black pepper and a pinch of salt, stir and cook your meat over high heat.
Once the pork it's browned, add in the potatoes and pour in the Enchilada Cooking Sauce. Stir and cover your pan with a lid, simmer on low heat for 30 minutes.
Taste and adjust the seasoning if necessary, finish your dish by adding the freshly chopped coriander.
For this dish, you have two serving options either served in a bowl with warm Gran Luchito Soft Taco Wraps on the side or you can serve in already prepared tacos (as seen in the pictures). Don't forget to add a little squeeze of lime and more freshly chopped coriander in your tacos for that last perfect touch, enjoy!
What To Serve With These Pork In Salsa Verde Tacos
Serve them with sides of Black Beans and Lime and Coriander rice:
Download Our Free Guide To Tacos
Your free Taco guide will be emailed to you immediately.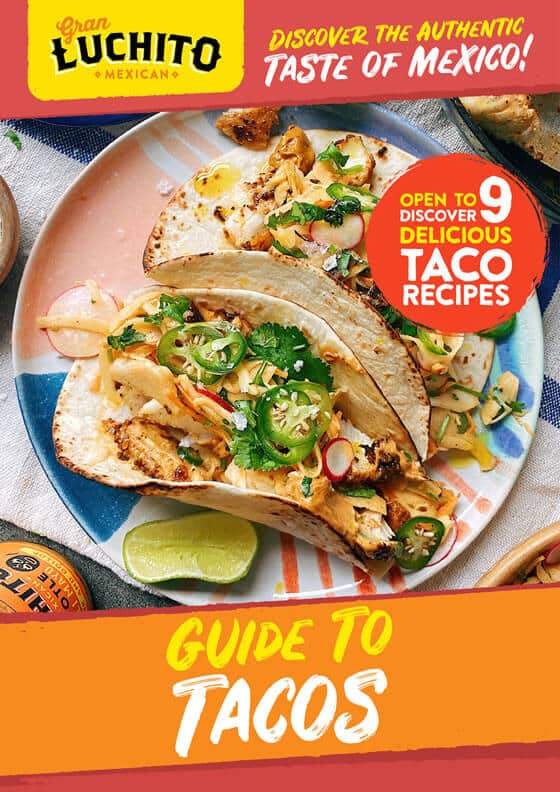 Similar Recipes You Might Like to Try
Comments / Questions / Tips

Subscribe now for a free copy of the Gran Luchito e-cookbook filled with delicious, authentic Mexican recipes and join our mailing list for all the latest recipes, news and blog updates.