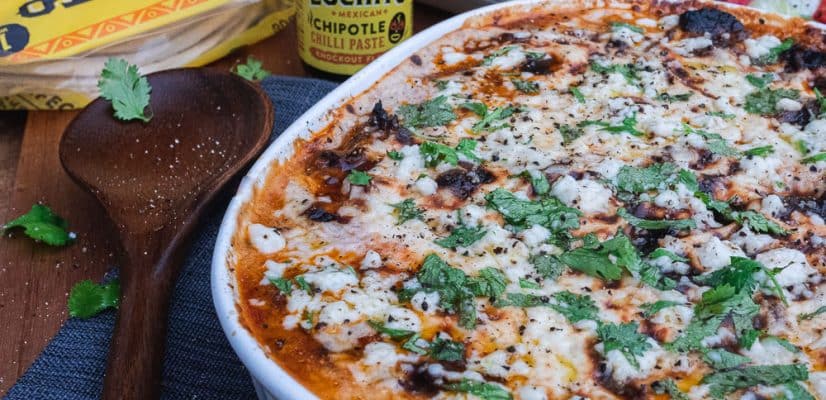 Enchilada Lasagne With Beef Short Ribs
For a true show stopper of a dish, try this Enchilada Lasagne With Beef Short Ribs & our Gran Luchito Cantina Beans. There are a few different phases to it, and it's slow cooked in the oven, so do it one day when you have the time. It would be perfect for a weekend dinner!
For this enchilada recipe we have used beef short ribs with the bone-in, and pan-fried them with the vegetables and Gran Luchito Chipotle Paste. The smoky black Gran Luchito Cantina Beans and red wine is then added and it's all then slow cooked in the oven for a few hours.
When it comes out the smell is absolutely divine, and the meat should fall off the bones. You then have fun assembling the enchiladas in our Gran Luchito Soft Taco Wraps, and pouring over your homemade enchilada sauce. Finally the dish is baked in the oven until bubbling, oozing and simply mouth-watering!
If you can't get enough of authentic Mexican enchiladas in general, or fancy trying another recipe, why don't you give our new Pulled Pork Enchiladas recipe a go. Alternatively our Easy Chicken Enchiladas version with a mild green sauce or classic Beef Enchiladas.
All go well served alongside a nice crispy green salad. Or for further inspiration check out our Mexican side dishes.
Prep time

Cook time

Total time

Ideal for

Dinner

Make it

Mexican

Serves

4
Nutrition: Per serving
kcal 179
fat 12g
saturates 5.4g
carbs 8.3g
sugars 2.3g
fibre 0.7g
protein 7.1g
salt 0.39g
How to make it
Pre-heat the oven to 150°C /300°F.
Pat the beef ribs dry and season with salt & pepper.
Heat a large oven-proof frying pan over a medium / high heat. Once hot, add the vegetable oil followed by the beef shortly afterwards. Sear all over then remove to a dish.
Reduce heat to medium then, to the pan, add the onion, celery, carrots, garlic, bay leaf and Gran Luchito Chipotle Paste. Fry for 20 minutes, stirring occasionally.
Add the chopped tomatoes (half fill the tin up with water and add this too), Gran Luchito Cantina Beans, red wine, red wine vinegar and the beef (if the beef isn't covered, top up with water). Stir well and place in the oven without a lid for 3 hours, stirring every hour or so. It should be falling off the bone when ready.
Meanwhile, make the cheese sauce: heat a saucepan over a low / medium heat. When hot, add 25g / 1 oz butter and let it melt.
Add 1 tablespoon plain flour and stir well. Let this cook for about 5 minutes, stirring regularly.
Add a little of the milk and whisk to make a paste. Once smooth, add the remaining milk, raise the heat a little and stir until it simmers. It will gradually thicken.
At this point, add the mozzarella and continue to stir regularly. Once the cheese has melted, remove from heat and leave aside.
Remove the beef sauce from the oven and remove the bones (if they don't come out easily then return to the oven for another half hour).
Use 2 forks to shred the beef and stir it into the sauce. It should be thick and rich. Taste and adjust seasoning.
Up the oven heat to 180°C / 350°C.
Spoon about 1/3 of the tomato sauce into a large ovenproof dish. Onto this spread about 1/3 of the cheese sauce, followed by a layer of 1/2 of the Gran Luchito Soft Taco Wraps.
Repeat this layering finishing on the cheese sauce at the top.
Place in the oven and bake for 20 minutes. You can also finish it off under the grill to get the top layer nice and crispy.
Serve with a green salad, fresh tomatoes & sliced avocado.
Download Our Free Guide To Enchiladas
Your free Enchilada guide will be emailed to you immediately.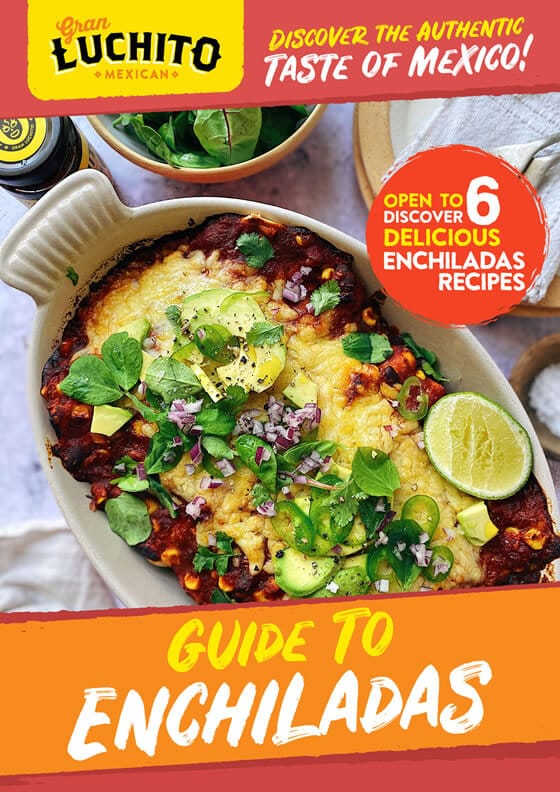 Similar Recipes You Might Like to Try
Comments / Questions / Tips

Subscribe now for a free copy of the Gran Luchito e-cookbook filled with delicious, authentic Mexican recipes and join our mailing list for all the latest recipes, news and blog updates.