Pulled Pork Enchiladas
Pulled Pork Enchiladas need no introduction. Who wouldn't love a plate of these dreamy enchiladas, hot out of the oven, with delicious gooey cheese melted on top of a creamy tomatillo enchilada sauce? Sounds good right? Our enchilada sauce recipe is prepared with our Tomatillo Enchilada Sauce and filled with the most delicious and succulent slow cooker pulled pork, lovingly cooked with Gran Luchito Chipotle Paste.
There is a lot of love and effort that goes into this enchilada recipe, and even though it might take a bit of time to prepare, it's definitely worth it. Believe us when we assure you that your family and friends will love you even more after this.
Let us know how you get on with our Pulled Pork Enchiladas in the comments section below!
Prep time

Cook time

Total time

Ideal for

Dinner

Make it

Mexican

Serves

4
Nutrition: Per serving
kcal 142
fat 8.2g
saturates 3g
carbs 7.9g
sugars 1.9g
fibre 0.7g
protein 8.5g
salt 0.59g
How to make it
Add all the pulled pork ingredients into the slow cooker and cook on high for 3-4 hours, or until it's very tender and easy to shred. 

While your pork is cooking, prepare the quick pickled red onions. Simply place all the ingredients into a small bowl, season with salt and freshly ground pepper, and mix everything with your hands and let it rest.

Then prepare your creamy tomatillo sauce by adding into the blender 1 sachet of

Tomatillo Enchilada Sauce

, the double cream and coriander. Blend until it's really smooth and season with a pinch of sea salt and coarse black pepper. Cover and reserve in the fridge.

Check your meat, and once it's very tender shred it with the help of two forks and mix in with the juices. Place it in a bowl and set aside.

Get a large baking dish and get all your ingredients ready to make your enchiladas. You will need the

Soft Taco Wraps,

the pulled pork, the creamy tomatillo sauce, and grated cheese.

Begin by adding a good amount of pulled pork into a soft taco, then pour some of the creamy tomatillo sauce on top. Roll and place it in the baking dish. Repeat the same with the rest of your tortillas

and pulled pork until you fill your baking dish.

Now pour the remaining enchilada sauce over your enchiladas. Add the grated cheese, a drizzle of olive oil, and place them in the oven at 200°C / 390°F for 15 min approx.

Once they are golden on top and the cheese has melted, remove them from the oven and quickly garnish with the pickled red onion and freshly chopped coriander. Serve warm and enjoy!
What To Serve With Enchiladas
These pulled pork enchiladas go really well with a side of either:
More About Enchiladas
Our How To Make Enchiladas blog will help you to master everything you need to know about making homemade enchiladas. Our Enchilada Recipes is our collection of tried and tested enchilada recipes with more flavours, protein and veggie options. For a full list of the best side dishes, check out What To Serve With Enchiladas.
Download Our Free Guide To Enchiladas
Your free Enchilada guide will be emailed to you immediately.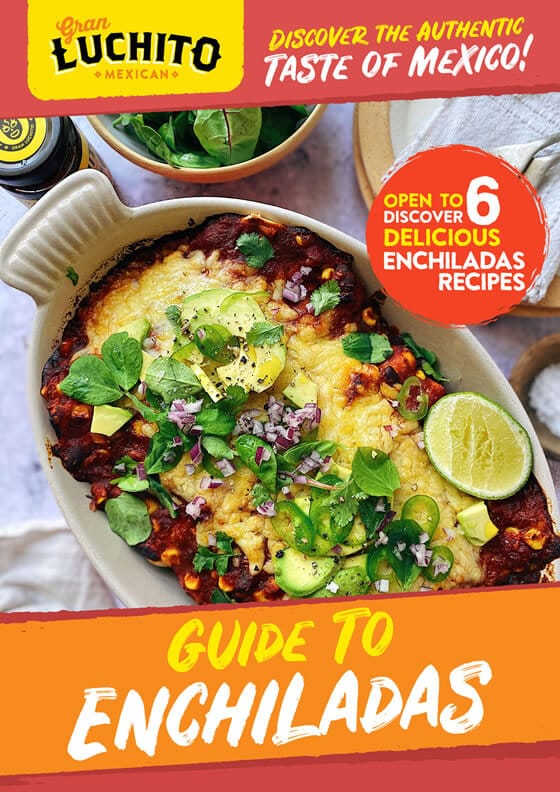 Similar Recipes You Might Like to Try
FAQs
what is in green enchilada sauce?
Our Tomatillo Enchilada Sauce, as well as most green enchilada sauces, are blended with fresh tomatillos, jalapeños, onion, garlic and coriander.
Is salsa verde the same as green enchilada sauce?
The main difference between green enchilada sauce and salsa verde is that enchilada sauce is cooked, and salsa verde is raw. The sauce in this recipe ends up being cooked, hence why it's a sauce and not a salsa.
Which is hotter red or green enchilada sauce?
The key difference between the red and green versions is simple: red sauce is made with red chilies and green sauce is made with green chilies (and tomatillos). So it completely depends on which chillies are used, and there isn't one that is hotter than the other. Our Chipotle Enchilada Sauce (red) and Tomatillo Enchilada Sauce (green) are both mild, however, the red is slightly more spicy as it has Chipotle.
Comments / Questions / Tips

Subscribe now for a free copy of the Gran Luchito e-cookbook filled with delicious, authentic Mexican recipes and join our mailing list for all the latest recipes, news and blog updates.

wpDiscuz