Easy Chicken & Chorizo Tacos
There is nothing better than making good use of leftover ingredients in our fridge and cupboard and repurposing them into a tasty recipe for the family. With the help of a few Gran Luchito ingredients, we can transform leftover chicken into a whole new meal. That's why having Gran Luchito Chipotle Paste in your cupboard becomes really handy, as it's the best way to spruce up and add flavour to any meal.
So make use of that rotisserie leftover chicken from the weekend with all those bits that nobody eats but that are still filled with plenty of meat. All you have to do is to fry onion and garlic with a bit of cooking chorizo, and let all that delicious chorizo fat get absorbed by the onions. Then add the shredded chicken and season with Gran Luchito Chipotle Paste, which is what brings all of these ingredients together. You can make it as spicy as you like – start with a teaspoon and go from there.
If you don't have any chorizo at home, feel free to substitute with pieces of chopped bacon or lardons. The quick slaw is a great way to make a delicious garnish to finish off your tacos! Of course you can adapt to the vegetables you have at home, just make sure to provide a bit of crunch into the slaw. Use creme fraiche, mayo or greek yoghurt, as they all work really well when giving that lovely creamy texture to the slaw. 
Finally season with Gran Luchito Garlic and Guajillo Fajita & Taco Mix, a bit of apple cider vinegar, extra virgin olive oil, salt and pepper, and it's done! Serve your tacos with the tasty chipotle chicken, top with the homemade slaw and last but not least a spoonful of Gran Luchito Tomatillo Salsa. Enjoy!
Prep time

Cook time

Total time

Ideal for

Lunch

Make it

Mexican

Serves

4
Nutrition: Per serving
kcal 152
fat 11g
saturates 3.8g
carbs 8g
sugars 2.6g
fibre 1.1g
protein 8.6g
salt 3.2g
How to make it
Download Our Free Guide To Tacos
Your free Taco guide will be emailed to you immediately.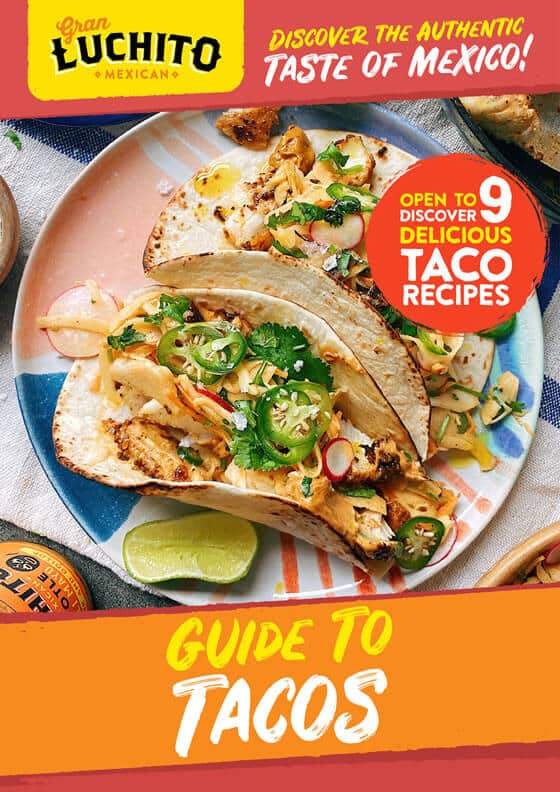 What To Serve With Easy Chicken and Chorizo Tacos
Serve these easy chicken and chorizo tacos with sides of:
Similar Recipes You Might Like to Try
Comments / Questions / Tips

Subscribe now for a free copy of the Gran Luchito e-cookbook filled with delicious, authentic Mexican recipes and join our mailing list for all the latest recipes, news and blog updates.

wpDiscuz