Estimated reading time: 10 minutes
Wondering what to serve with enchiladas as a side dish for that all-important showstopper meal? Here we've rallied together some of our delicious sides that would go perfectly with enchiladas. Any leftovers can be kept in the fridge and eaten the next day!
---
---
An obvious choice! Of course we'd say Chips and Salsa! Our Lightly Salted Tortilla Chips go with almost everything and are a welcome little crunch to add as an enchiladas side dish. Although they stand well alone, they're even better dipped in one of our five salsas: super smoky Chipotle Salsa, zingy and tangy mild Tomatillo Salsa, hearty chipotle Black Bean Salsa with garlic and lime, fire-roasted Red Pepper Salsa, or last but not least our fresh and fruity Hot Habanero Mango Salsa. Take your pick! Or have some fun taste testing a few.
Best Served With: Chicken Enchiladas
---
Serve our pico de gallo recipe along with your enchiladas. It's one of the easiest and freshest salsas there is and you can serve it with or on just about anything. We have combined fresh tomatoes, raw onion, chilli, lime juice, coriander and our Smoky Chipotle Fajita and Taco Mix to make this very simple dish. The more chilli you add, the spicer it is!
Best Served With: Vegetarian Enchiladas
---
Sign Up To Download Our Free Guide To Enchiladas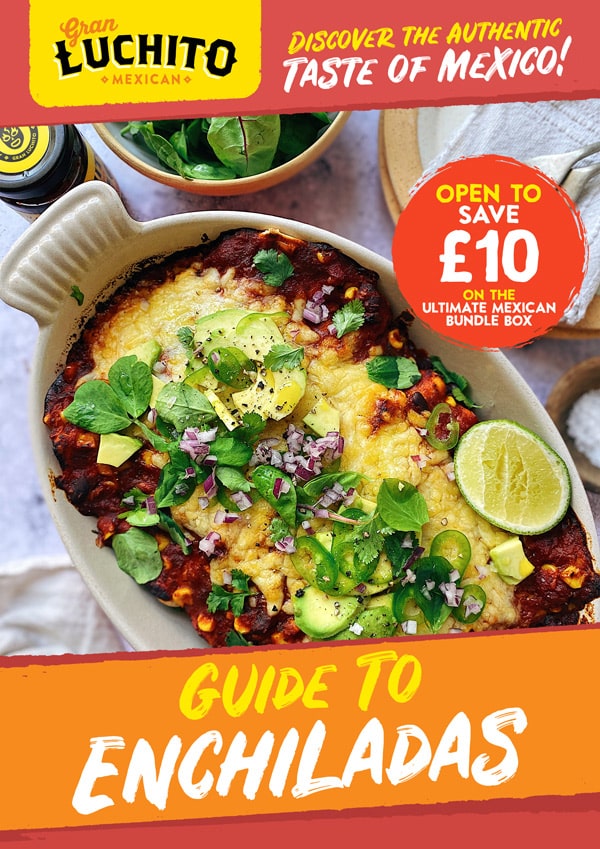 Free Enchilada Cook Book
Save £10 On Our Ultimate Mexican Bundle Box (UK Only)
Monthly Newsletters with our latest recipes and special offers
---
Is there anything a side of delicious Mexican coleslaw can't improve? Add a generous amount of this crisp cabbage Mexican slaw recipe to your plate, along with your enchiladas, and you're on to a winner. Much more flavourful than traditional coleslaw, it's taken up a notch with a spicy dressing made with our Chipotle Mayo and zingy lime.
Best Served With: Beef Enchiladas
Mexican black beans are a classic to serve with enchiladas. Our lovely Cantina Beans (authentic black beans with their juices) are waiting for you to warm up and have alongside your enchiladas, or just have them on the side. If it's the latter, you can garnish them with some finely chopped onion, tomatoes, chillies, coriander, some scoops of avocado and dollops of creme fraiche! Delicious!
Best Served With: Chorizo Enchiladas & Winter Veg
---
This is a delicious street corn recipe! A truly authentic Mexican street food dish, that would be one of the best side dishes to serve with enchiladas. The secret to this Mexican corn recipe is a dollop of our Chipotle Mayo. It brings it to a whole new level and adds that irresistible dimension of smoky flavour. If corn is your thing, be sure to try our Baked Mexican Elotes recipe which has similar flavours, except that it's on the cob.
Best Served With: Easy Chicken Enchiladas
---
This authentic Mexican rice recipe had to be added to this post on what to serve with enchiladas. It's a great one to add to a lot of Mexican recipes, has a wonderful flavour and just adds some more pizzazz to your enchiladas! The Mexican rice is filled with carrots, peas, coriander and a cheeky teaspoon of our Chipotle Paste. This blends in the smoky flavour of chipotle chillies and caramelised onion. For more on what is real Mexican food check out our blog What Is Authentic Mexican Food?
Best Served With: Vegetarian Enchiladas
---
What salad goes with enchiladas? Our Mexican salad is a perfect side dish to eat with enchiladas in the Spring or Summer. In addition, it's a beautiful salad to look at, very colourful, and full of healthy goodness. Combine fresh salad leaves with carrots, radishes, spring onions, feta, avocado and our black Cantina Beans. Add to that a bit of crunch with our Lightly Salted Tortilla Chips and some chipotle dressing! This results in a fun texture with tons of flavour.
Best Served With: Enchilada Lasagne With Beef Short Ribs
---
Look no further if you're looking for healthy Mexican side dishes. Likewise, if you are trying to eat a bit lighter but still have meals that feel satisfying and fill you up some hungry loved ones, then this is one of the best side dishes to serve with enchiladas.
Take a look at our beautiful Taco Salad!
Best Served With: Easy Chicken Enchiladas
---
Hopefully that's helped you decide on what to serve with enchiladas! For more on enchiladas, please see:
Keep us posted on your masterpieces! Don't forget to tag us #granluchito