Turkey Enchiladas
There is something incredibly satisfying about leftovers, right? Being re-heated, getting crispier, and sometimes tasting even better than when they were first prepared because all the flavours have had that extra bit of time to come together.
This turkey enchiladas recipe has to be one of the best ways to make use of any turkey leftovers! Try it with turkey, pork or chicken, or make a vegetarian version with leftover roast potatoes. You can also use leftover roasted veggies to make the sauce, or simply substitute the butternut squash with tomatoes. 
Here are some tips on how to make your turkey enchiladas even better:
Shred the cold leftover turkey meat with your hands and then reheat it in a pan with a bit of olive oil before adding it into the enchiladas.

There's no need to warm up your Gran Luchito

Soft Taco Wraps,

 as they come nice and pliable fresh out of the packet.

Add homemade enchilada sauce to the bottom of your baking dish, but also inside your filling to make your enchiladas even more delicious. 

Make sure to keep enough of your sauce to cover your enchilada casserole with.
Prep time

Cook time

Total time

Ideal for

Lunch

Make it

Mexican

Serves

4
Nutrition: Per serving
kcal 124
fat 4.4g
saturates 1.2g
carbs 8.4g
sugars 2g
fibre 0.8g
protein 12.8g
salt 0.53g
How to make it
Preheat your oven to 180˚C/350˚F. In a medium baking tray place the butternut squash, onion, garlic cloves and tomatoes. Drizzle with the olive oil, and season with a pinch of salt and freshly ground black pepper. Mix everything with your hands, and arrange evenly on the tray. Bake for 25-30 minutes.

Once ready, place all of your roasted veggies in a blender, add the chicken stock and the

Chipotle Paste. B

lend really smoothly and pour your sauce into a small saucepan. Simmer on a low heat for 5 to 6 minutes, and season with salt and freshly ground pepper, to taste.

While your enchilada sauce is simmering away, heat up a frying pan with a drizzle of olive oil. Once it's hot enough add the shredded turkey and cook for a minute or two. Set aside and get ready to make your enchiladas.

In a baking dish add a ladle of enchilada sauce at the bottom of your dish. Get one of the

Soft Taco Wraps

and add some of the turkey meat as well as a spoonful of enchilada sauce. Wrap it into a taco and place it in the baking dish. Repeat the same process with the remaining tortillas and filling.

Finish your authentic enchilada recipe by pouring the rest of the enchilada sauce recipe over your enchiladas. Spread evenly with the back of a spoon, then add the grated cheese and bake in the oven for 10-12 minutes (cooking time may vary depending on your oven).

Serve your creamy enchiladas whilst still warm, and garnish with the red chilli and coriander. Enjoy!
What To Serve With Turkey Enchiladas
Serve these turkey enchiladas with a big portion of these two sides:
Download Our Free Guide To Enchiladas
Your free Enchilada guide will be emailed to you immediately.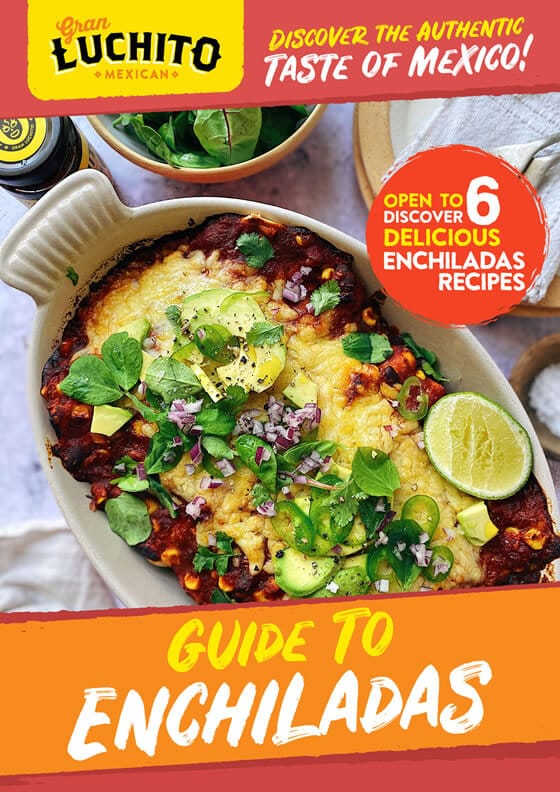 Similar Recipes You Might Like to Try
FAQs
Do you have to use leftover turkey for these enchiladas?
Not at all. We have used leftover turkey because it's a great way to use up all of those holiday leftovers, but you can also use ground turkey mince. Just give it some good seasoning with Chipotle Paste or one of our Taco Mixes.
How to make turkey enchiladas spicy?
It's all in the sauce. For spicier sauce, make sure to put a bit more Chiptole Paste in it. Alternatively, you could blend in some of our green Fire Roasted Serranos!
Can these turkey enchiladas be made ahead of time?
Yes they can! You can assemble them in the dish, cover tightly with foil and place in the fridge for 2-3 days before you bake them. Or you can freeze them for up to 3 months. To thaw them, place them in the fridge overnight before baking them.
Comments / Questions / Tips

Subscribe now for a free copy of the Gran Luchito e-cookbook filled with delicious, authentic Mexican recipes and join our mailing list for all the latest recipes, news and blog updates.