Green Chicken Enchiladas
When it comes to choosing a main course in a Mexican restaurant, one that we find so tempting is chicken enchiladas in a creamy green sauce made with salsa verde. It's such an indulgent combination of flavour with the fresh flavour from the green salsa, the creaminess of sour cream, tender shredded chicken and did we mention melted cheese?!
With our Gran Luchito Tomatillo Enchilada Sauce, we make it easy for you to make delicious, restaurant-style Green Chicken Enchiladas at home with only a handful of ingredients in no time.
Our Tomatillo Enchilada Sauce has mild fresh salsa verde flavours of tomatillos, jalapeños, onion and garlic, which makes these Green Chicken Enchiladas perfect for the whole family to enjoy, especially when you need to cater for those who prefer milder flavours. 
These chicken enchiladas serve 3-4 but you can easily double or triple according to your needs. 
We mix half of the green enchilada sauce with creme fraiche which is then poured over lightly fried onions, and shredded chicken, to make the most delicious creamy filling. The rest of the authentic enchilada sauce is added over the chicken enchiladas with grated cheese, ready to go in the oven until golden and beautifully gooey!
Prep time

Cook time

Total time

Ideal for

Dinner

Make it

Mexican

Serves

4
Nutrition: Per serving
kcal 154
fat 7.6g
saturates 3.9g
carbs 11.7g
sugars 2.3g
fibre 0.6g
protein 9.3g
salt 0.88g
How to make it
Preheat oven To 180°C / 350°F

Place the chicken in a small saucepan, add the onion, bay leaf, peppercorns, salt, and cover with water. Bring to boil and cook for 20 minutes, approx.

Once cooked, remove the chicken from the pan and shred it with the help of two forks, and reserve the meat. Place the chicken stock in a closed container and keep it refrigerated for other recipes.

In a frying pan, fry the onion with olive oil. Add the shredded chicken, pour in half of the Tomatillo Enchilada Sauce, and a pinch of salt and black pepper. C

ook on medium heat for 2 to 3 minutes.

Add the creme fraiche at the end, and stir into the tomatillo chicken mixture. Remove the pan from the heat and set aside.

Add a big dollop of creamy tomatillo chicken mixture onto each Soft Taco Wrap. Roll and place in an ovenproof dish, and then repeat with the remaining Soft Taco Wraps.

Pour the remaining sauce from the sachet over the enchiladas and top with grated cheese.

Bake in a preheated oven for 20 mins until golden brown, then garnish with freshly chopped coriander and serve.
What To Serve With Green Chicken Enchiladas
Try serving these salsa verde enchiladas with a side of:
More About Enchiladas
Our How To Make Enchiladas blog will help you to master everything you need to know about making homemade enchiladas. Our Enchilada Recipes is our collection of tried and tested enchilada recipes with more flavours, protein and veggie options. For a full list of the best side dishes, check out What To Serve With Enchiladas.
Download Our Free Guide To Enchiladas
Your free Enchilada guide will be emailed to you immediately.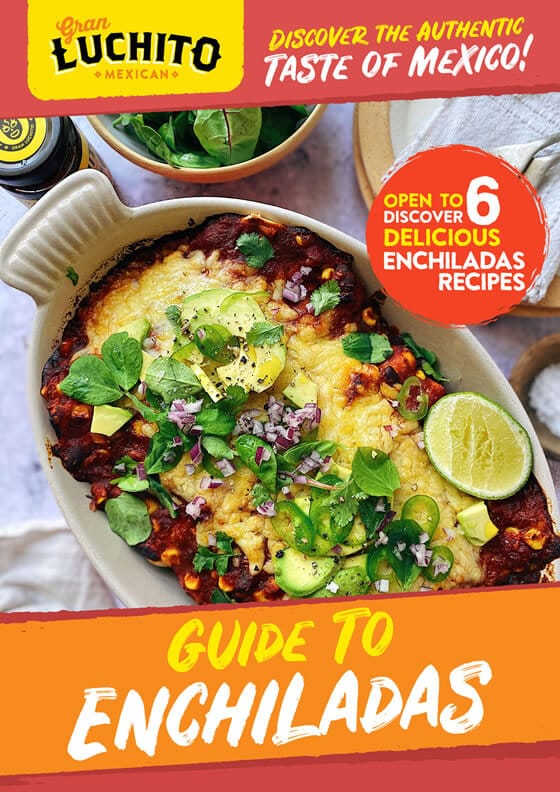 Similar Recipes You Might Like to Try
FAQs
How to roll enchiladas?
Roll the enchilada from end to end. Pull one end of the tortilla over the filling, and tuck in its contents. Roll the enchilada over onto itself until you reach the other end of the tortilla. Repeat the process for each enchilada. Place your enchiladas into a casserole dish in with the seam on the bottom.
How to prevent soggy enchiladas?
If you lightly fry your tortillas in a bit of oil first before using them, this is a good trick. This simple step allows the tortillas to crisp up a bit and creates a barrier so the tortillas will not soak up too much enchilada sauce.
Can you freeze our enchilada sauce?
Yes! Simply put the remains of any unused sauce in an airtight container, and you can freeze it for up to 3 months. When ready to use, let the sauce thaw completely in the refrigerator before using it.
What to do with leftover enchiladas?
You can keep them in the refrigerator for up to 7 days. Alternatively, freeze them! If stored and frozen right, enchiladas can last in the freezer for up to 3 months, and still taste delicious when thawed and baked again to be eaten.
Comments / Questions / Tips

Subscribe now for a free copy of the Gran Luchito e-cookbook filled with delicious, authentic Mexican recipes and join our mailing list for all the latest recipes, news and blog updates.