Enchilada Casserole
This Tex Mex favourite combines all the lovely flavours enchiladas into one layered casserole dish. What we love about this Enchilada Casserole recipe is that it's easy to make into a big batch perfect for feeding large groups of people as well as making everyone happy.
You may ask what the difference is between this enchilada casserole recipe and normal enchiladas. In terms of flavour, not much, it's just the way they're prepared by stacking layers of tortillas, filling and cheese. It's very similar to the way that you would make a lasagna. We find that you're able to pack more of the filling and cheese in between layers of soft tacos, compared to lasagna sheets, and then you're able to feed more people with the same size baking dish which is a plus. 
This enchilada recipe is enough to feed 6 well-served portions, or 8 if you're serving with other dishes in mind. For a small family, prepare half of the recipe in a smaller baking dish.
Tips and Tricks:
To make this recipe in no time we recommend cooking the chicken in advance, or to use leftover rotisserie chicken. When cooking from scratch, place two raw chicken breasts in a saucepan and cover them with water. Then add a piece of onion, garlic clove, a bay leaf, and a bit of salt and pepper. Bring to a boil, then simmer on a lower temperature for 20 minutes (approx). When ready, remove the chicken from the liquid and let it cool down and then shred the meat.

This chicken enchilada casserole can be prepared ahead, ready to be popped into the oven when you're ready to serve.

For an equally delicious green sauce version, try this same recipe with

Gran Luchito Tomatillo Enchilada Sauce

instead.

If you're thinking about what to serve with an easy enchilada casserole, why not try our recipes for Refried Beans, Arroz Primavera or Mexican Salad.
Prep time

Cook time

Total time

Ideal for

Dinner

Make it

Mexican

Serves

6
Nutrition: Per serving
kcal 145
fat 6.1g
saturates 2.6g
carbs 11.8g
sugars 2.0g
fibre 0.5g
protein 10.5g
salt 0.59g
How to make it
Begin by preparing the enchilada filling. In a large frying pan heat up the olive oil over medium heat. Once hot enough, add the onion and cook until it softens. Then add the carrots and fry for another couple of minutes. Now you can add the shredded chicken, sweetcorn,

Cantina Beans, 1 whole and 1/3 packet of Chipotle Enchilada Sauce 

(reserve the remaining sauce). Season with salt and pepper to taste. Reduce the temperature to a minimum, cover the pan with a lid, and let it simmer for 10 minutes approx, or until the carrots are cooked through.

Preheat the oven to 180˚C/360˚F. In a large baking dish first lay five Soft Tacos at the bottom of the dish (don't worry if they overlap as long as they cover the whole surface). Then add half of the chicken enchilada filling, and 1/3 of the grated cheese. Next add a second layer of Soft Tacos, chicken, and more cheese. Finish the enchiladas with one last layer of Soft Tacos, and the remaining Chipotle Enchilada Sauce poured on top. Spread it evenly with the back of a spoon, and add the remaining cheese.
Bake the enchiladas in the oven for 15 minutes until golden brown on the top.
Once ready, remove the enchilada casserole from the oven and garnish with fresh avocado slices. Scatter the red onion on top, spoonfuls of sour cream, cherry tomatoes, and coriander leaves. Cut with a sharp knife and serve slices of healthy enchilada casserole enjoyed with a fresh salad on the side or some warm Refried Beans.
What To Serve With Enchilada Casserole
Serve your creamy chicken enchilada casserole with sides of:
Download Our Free Guide To Enchiladas
Your free Enchilada guide will be emailed to you immediately.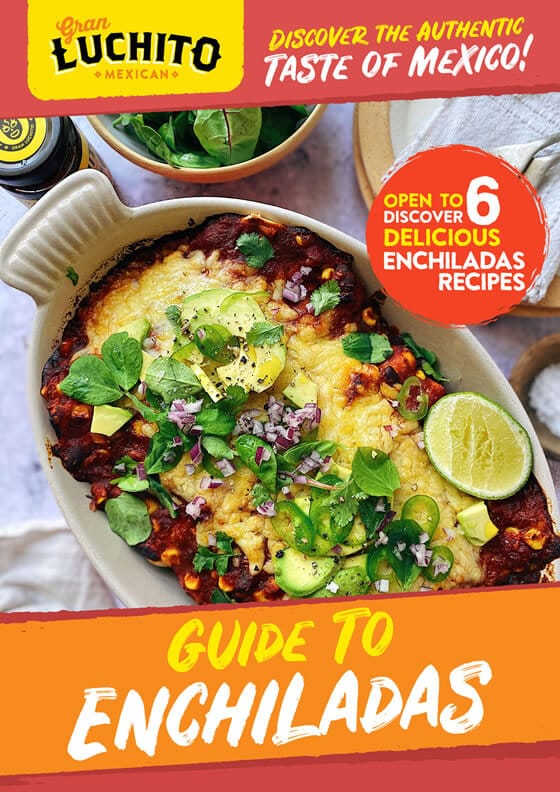 Similar Recipes You Might Like to Try
FAQs
What goes with enchilada casserole?
Depending on how many people you have joining you for the meal, and what time of day it might be, you could go for a nice crisp green salad (for just a light lunch), or add some rice and a heavier salad for the evening. Our Mexican Salad, and Arroz Primavera would go really well with this dish.
Can I freeze enchilada casserole?
Yes! Let your enchilada casserole cool completely. Wrap it securely with cling film, then with tin foil. Label and freeze for up to 3 months. When ready to eat, thaw it completely in the refrigerator for 24 hours.
How many calories are in enchilada casserole?
There are 145 calories per 100g portion of enchilada casserole.
Comments / Questions / Tips

Subscribe now for a free copy of the Gran Luchito e-cookbook filled with delicious, authentic Mexican recipes and join our mailing list for all the latest recipes, news and blog updates.