Enchilada Soup
A different way to bring the coziness of enchiladas to your home is with this recipe for Enchilada Soup. To prepare this recipe at home all you have to do is to combine vegetables, shredded chicken, and Gran Luchito Cantina Beans with Gran Luchito Chipotle Enchilada Sauce, then add a bit of cream and stock. We guarantee that you'll love this hearty soup and you'll be making it again and again.
Tips and tricks:
Use leftover rotisserie chicken or precooked ready-to-eat chicken breasts to save time when you prepare this chicken enchilada soup at home.

For a thicker version of this enchilada chicken soup use creme fraiche or full fat cream.

For a green enchilada soup, simply substitute the

Chipotle Enchilada Sauce

with Gran Luchito

Tomatillo Enchilada Sauce.
You can crumble some of our Gran Luchito Lightly Salted Tortilla Chips on top when you serve it, for a bit of added crunch.
Prep time

Cook time

Total time

Ideal for

Dinner

Make it

Mexican

Serves

4
Nutrition: Per serving
kcal 99
fat 3.5g
saturates 1.7g
carbs 9.1g
sugars 4.1g
fibre 1.5g
protein 8.6g
salt 0.55g
How to make it
In a heavy based saucepan, heat up the olive oil over medium heat. Once it's hot enough, add the onion and garlic, then stir and let it cook until it softens. Add the potatoes, carrots, and peppers. Stir and fry them lightly for a couple of minutes.

Pour the

Chipotle Enchilada Sauce

into the pan, add the chicken stock, the

Cantina Beans

(drained), bring to a boil, and add the shredded chicken. Season with a pinch of salt and freshly ground black pepper. Simmer on a lower temperature for 15 minutes or until the vegetables are cooked through.

Finally, pour in the single cream and the parsley, stir and simmer for 5 more minutes. Remove from the heat, and taste, then adjust the seasoning if necessary. Serve warm and garnish with a spoonful of creme fraiche and a handful of grated cheese scattered on top.
What To Serve With Enchilada Soup
We'd serve this enchilada soup as a main course because it's quite filling and rich. For some tasty side dishes that you can serve alongside it, try one or both of these:
Download Our Free Guide To Enchiladas
Your free Enchilada guide will be emailed to you immediately.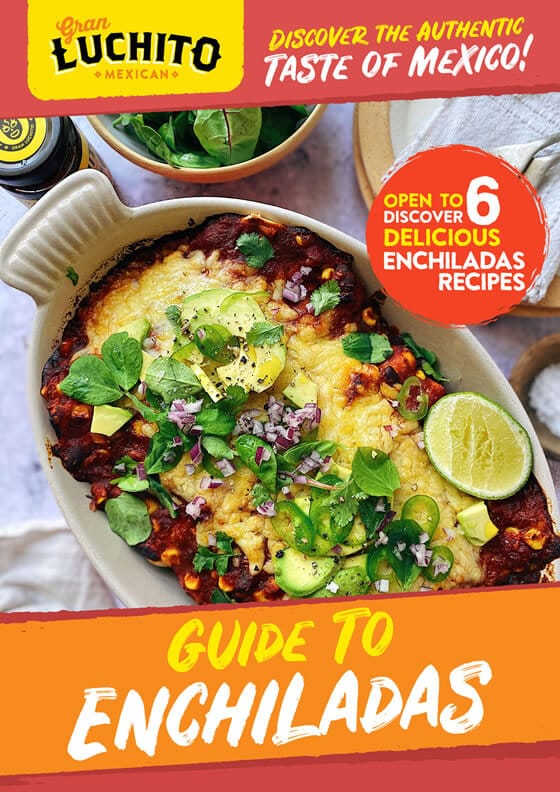 Similar Recipes You Might Like to Try
FAQs
What is chicken enchilada soup?
Onions, peppers, and garlic in olive oil/butter until softened. Add seasonings, Gran Luchito enchilada sauce, diced tomatoes, Gran Luchito black cantina beans, parsley, peppers, carrots, chicken broth, and chicken.
Is chicken enchilada soup healthy?
It's a really nourishing, nutritious and filling soup. It's on the lower-carb side, with high protein, and is very healthy, yes.
What other ingredients can you put in an enchilada soup?
You can make it with any meat you like, beef or carnitas for instance with beans and sweetcorn. Shredded pork shoulder would go really nicely with our green enchilada sauce.
Comments / Questions / Tips

Subscribe now for a free copy of the Gran Luchito e-cookbook filled with delicious, authentic Mexican recipes and join our mailing list for all the latest recipes, news and blog updates.