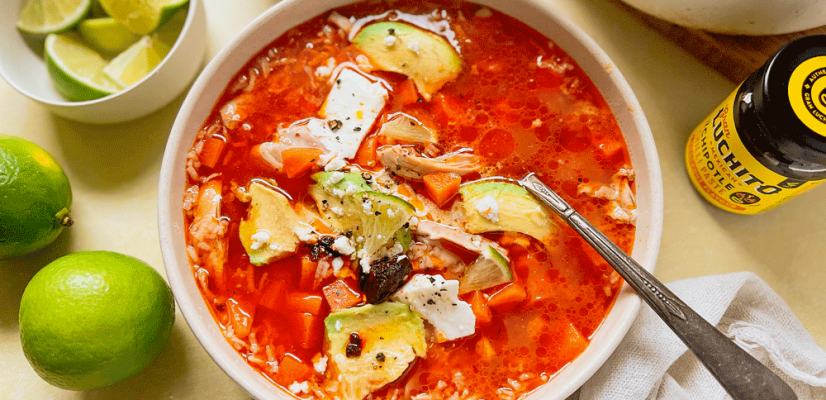 Caldo Tlalpeño
Caldo Tlalpeño is a hearty Mexican soup made with a chicken and tomato based broth, shredded chicken, vegetables and rice. It's a seriously nourishing and satisfying chicken soup, perfect for colder months.
You can find a few variations of this Mexican soup recipe where they add chickpeas and other vegetables. The way it's served and garnished is always the same though – with slices of avocado, a drizzle of crema, a good dose of chipotle in adobo, and lime. Caldo Tlalpeño is pure Mexican mama's food!
Gran Luchito Chipotle Paste is the perfect ingredient to bring Mexican soup recipes to life at home, and we add it to the broth here for a deliciously smoky kick. If you want to make this chicken soup child friendly, just skip the chipotle in the broth and the grown-ups can add it into their soup once it's served, making everyone happy. 
Tips and Tricks:
For the broth: cook chicken thighs and legs with aromatics (onion, peppercorns, bay leaf, etc.) to make a tasty broth. Doing it in this way, you get a base broth that you can use to prepare your soup, and the chicken will be cooked, ready to be shredded.
*To save time, buy ready-made chicken stock and already-cooked chicken, ready to be shredded and added into your tasty soup.
Rice: precook the rice separately as part of your prep. You can use basmati, long grain, or any rice you prefer. Once cooked, add the rice to the soup when it's ready to serve, to prevent the rice from overcooking.
Garnishes: bring the avocado slices to the table, a jar of Gran Luchito Chipotle Paste, sour cream, feta cheese (optional), and limes cut into wedges. Then everyone can customize and add the things they like into their Caldo Tlalpeño.
Prep time

Cook time

Total time

Ideal for

Dinner

Make it

Mexican

Serves

4
Nutrition: Per serving
kcal 93
fat 5.5g
saturates 1.8g
carbs 7.0g
sugars 1.9g
fibre 1.0g
protein 4.2g
salt 0.59g
How to make it
Begin by cooking the chicken and making the broth. In a medium size saucepan, add the chicken thighs (remove skins for a lighter broth), onion, garlic cloves, bay leaves, the peppercorns and salt. Then add twice the water to cover the chicken. Bring to a boil, then reduce the heat to a minimum and simmer for 25 mins with a lid on. Skim the foam that forms at the surface from time to time. 

In the meantime, add into the blender the tomatoes, onion, and garlic, and blend smoothly. Once ready, set aside.

When the broth is ready, remove the cooked chicken thighs from the liquid and place them in a bowl. Let them cool down and then shred the meat with the help of a fork, or use your hands and reserve.

In a large saucepan add the olive oil over medium heat. Once hot enough, add the carrots and stir, let them cook for a couple of minutes. Now add the tomato puree and

Chipotle Paste

, stir and let it cook for 5 to 6 minutes. After this, place a fine mesh sieve over your saucepan and pour in the homemade broth, discarding the aromatics left in the sieve. Then add the extra stock and shredded chicken, and simmer for 15 more minutes or until the carrots are cooked through. Taste, and add salt and pepper to your liking.

Once the carrots are cooked, it's time to add the rice and serve. Add a good amount of carrots, chicken, rice, and broth into bowls. Then garnish with the avocado, a drizzle of crema, feta cheese, and half a teaspoon of Chipotle Paste. Squeeze lime juice on top and enjoy!
What To Serve With Caldo Tlalpeño
Caldo Tlalpeno is perfect when served on its own as a main,  but it can also be served as a starter. We recommend following it up with our recipes for:
Download Our Free Guide To Mexican Classics
Your free guide will be emailed to you immediately.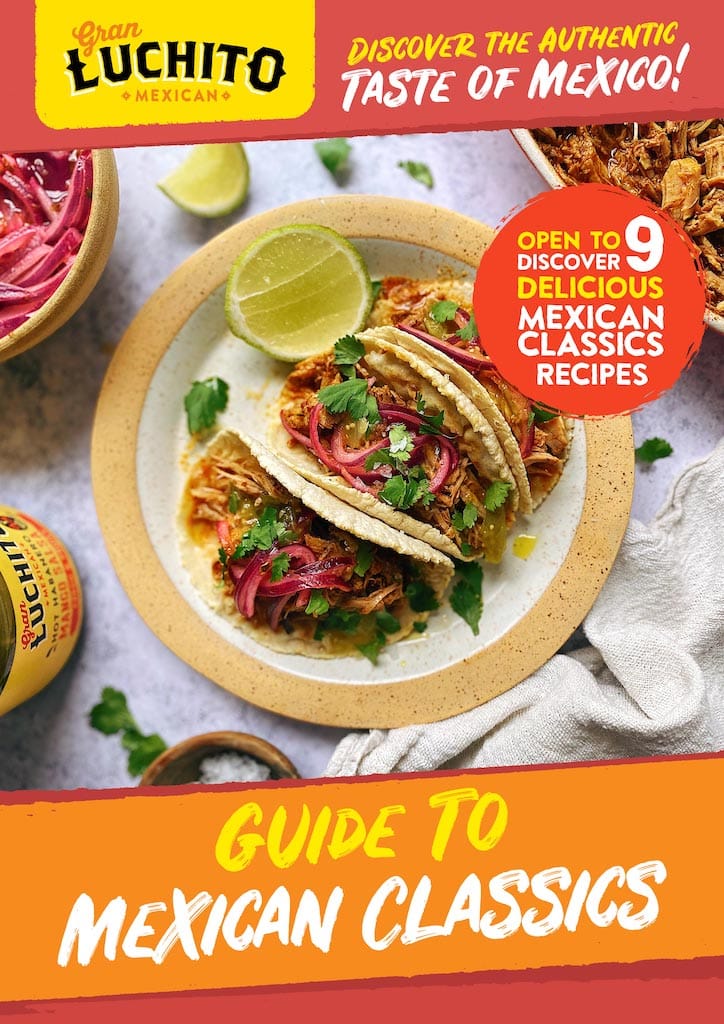 Similar Recipes You Might Like to Try
FAQs
What does Caldo Tlalpeño mean?
The word Caldo translates to broth in English, which describes the essence of the dish. Caldos can be chicken, beef, or seafood-based, and always feature a mix of spices and vegetables. The word Tlalpeno indicates that the soup is from a place called Tlalpan, which is in Mexico City.
Where is Caldo Tlalpeño from?
Caldo Tlalpeño is from the town of Tlalpan in Mexico City, but these days, this lovely caldito is made all around Mexico. The key to get it perfect is to know how to balance the heat from the chipotles with the broth and the rest of the ingredients.
How many calories in Caldo Tlalpeño?
There are 93 calories per 100g serving of this soup.
Comments / Questions / Tips

Subscribe now for a free copy of the Gran Luchito e-cookbook filled with delicious, authentic Mexican recipes and join our mailing list for all the latest recipes, news and blog updates.