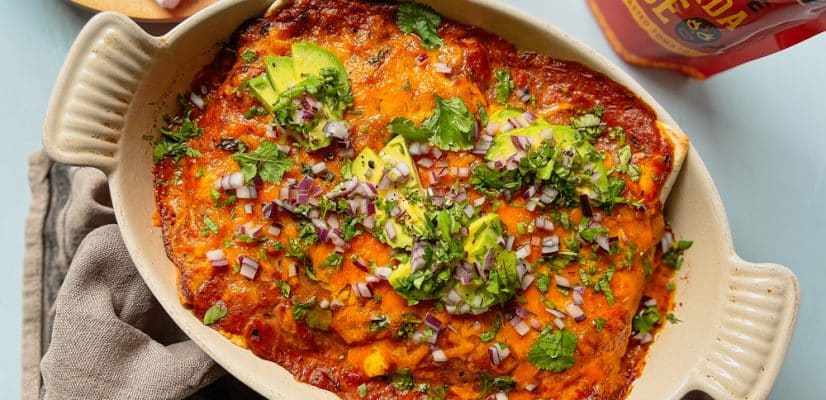 Breakfast Enchiladas
This Breakfast Enchiladas recipe is a great option for when you're looking to have all the comfort that freshly baked enchiladas have, but for breakfast instead! It's for all the enchilada lovers out there that always look for new ways to use their enchilada sauce at home.
So all you have to do is to make a nice breakfast filling using eggs, breakfast sausage, fried with onions and diced tomatoes, and a bit of full-fat cream or creme fraiche. This gives them an even fluffier texture! The tasty scrambled eggs are then used to fill Gran Luchito Soft Taco Wraps that are rolled and arranged in a baking dish. To make these enchiladas extra delicious we like to mix a bit of cream with Gran Luchito Chipotle Enchilada Sauce. Trust us on this – when baked, it turns into a delicious creamy sauce. Don't forget to add a good amount of cheese before baking your tasty breakfast enchiladas in the oven until gooey and golden brown.
You can substitute the sausage in these easy breakfast enchiladas with different kinds of fillings. Have fun playing around with different ingredients and see which you prefer. Here are a few suggestions:
Cooking chorizo

Bacon

Ham

Mushrooms

Potatoes

Red peppers
You can also try this recipe with Gran Luchito Tomatillo Enchilada Sauce for a different variation. Let us know which one you prefer! To complete your epic brunch feast, if you have time you could also make our recipes for Mexican Molletes or Chilaquiles to go alongside the enchiladas.
Prep time

Cook time

Total time

Ideal for

Breakfast

Make it

Mexican

Serves

4
Nutrition: Per serving
kcal 166
fat 9.8g
saturates 3.7g
carbs 12.2g
sugars 2.0g
fibre 0.7g
protein 7.0g
salt 0.95g
How to make it
Preheat the oven to 200˚C. In a non-stick frying pan, heat up the olive oil over medium heat. Once hot enough, add the onion, cherry tomatoes, and chilli. Stir and let it cook for a couple of minutes. You can now add the sausage meat (remove the casing) and break the meat into the pan. Fry it for 5 minutes approx. or until golden brown.

In the meantime crack the eggs into a bowl, add the creme fraiche, a pinch of salt and pepper, and whisk briefly. Once the sausage mixture has got a bit of colour add the egg mixture into the pan and stir gently over medium heat. Allow the eggs to get firmer but be careful not to overcook them. Once your soft scrambled eggs are ready, remove them from the heat and scatter the coriander on top.

Open the sachet of Chipotle Enchilada Sauce

and pour it into a bowl. Add the creme fraiche, a pinch of salt, and mix with a spoon. Alternatively, you can also mix in a blender for a smoother sauce. Either way, it will taste good!

Prepare a medium size baking dish, then start stacking the enchiladas. In a

Soft Taco,

add a spoonful of scrambled eggs and sausage mixture, then wrap and roll into a taquito-like shape. Repeat the same process until you use all your filling and your baking dish is full. 

Pour the creamy red enchilada sauce and spread it over the surface. Finally, add the grated cheese on top and bake in the oven for 20 to 25 minutes.

Serve while they are still warm with slices of avocado, and the red onion. Enjoy!
What To Serve With Breakfast Enchiladas
Serve this breakfast enchiladas recipe with these other breakfast dishes, for one huge epic breakfast to share with the family:
Download Our Free Guide To Enchiladas
Your free Enchilada guide will be emailed to you immediately.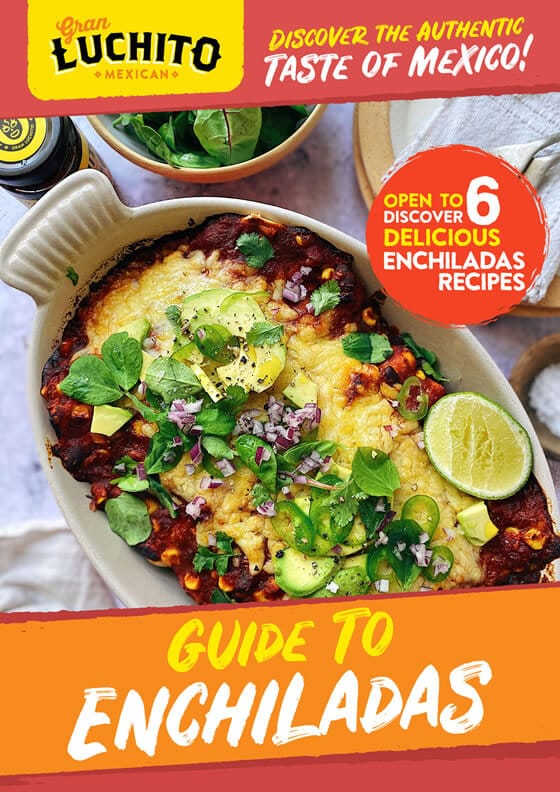 Similar Recipes You Might Like to Try
FAQs
Are enchiladas healthy?
Enchiladas are considered a comfort food, and not so much a healthy food. They contain a lot of cheese, calories and refined carbohydrates, which are high in saturated fat. So it's best not to eat them regularly.
Do Mexicans eat enchiladas for breakfast?
Mexicans eat enchiladas at any time of day, so you'll often see them on a breakfast menu in a restaurant, as well as being prepared in the home early in the morning.
Can you prepare enchiladas ahead of time?
Yes! Assemble these breakfast enchiladas the night before, cover tightly with plastic wrap or foil, and refrigerate until you are ready to bake them in the morning! Just save the step where you add the grated cheese at the end, and do this in the morning just before you bake them.
Comments / Questions / Tips

Subscribe now for a free copy of the Gran Luchito e-cookbook filled with delicious, authentic Mexican recipes and join our mailing list for all the latest recipes, news and blog updates.