Baked Salmon
This Baked Salmon recipe is perfect to include as part of your festive holiday spread, and for those more adventurous cooks who like to add a bit of spice to the holidays. At Luchito, we believe that there's always space for a fish course, especially when it's as good as this salmon recipe.
The Gran Luchito Chipotle Paste is the secret ingredient that makes baked salmon recipes extra special. The simple combination of ingredients: butter, Chipotle Paste, lemon zest, and parsley are mixed together to create a delicious smoky butter. The butter is then spread over the salmon and is ready to go in the oven.
When it comes to interesting baked salmon recipes, our salmon with Chipotle Butter is a very practical and convenient recipe to prepare. We recommend preparing the chipotle butter ahead of time, and spreading it over the salmon while it's still soft. Then place the salmon in a baking dish and cover it with cling film. You can then store this in the fridge for up to 2 days and it'll be ready to be placed in the oven and baked in no time when needed.
Don't forget to try our Lime and Coriander Rice with this easy fish recipe and some Mexican Green Beans as part of your spread. Any leftovers can be turned into Salmon Tacos the next day! 
Prep time

Cook time

Total time

Ideal for

Dinner

Make it

Mexican

Serves

5
Nutrition: Per serving
kcal 228
fat 17g
saturates 5.1g
carbs 0.5g
sugars 0.4g
fibre 0.3g
protein 17.6g
salt 0.12g
How to make it
Preheat the oven to 200˚C/390˚F. Begin by preparing the chipotle butter. In a bowl, combine the soft butter with the

Chipotle Paste

, lemon zest, half of the parsley, and a pinch of salt. Mix everything with the help of a spatula until the ingredients are completely integrated. 

Prepare a baking tray with baking paper, or a large baking dish. Place your salmon fillets inside, pat dry the surface of them gently and remove any fish bones left with the help of tweezers.

Season the salmon with flaky salt and plenty of freshly ground black pepper, then add spoonfuls of soft chipotle butter on top and spread it all over the surface. Place it in the oven for 25 min approx, depending on your oven.

Once ready, remove the salmon from the oven and baste with juices in the tray. Transfer to a pretty platter, garnish with the remaining parsley and add lemon juice on top. Serve with more lemon wedges on the side. Enjoy your oven baked salmon recipe with a side of Lime and Coriander Rice and Mexican Green Beans.
What To Serve With Baked Salmon
These baked salmon fillets are delicious served with the following side dishes:
Download Our Free Guide To Mexican Classics
Your free guide will be emailed to you immediately.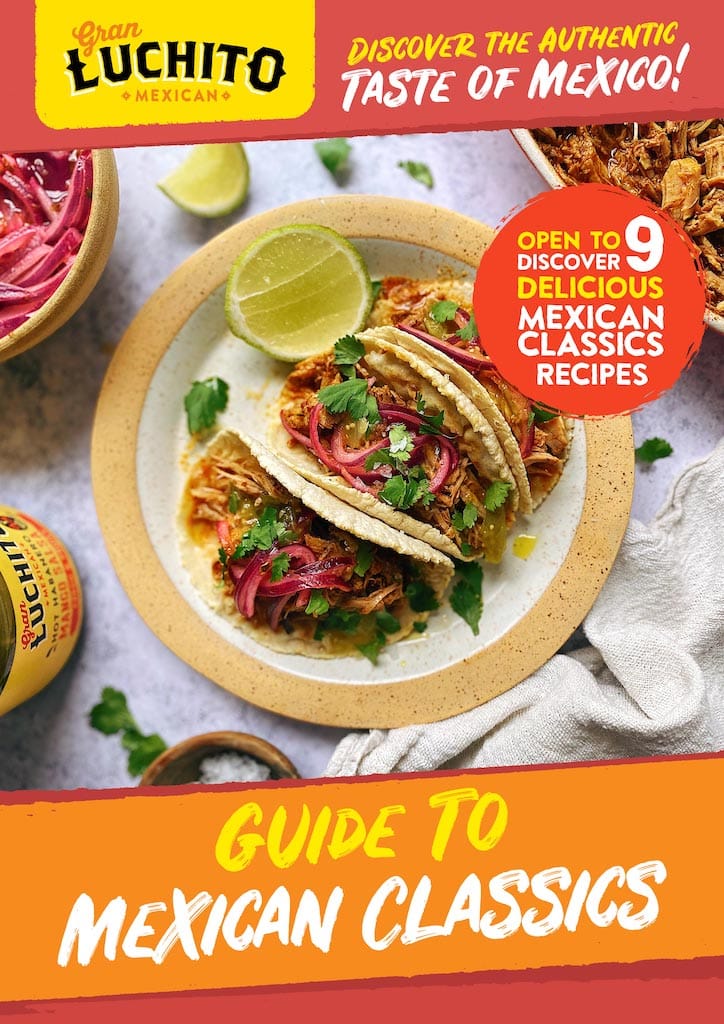 Similar Recipes You Might Like to Try
FAQs
How many calories are in baked salmon?
In our recipe, there are 228 calories in a 100g portion.
What side dishes go with baked salmon?
Aside from our Mexican Green Beans and Lime and Coriander Rice recipes, that we've recommended, you could try: Mexican Coleslaw, Mexican Rice, Arroz Primavera or Mexican Salad.
Do I need to cover salmon when baking?
Salmon can be cooked either covered or uncovered. We've found that baked salmon in foil will come out extremely tender and perfectly cooked. However, we just love that slightly crispy and golden top when you cook it without foil, as we've done in this recipe.
Comments / Questions / Tips

Subscribe now for a free copy of the Gran Luchito e-cookbook filled with delicious, authentic Mexican recipes and join our mailing list for all the latest recipes, news and blog updates.