Whole Fish Mexican Style
This Whole Fish Mexican Style recipe is inspired by one of our favourite Mexican Chef's, Gabriela Camara, and her famous dish "Pescado a la Talla", which is served at her restaurant Contramar in Mexico City.
Her Mexican fish recipe has been all over social media over the past year and it mainly consists of a whole opened fish, where one side is covered with a red adobo "sauce" (a bit spicy) and the other side gets covered with a green adobo sauce (less spicy). The fish gets grilled and then it's served with warm tortillas, refried beans and salsas on the side.
Pescado a la Talla is one of the most popular dishes that's eaten on the Pacific Coast, and it's prepared in small shacks by the beach. We can't think of a more perfect Mexican fish recipe to serve alongside a very cold beer on a hot summer's day.
In our humble interpretation of Gabriela's recipe, we make this Mexican grilled whole fish easy for you to prepare in your home, where you can then enjoy a little piece of the Mexican Pacific Coast with your friends and family.
We prepare the cod by simply baking it in the oven at a high temperature with a lovely layer of shaved onions on top of the vibrant green and red adobos. The onion forms a nice crust of extra flavour over the surface. This oven baked fish is a showstopper and a must-try Mexican fish recipe for the summer, and we hope that you enjoy it!
If you have any leftover Mexican adobo sauce we recommend you keep it in the fridge and use it later to add flavour to grilled veggies, prawns or chicken.
Prep time

Cook time

Total time

Ideal for

Dinner

Make it

Mexican

Serves

4
Nutrition: Per serving
kcal 103
fat 4.8g
saturates 0.7g
carbs 6.9g
sugars 2g
fibre 1g
protein 7.9g
salt 0.54g
How to make it
Preheat your oven to 200°C / 390°F. Begin by preparing the two adobos that you will use to cook your fish with. Into your blender add all the ingredients for the red adobo sauce and blend until you get a smooth mixture. Do the same with the green adobo sauce ingredients and place them in a bowl each, then set aside.

Place your fish in a lined baking tray, then add a good amount of red adobo sauce into one fillet and with the back of the spoon spread the mixture, making sure your fillet is well coated. Repeat the same process with the green adobo sauce and spread it all over the second fish fillet.

Then with the help of a mandoline, shave the red onion over your red fish fillet, and the white onion over your green fish, forming a nice layer of onion on top of your fish fillets. Season with a good pinch of sea salt and freshly ground pepper, add a little drizzle of olive oil and place them in the oven for 18-20 minutes approx (depending on your oven).

While your fish is cooking, prepare a quick salad to serve as a garnish for your tacos. In a bowl add the white cabbage, onion, fennel, dill, coriander, lemon juice, olive oil, a pinch of salt and freshly ground pepper. Mix with a spoon or your hands, and set aside.

Warm up the Soft Taco Wraps and keep them warm wrapped in a tea towel.
Once ready, remove your fish from the oven and get ready to make your tacos by adding a bit of the baked red adobo fish and a bit of green fish onto a warm soft taco. Add the herby salad on top, and a spoonful of Tomatillo Salsa. Serve with limes on the side and enjoy!
What To Serve With Whole Fish Mexican Style
As a starter, you could do our Ceviche recipe. Sides that would go particularly well with our Whole Fish Mexican Style would be:
Download Our Free Guide To Mexican Classics
Your free guide will be emailed to you immediately.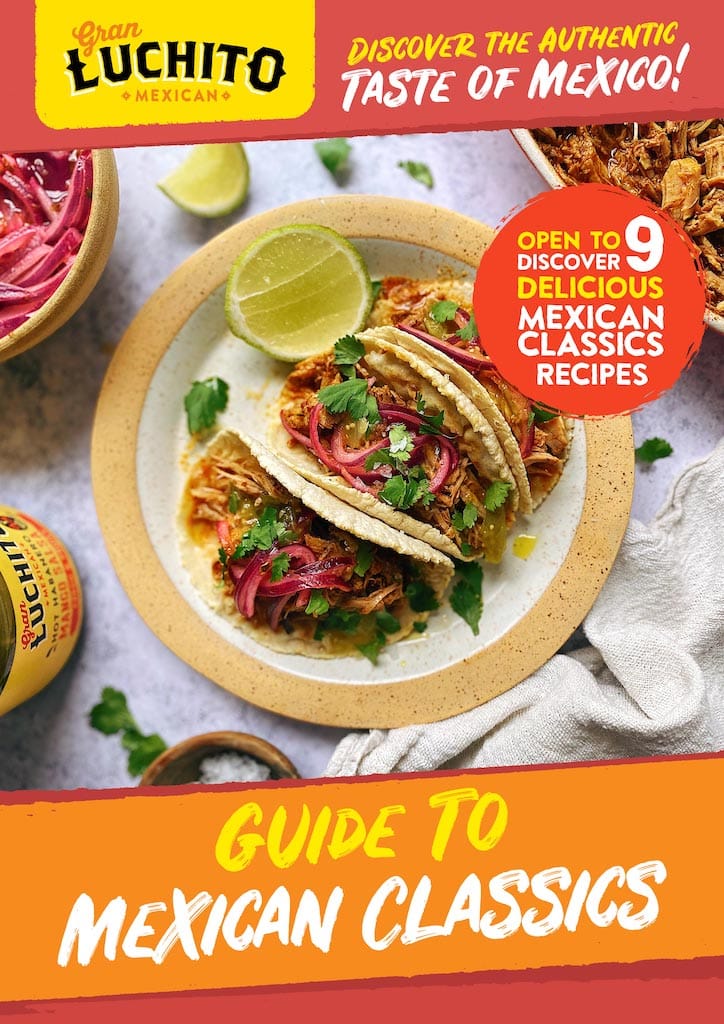 Similar Recipes You Might Like to Try
FAQs
How long does adobo sauce last in the fridge?
Is adobo sauce hot?
Our green adobo sauce is not hot at all, very mild. Our red adobo sauce has Chipotle Paste in it, and is therefore hotter. You can make it a very subtle kick or a lot hotter by adding more, depending on your liking. Start by adding a bit of paste and whizzing up the ingredients in a blender and then tasting it. You can always add more!
How long do frozen fish fillets last?
For best quality, freeze cooked fish for up to 3 months. Frozen raw fish is best used within 3 to 8 months. Any frozen fish will be safe indefinitely; however, the flavour and texture will lessen after lengthy storage.
How to defrost fish fillets?
The best way to defrost fish is gradually, by placing it in the fridge overnight. If you need to defrost a piece of fish quickly, place it in a sealed plastic bag and immerse in cold water.
How long does cooked fish last in the fridge?
Comments / Questions / Tips

Subscribe now for a free copy of the Gran Luchito e-cookbook filled with delicious, authentic Mexican recipes and join our mailing list for all the latest recipes, news and blog updates.

wpDiscuz