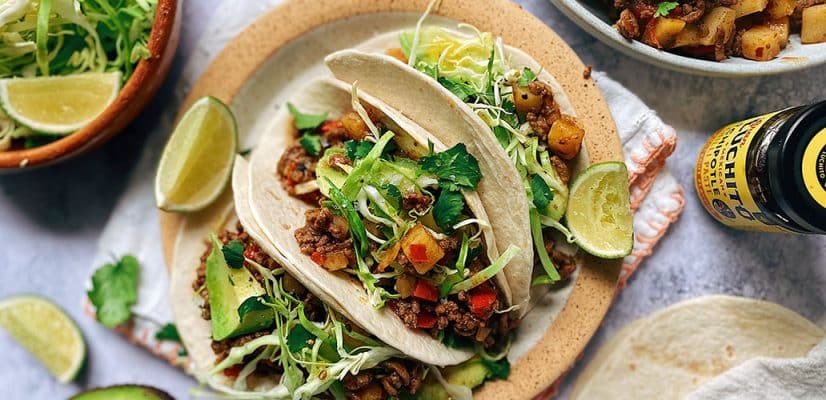 Beef Tacos
Our Easy Beef Tacos recipe with a flavourful beef mince filling is a great introduction to making tacos at home and a brilliant way to use that packet of mince on your shop. Even after a long day at work these Easy Beef Tacos can come to the rescue as they only take 30 minutes to whip up with most of that time spent simmering to bring the flavours together and the mince tender.
What makes tacos such a great meal for feeding a family or a crowd is that it's more of an assembly job, everyone gets to be involved and build their tacos just as they would like.
For this easy beef taco recipe, we use minced beef to make a picadillo-style quick dish. This is done by frying onion, red peppers and potatoes with the meat. It's then seasoned with Gran Luchito Chipotle Paste, tamari sauce and oregano. You let it fry for a bit, and then add a splash of beer and stock. Simmer it until your potatoes are cooked through, and that's it! Dinner is warm and ready in no time.
All that's left to then do is to warm up some Gran Luchito Soft Taco Wraps to serve on the side and prepare some quick garnishes such as shredded raw cabbage, avocado slices, and a bit of our Gran Luchito Tomatillo Salsa.
Whether it's feeding a family of two, or bigger families, we guarantee that this easy beef tacos recipe will make everyone happy and we hope it becomes a staple in your repertoire. We'll leave you to try these beef tacos and let us know what you think in the comments!
Prep time

10 mins

Cook time

20 mins

Total time

30 mins

Ideal for

Dinner

Make it

Mexican

Serves

4
Nutrition: Per serving
kcal 162
fat 8.2g
saturates 2.6g
carbs 14.6g
sugars 1.8g
fibre 0.9g
protein 8.9g
salt 2.2g
How to make it
Begin by frying the onion in a frying pan with olive oil and cook until translucent. Add the red peppers and give them a good stir. Add the potatoes and let them cook for two minutes, stirring occasionally.

Remove the vegetables from the pan and place them in a bowl and keep them on the side while you add the minced beef into the pan with the

Chipotle Paste

and tamari sauce. Brown your meat over a medium heat for 6 to 7 minutes.

Place the fried vegetables back into the pan alongside the beef, and mix it all together. Season with a pinch of salt and freshly ground black pepper.

Pour in the beer and let it simmer over a medium heat to evaporate some of the alcohol. Add the stock and cover your pan with a lid, then simmer on a low heat until your potatoes are cooked through.

Once you are ready to serve, warm up the Soft Taco Wraps and keep them warm wrapped in a tea towel. Serve the beef on a nice platter and bring everything to the middle of the table, with perhaps some avocado slices on the side or a bit of raw shredded cabbage, lime wedges, etc. Now everybody can help themselves and have fun building their own tacos!
What To Serve With Beef Tacos
If you are wondering what to serve with this beef taco recipe, why not go for some:
If it's a smaller side dish you are after:
More About Tacos
Our How To Make Tacos blog will help you to master everything you need to know about making homemade Tacos. And our Taco Recipes is our collection of tried and tested Taco recipes with more flavours, protein and veggie options. For further inspiration on side dishes, check out our blog on What To Serve With Tacos.
Download Our Free Guide To Tacos
Your free guide will be emailed to you immediately.
Similar Recipes You Might Like to Try
FAQs
What is a taco?
A taco is a traditional Mexican dish. It consists of a small hand-sized corn or wheat tortilla topped with a filling. The tortilla is then folded around the filling and eaten by hand.
What to put in tacos?
Typically tacos are served on soft tortillas, mainly corn, but flour tortillas are also popular. A protein of some sort can be involved, meat or beans, as well as a couple of fresh elements such as lettuce, coriander, corn and pico de gallo or salsa.
Can you cook beef mince from frozen?
Yes! It is perfectly safe to cook mince from frozen. Cooking time will be approximately 50% longer than the recommended time for fully thawed or fresh mince though.
How long can you freeze mince for?
Please let us know what you think of this recipe