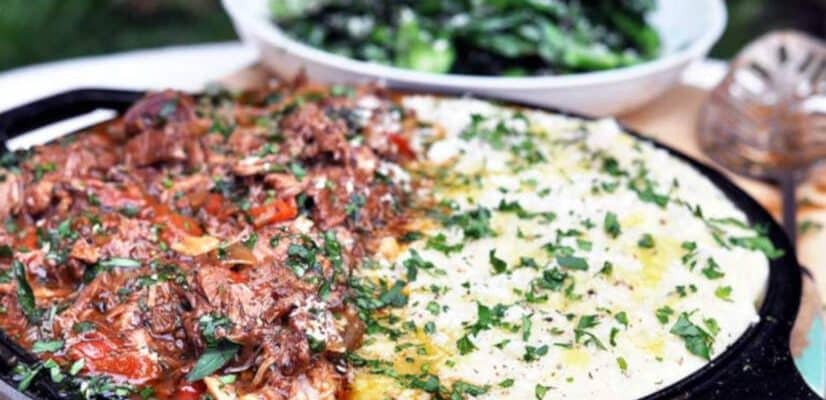 Chipotle Pork Cheek Stew
This beautiful pork cheek stew has taken its place firmly at the top of our favourites list to have come out of the Gran Luchito test kitchen. Our friends over at Market Porter sent us a box of some of their favourite underrated cuts to play with, and we were over the moon to find pork cheeks included in the mix.
If you've never cooked with pork cheeks before, we can't recommend them highly enough. They are perfectly suited to long, slow cooking which unlocks and releases all of their natural marbling and big flavour and that's exactly what we did with them. We served the pork cheek stew with a really tasty potato, celeriac and parmesan mash.
If cooking low and slow is your thing then you really should really check out our slow cooker pork pibil recipe and if you have the time our chicken mole recipe.
Chef's tip
If you've got a slow cooker, this is a perfect dish to make in it.
Prep time

Cook time

Total time

Ideal for

Dinner

Make it

Mexican

Serves

6
Nutrition: Per serving
kcal 191
fat 17g
saturates 1.3g
carbs 6.4g
sugars 1.6g
fibre 1.6g
protein 3.6g
salt 0.32g
How to make it
To Make The Stew
Put the olive oil in a pan over a low–medium heat and fry the onion, red peppers, Gran Luchito Chipotle Paste, cumin seeds and oregano for about 15 minutes until the onion has completely softened. Put to one side.
Mix the flour with a good pinch of salt and pepper.
Lightly dust the pork cheeks in the seasoned flour and fry in hot olive oil until browned on all sides. Do this in batches if required, but don't wash the pan yet.
Add the pork cheeks to the onions with the garlic, chicken stock and mushrooms.
Add the sherry and vinegar to the pan in which you fried pork cheeks and use a wooden spoon to scrape any bits that stuck to the bottom as you bring the liquid to the boil for a few minutes. Pour it into the pork cheek mix.
Put the pan over the heat once again, turn up to high and bring to the boil. Turn heat to low, cover with a lid and cook for about 5 hours, or until the pork cheeks fall apart at the slightest touch, stirring occasionally. This is a good time to crack on with the potato and celeriac mash
To Make The Potato and Celeriac Mash
While the stew is cooking, put the potatoes and celeriac in a pan with a little olive oil, garlic, thyme, salt and pepper and cook for about 10 minutes until the vegetables have a little colour.
Add the milk and top up with water until the vegetables are completely submerged. Bring to the boil and cook until the vegetables are tender when pierced with a knife.
Allow to cool slightly, then drain off and reserve the liquid. Put the vegetables in a food processor (you'll probably have to do this in batches) with butter and Parmesan. Blitz to a purée, adding enough of the reserved liquid to make a lovely smooth consistency.
Season to taste with salt and pepper.
To Make The Broccoli
Add the broccoli spears to a pan of boiling water and cook for 2–3 minutes. You can also give them a few minutes in a hot griddle pan with a little olive oil, salt and pepper to add a nice little-charred flavour and colour.
Serve with a drizzle of extra virgin olive oil, a sprinkling of Parmesan and a little chopped parsley.
Season to taste with salt and pepper.
To Serve
When ready to serve, remove the pork cheeks from the stew and pull apart into chunks with forks. Mix back into the stew and reheat, stirring through a handful of parsley.
Serve with the potatoes and broccoli.
Similar Recipes You Might Like to Try
Comments / Questions / Tips

Subscribe now for a free copy of the Gran Luchito e-cookbook filled with delicious, authentic Mexican recipes and join our mailing list for all the latest recipes, news and blog updates.