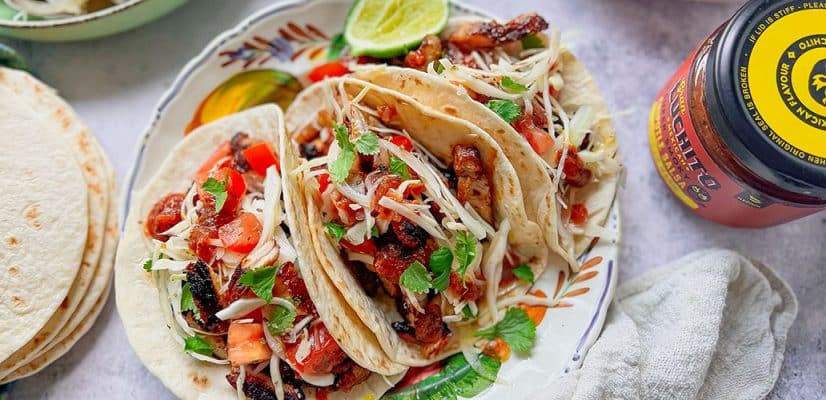 Spicy Chipotle Pork Tacos
This is a recipe for easy pork tacos, one that comes very handy for a midweek dinner or just any day when you're craving tasty tacos! 
If you have a bit of spare time and the weather is good, we recommend that you prepare this over the BBQ. The grill will give a nice smoky taste to your already delicious Mexican pork chops.
The only pork taco seasoning we used was Gran Luchito's Chipotle Lime Paste. This not only provides a great zesty and smoky flavour, but will also create a nice glaze over your chops.
For a quick taco, prepare the pork chops over a hot skillet with a drizzle of olive oil. Make sure they get a nice colour on both sides, and they cook through. Once ready, remove them from the heat and slice them with a sharp knife into strips.
The chipotle pork is perfect served over warm tortillas, with a bit of fresh homemade slaw, and a good amount of Gran Luchito Chipotle Salsa, nothing more, nothing less!
Prep time

Cook time

Total time

Ideal for

Dinner

Make it

Mexican

Serves

4
Nutrition: Per serving
kcal 170
fat 11g
saturates 3.4g
carbs 8.9g
sugars 2.1g
fibre 1g
protein 8.8g
salt 0.44g
How to make it
In a bowl add the cabbage, onion, tomatoes, Mexican oregano, extra virgin olive oil, lime juice and coriander. Mix everything together with your hands (or a spoon) and season with a pinch of salt and freshly ground pepper. Cover with cling film and reserve.

Get your pork chops ready and add the

Chipotle Lime Paste

on top. Rub all over with your hands and season with a bit of salt and pepper, then set aside.

Heat up a frying pan over a medium-high heat, and add a drizzle of olive oil. Once it's hot enough, cook the pork chops until they get a nice caramelized colour on each side and they are cooked through. Once they're ready, remove from the heat and slice them into strips. Serve the meat on a plate and cover to keep warm.

Heat up the

Soft Taco Wraps

over a hot pan for a minute on each side, and then keep them warm by wrapping them with a tea towel.

Bring to the table the pork, the warm tortillas, the quick slaw, and the Chipotle Salsa. Prepare your tacos by adding a nice amount of chipotle lime pork into a warm soft taco, then top with fresh slaw and finally add a good amount of Chipotle Salsa. Repeat and enjoy!
Download Our Free Guide To Tacos
Your free Taco guide will be emailed to you immediately.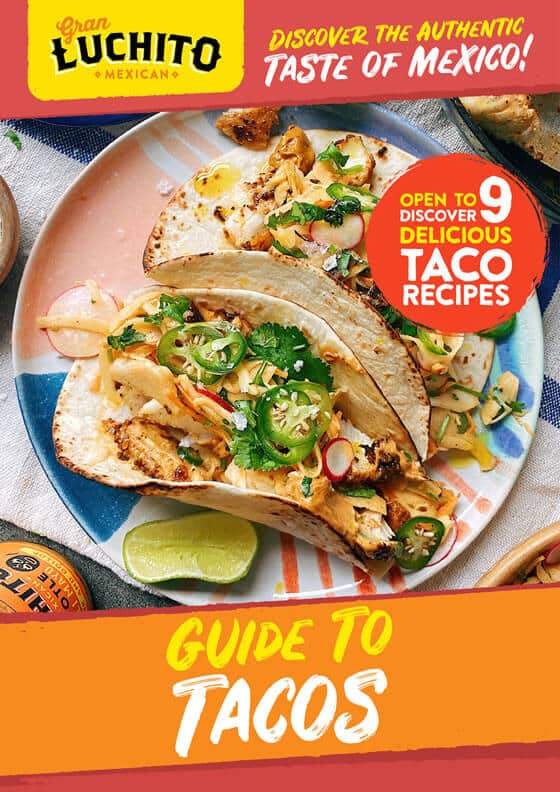 What To Serve With Spicy Chipotle Pork Tacos
This chipotle pork recipe is great served with some:
Similar Recipes You Might Like to Try
FAQs
How many calories are in these chipotle pork tacos?
There are about 190 calories per taco.
How do you tell when pan fried pork chops are done?
Sear on one side, without moving them at all, until they are nice and golden brown on the first side, about 3-5 minutes. Flip and sear the other side until browned. The easiest way to check if the pork chop is done is to use a meat thermometer. When they reach an internal temperature of 135 F degrees they are done.
Can pork chops be a little pink?
A Little Pink Is OK: The U.S. Department of Agriculture lowered the recommended cooking temperature of pork to 145 degrees Fahrenheit. That, it says, may leave some pork looking pink, but the meat is still safe to eat.
Comments / Questions / Tips

Subscribe now for a free copy of the Gran Luchito e-cookbook filled with delicious, authentic Mexican recipes and join our mailing list for all the latest recipes, news and blog updates.

wpDiscuz