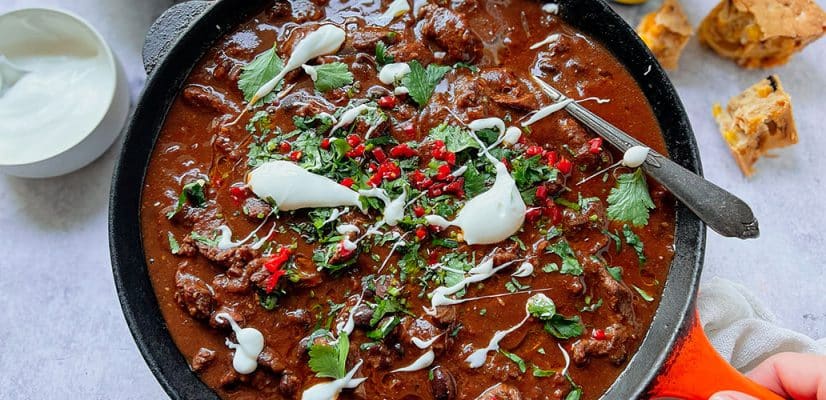 Ultimate Chilli Con Carne
There are chilli con carne recipes and then there's the ultimate chilli con carne recipe, and this one is truly epic! We take this chilli con carne recipe up a notch with melt-in-your-mouth chunks of slowly cooked chuck steak.
The secret ingredient and star of this recipe is Gran Luchito Chipotle Paste. If there's one set of our recipes that lends itself too perfectly, it has to be our chilli con carne recipes. The blend of smoky chipotle and rare Mexican chillies in our signature paste adds a delicious depth of flavour.
We serve our Ultimate Chilli Con Carne with our recipe for freshly baked cornbread for the perfect meal. If you prefer, you can also serve it with a side of our Lime and Coriander Rice recipe.
In our opinion, this recipe is very much the best chilli con carne recipe in the world, so you need to give it a go! However, if you haven't got three hours to spare you should check out our Easy Chilli Con Carne recipe.
Prep time

Cook time

Total time

Ideal for

Dinner

Make it

Mexican

Serves

6
Nutrition: Per serving
kcal 79
fat 4.9g
saturates 2g
carbs 2.6g
sugars 2g
fibre 0.8g
protein 6.4g
salt 0.44g
How to make it
Preheat the oven to 200˚C/360˚F.

In a non-stick pan add the spices and toast them lightly until they release their aroma. Do this for 2 to 3 minutes, then reserve on the side.

Lightly rub the red peppers and tomatoes with half of the olive oil and place them on a baking tray. Roast in the oven for 35 minutes.

Meanwhile, in a large cast-iron casserole dish add the remaining olive oil and heat up over high heat. Season the beef chunks with salt and pepper, then sear the meat into small batches. This will make sure your meat gets good colour. Once one batch is ready, remove it from the pan and place it in a bowl on the side. Repeat until all your meat is browned.

Add a little more olive oil into the same cast iron pan and fry the onions slowly over low heat for 8 to 10 minutes, stirring from time to time. Add the garlic and the dried oregano, then continue to cook for another 5 minutes.

When ready, take the roasted veggies out of the oven and remove the stalks and seeds from the peppers but keep the charred skins. Place them in a blender with the toasted spices, the

Chipotle Paste

, fish sauce, soy sauce, balsamic vinegar, tomato puree and brown sugar. Blend into a smooth sauce.

Now place the beef and any meat juices back into the casserole dish with the fried onion mixture. Pour in the chipotle sauce, add the coffee, the chicken stock, a good pinch of salt and freshly ground black pepper. Bring everything to a boil, then reduce the heat to medium and simmer with a lid on for 2½ hours.

This is a good time to prepare the chipotle corn bread recipe.

After 2½ hours of simmering, remove the lid and check if the beef is tender by testing a little piece. Finally, add two pouches of Cantina Beans with their juices and stir in. Let it cook all together for a further 30 minutes over medium heat, with the lid off.
Serve your ultimate chilli con carne while it's nice and hot. Add a drizzle of sour cream on top, a bit of coriander, red chilli, and serve with slices of warm chipotle cornbread ready to dip in.
Download Our Free Guide To Chilli Con Carne
Your free Chilli guide will be emailed to you immediately.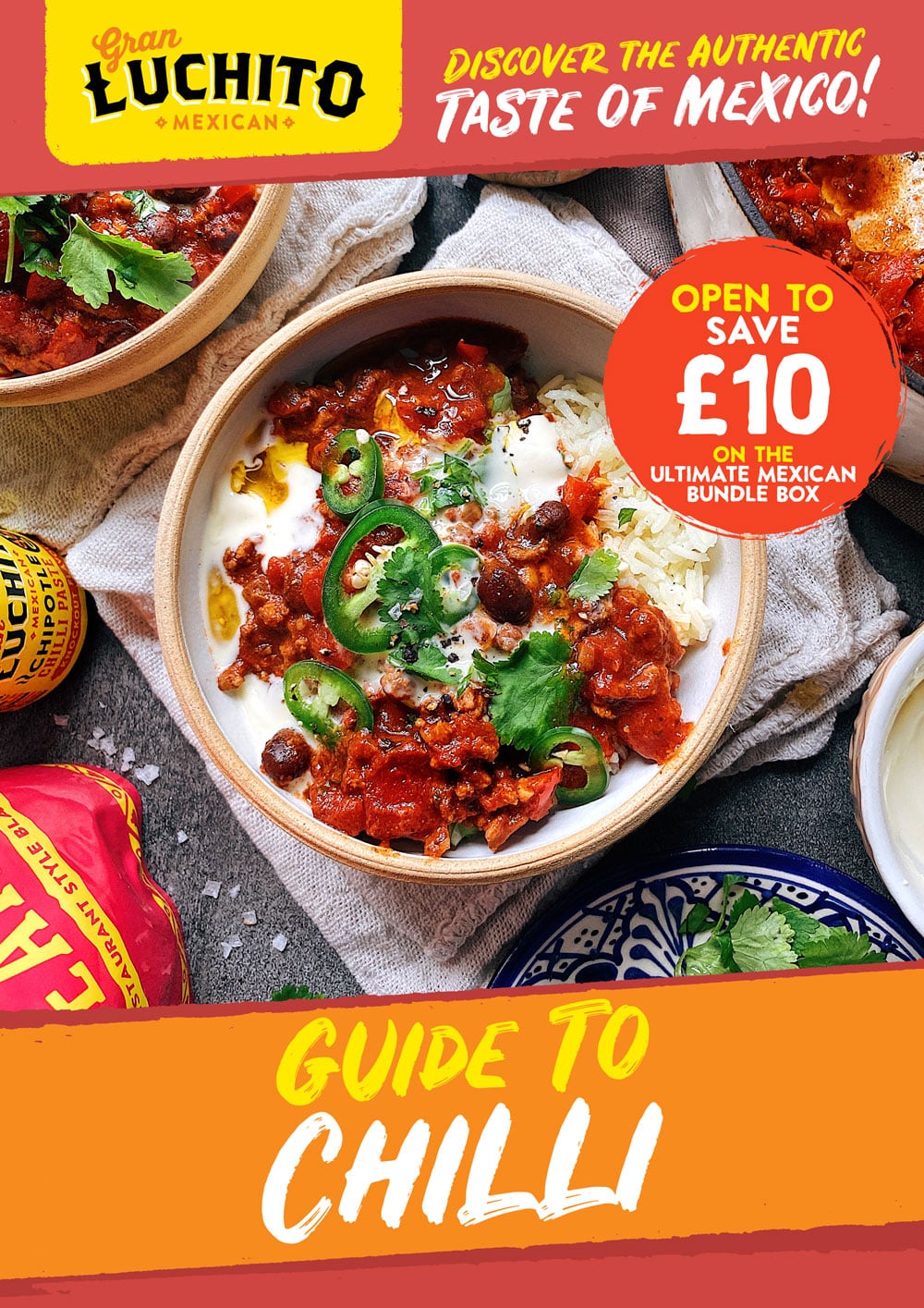 What To Serve With Ultimate Chilli Con Carne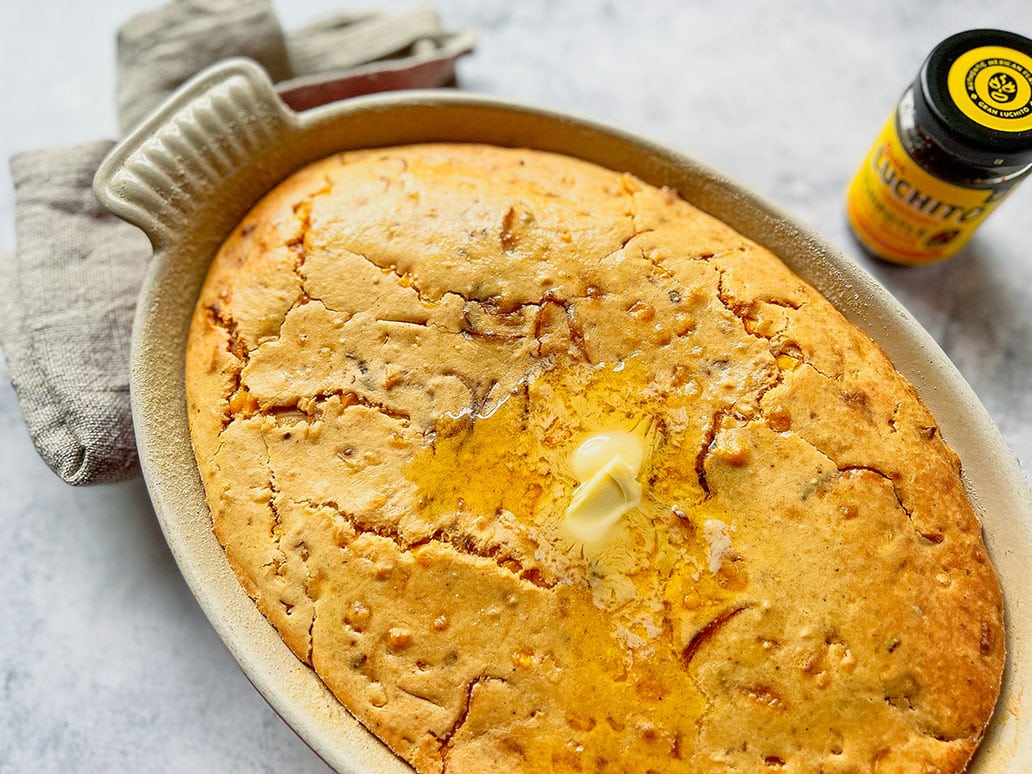 Serve it with a portion of this Cornbread with Chipotle recipe.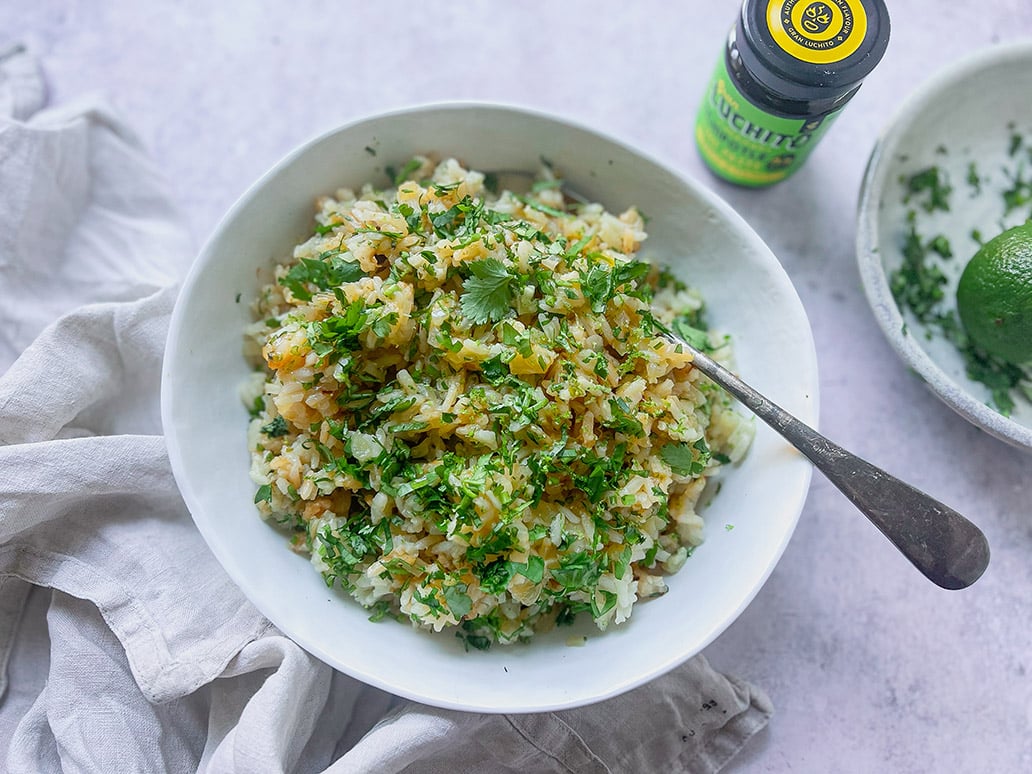 Alongside some Lime and Coriander Rice.
Similar Recipes You Might Like to Try
FAQs
Where is chilli con carne from?
Even though the exact origins of this dish remain a mystery, one thing is for sure: with its Mexican-sounding name, chili con carne is a typical Tex-Mex dish. In other words, it means that it may be found at the heart of Texas, but its inspiration is Mexican!
Is chilli con carne good for you?
It is a dish full of protein. The beans are packed with fibre, there is veggies in the form of onions and tomatoes, and if you choose lean beef mince it is then much healthier. It also happens to be a great feel good comfort food!
What to have with chilli con carne instead of rice?
Cornbread, Lightly Salted Tortilla Chips, a jacket potato, our Crispy Homemade Chips recipe, or just the chilli by itself with a good amount of grated cheese on top, alternatively a big dollop of natural yoghurt or sour cream. Perhaps add a pile of grated carrot, if you are being health conscious!
How long to cook chilli?
For this ultimate chilli con carne recipe, we let it cook for a good 3 hours. Chilli recipes need time for the flavours to meld and come together, and collagen-rich meat (like chuck roast or ground beef) needs 90 minutes to two hours to fully break down and become tender. If you don't have time for a long simmer, try using a slow cooker or making it the day before.
Comments / Questions / Tips

Subscribe now for a free copy of the Gran Luchito e-cookbook filled with delicious, authentic Mexican recipes and join our mailing list for all the latest recipes, news and blog updates.

wpDiscuz