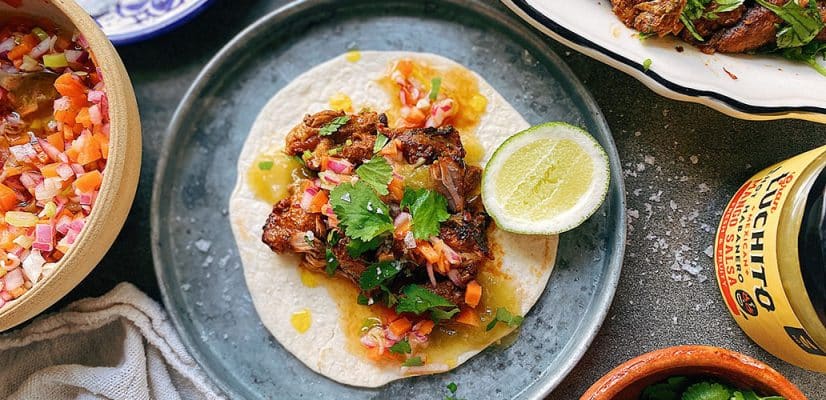 Carnitas
One of our very favourite Mexican Pork Recipes has to be carnitas tacos.  Carnitas are translated as "little meats" referring to the bite-size shape of the pork carnitas meat. There's something so delicious about crispy and caramelised bits of pork tucked into tortillas. 
Carnitas traditionally come from the state of Michoacán, Mexico, where they're cooked in big copper casseroles submerged in lard until very tender. Very similar to confit cooking; food that is cooked slowly in a liquid over a long period of time.
The carnitas are served over warm tortillas with a simple garnish of finely chopped raw onion, coriander and salsa. Our pork carnitas recipe is an easy one to prepare at home, and with much less of the fat, but still every bit as delicious.

---
---
We wanted to achieve perfectly tender slow cooker pork carnitas but crisped up at the top to resemble the original version. However, it also had to have all of the lovely flavour and spiciness of our Gran Luchito Chipotle Paste.
This Mexican pork tacos dish is perfect to cook in large quantities in order to feed a big family. You can just place it in the oven and forget about it until dinner time. It's then served with some simple garnishes: a quick pickle, our delicious Gran Luchito Hot Habanero Mango Salsa, some floury Gran Luchito Soft Tacos and lime wedges on the side, all ready to be enjoyed by the family!
Prep time

Cook time

Total time

Ideal for

Dinner

Make it

Mexican

Serves

4
Nutrition: Per serving
kcal 155
fat 10g
saturates 2.7g
carbs 6.7g
sugars 1.9g
fibre 0.5g
protein 9.3g
salt 0.23g
How to make it
Preheat the oven to 160°C / 320°F.
Begin by preparing a chipotle adobo for your carnitas. In a food processor add the garlic cloves, Chipotle Paste, Mexican oregano, cumin, black peppercorns and olive oil. Blitz everything into a paste or adobo.
Then in a large baking dish place the pork, add the chipotle adobo on top and with a spoon (or your hands) mix the meat with the paste, making sure all the meat is well coated. Season your pork with a good pinch of salt and freshly ground black pepper.
Finally add the orange juice, the apple cider vinegar and roughly chopped coriander scattered on top, cover your baking dish with tin foil and place it in the oven for 3 hours.
In the meantime prepare a quick pickle by adding the carrots, spring onions, red onion, lime juice, apple cider vinegar and extra virgin olive oil into a bowl. Season with a bit of salt and freshly ground black pepper. Mix and let it rest until your carnitas are ready.
After 3 hours in the oven, take your carnitas out and remove the foil. Break them slightly with a fork and mix them with the pan juices. Turn your oven temperature up to 220°C / 430°F and place them back in the oven for another 15 minutes, until your carnitas crisp up at the top.
In the meantime warm up all the Gran Luchito Soft Tacos over a hot pan, and keep them warm, wrapped in a tea towel.
Take your carnitas out of the oven and serve hot on a platter. We suggest placing your carnitas in the middle of the table, alongside the quick pickle, warm Gran Luchito Soft Taco Wraps, Gran Luchito Hot Mango Salsa, limes and coriander. In this way, everyone can help themselves and have fun building their own carnitas tacos.
Ask your butcher to prepare your meat for you and to add a little bit of the fat into the mix
What To Eat With Carnitas Tacos
Here are some Mexican side dishes that would go perfectly with these carnitas tacos:
Download Our Free Guide To Tacos
Your free Taco guide will be emailed to you immediately.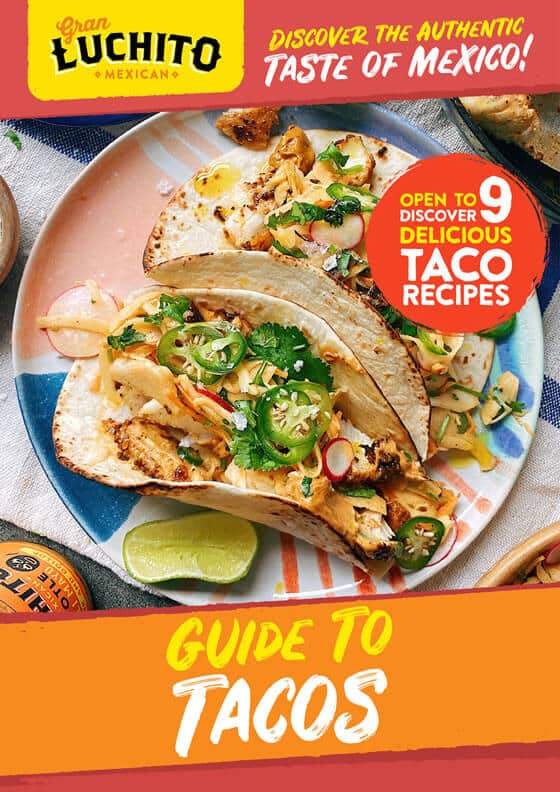 Similar Recipes You Might Like to Try
Comments / Questions / Tips

Subscribe now for a free copy of the Gran Luchito e-cookbook filled with delicious, authentic Mexican recipes and join our mailing list for all the latest recipes, news and blog updates.

wpDiscuz