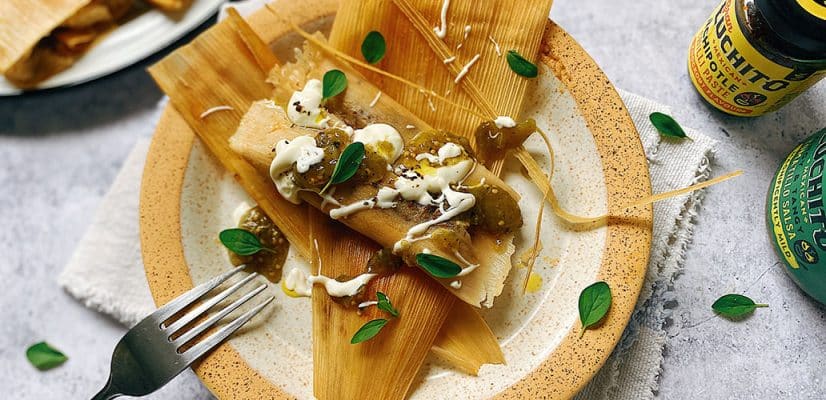 Tamales
Tamales are savory cakes made of corn masa mixed with lard and filled with a variety of things. They're carefully wrapped in corn husks and steamed until they become firm but still remain moist and lovely.
From beef, pork, chicken, to vegetables and even sweet versions like chocolate and strawberry, there is a world of tamales to choose from! Perhaps the most traditional one is a hot tamales called "tamal de rojo" or red tamales that consist of slowly stewed meat (pork or beef), cooked in a red sauce made with Mexican dried chillies. They are made and served on special celebrations in Mexico like Day of the Dead, Christmas time and Dia de la Candelaria, but you can also find them all year round.
This is our tamales recipe for tamal de rojo, where we use our signature Gran Luchito Chipotle Paste to cook the beef and make it into delicious and succulent meat, ready to go into the tamales. We've substituted the lard for butter, as it's more commonly used here in the UK, but you can use pork lard as well if you wish to.
We recommend that you prepare your tamales ahead of time as it's a lengthy process! They can also easily be frozen for up to 3 months, or kept in the fridge to consume within that week.
Prep time

30 mins

Cook time

9 hours

Total time

9hrs 30mins

Ideal for

Lunch

Make it

Mexican

Serves

4
How to make it
Heat a pan over high heat with the olive oil. Season the beef chunks with plenty of salt and pepper and then place the beef in the hot pan until browned all over. Once ready, remove from the heat and set aside.

Add into the slow cooker: the seared beef, garlic, onion, cumin, ground coriander, passata, beef stock, bay leaf, black peppercorns and

 Chipotle Paste

. Add a pinch of salt and slow cook for 6 hours.

When ready, remove the meat from the slow cooker and place it into a bowl. Add the remaining cooking liquid into a saucepan and simmer on a high temperature to reduce. Once it thickens into a gravy-like consistency it's ready. This takes about 20-25 mins approx.

Shred the meat with the help of two forks. It should be very tender. Then pour the reduced sauce onto the meat and combine. Let it cool down before adding it into your tamales.

Place your corn husks in a deep large bowl and add boiling water on top. Let them soak and get soft for 20 minutes approx.

Now to make your masa. Place the corn flour, baking soda, salt and butter into a mixer. Then with the palette attachment combine all the ingredients. Add the warm beef stock little by little, and then mix the masa for 5 to 10 minutes.

To know if your masa is ready, add a little bit of it into a cup with water. If the masa floats to the surface it means it's ready to use. If not, whip your masa for another 4-5 minutes.

Get the beef filling, the masa and soaked corn husks ready to prepare your tamales. Add a good amount of masa into a corn husk leaf, and spread with the back of a spoon. Add the beef filling into the middle (see pictures for reference).

Wrap your tamales (as seen in the pictures) and stack them upwards and vertically onto a steamer. 

Once they're all wrapped and stacked together, add water at the bottom of your steamer and cover your pot with a lid. Let the tamales cook on a medium heat for 3 hours approx. Your tamales will be ready when the masa is firm.

Serve them while they're still warm, unwrap and add a bit of creme fraiche and Tomatillo Salsa on top. Enjoy!
What To Serve With Tamales
Side dishes that go well with this tamales dish for lunch or dinner are:
If you are planning on having them as party snacks, then consider pairing them with:
Download Our Free Guide To Mexican Classics
Your free guide will be emailed to you immediately.
Similar Recipes You Might Like to Try
FAQs
Why are tamales wrapped in corn husks?
Tamales are wrapped and cooked in corn husks or banana leaves, but they are removed from the husks before eating. The corn husks do not get eaten, they are just used to envelope the dough and filling of the tamale which gets cooked inside.
Where do tamales come from?
Tamales originated from Mesoamerica from as early as 8000 to 5000 B.C. Mesoamerica is a historical region and cultural area in North America. From here it spread to Mexico, Guatemala and the rest of Latin America. The word tamale derives from the Nahuatl word Tamal one of the Aztec's primary languages during their empire.
Are tamales healthy?
Tamales are generally considered healthy. Especially because they're steamed instead of fried. However, because of the fat and carbohydrate content, it's important to watch your portions.
Please let us know what you think of this recipe