Beef Empanadas With Chilli Con Carne
Our take on Beef Empanadas with Chilli Con Carne, delicious crumbly pastries are stuffed full of tasty chilli con carne made with our Gran Luchito Chipotle Paste. They are a great way to use up leftover chilli con carne and take your chilli to a picnic, perfect for parties or just an interesting and original way to eat chilli at home.
An empanada, if you aren't already familiar with this delight, is a pastry wrapped around a delicious filling in a half moon shape. Empanadas made their way to Mexico in the 16th century via the Spanish who shared their beloved pastry recipes with the Maya and Aztecs. Today you will find all sorts of different empanadas as you travel around Mexico.
Another thing you can do is to make a big batch of these beef empanadas with chilli con carne and then freeze them. You can then take a few out of the freezer in the morning and enjoy them as late night snacks!
Try serving these chilli con carne empanadas as a drinks party snack alongside our sopes and our chicken taquitos.
For further leftover chilli inspiration, check out our blog on Leftover Chilli Con Carne Recipes. For lots of other general Mexican snack recipes, take a look at our blog on Mexican Snacks.
Prep time

Cook time

Total time

Ideal for

Snacks

Make it

Mexican

Serves

4
Nutrition: Per serving
kcal 180
fat 10g
saturates 5.2g
carbs 16.6g
sugars 1.9g
fibre 1.6g
protein 5.7g
salt 0.63g
How to make it
Heat up 1 tablespoon of oil in a large casserole dish and add the fresh veg (onion, garlic, carrot, celery, peppers) and gently fry them for 8-10 mins or until nice and soft. Then add the cinnamon, cumin,

Chipotle Paste

and stir. Cook everything for 2 to 3 minutes.

Add the chopped tomatoes,

Cantina Beans

(with juices) and the coriander. Reduce the heat and let it simmer on medium heat while you cook your meat.

In a different pan brown the minced beef with the remaining olive oil. Once it gets a bit of colour add to the other ingredients in the casserole dish, and season with salt and pepper. Place a lid on it and simmer on a low heat for one hour at least. When the chilli is ready, set aside and allow to cool down completely before making your empanadas.

In the meantime prepare your pastry (or you can always use shop-bought shortcrust pastry). Place the flour into a bowl and mix with the salt. Add the butter to the flour and using your fingertips rub the butter with the flour until it forms breadcrumbs.
Add 2 eggs (beaten) into the mix and mix with your hands or with a wooden spoon. Then mix in the water, a couple of tablespoons at a time, until it comes together to form a soft dough. Be careful not to overwork the dough.
Shape the dough into a rectangle, wrap in clingfilm and place in the fridge for at least one hour, overnight for best results.
Preheat your oven to 180°C / 350°F. Take your pastry out of the fridge. Add a little flour to your working surface and stretch the pastry thin, about 3mm / 0.1 inch in thickness, and then follow to cut 12cm / 5 inch circles (with a cookie cutter or glass edge).
Spoon the cooled down chilli mixture onto the centre of each circle. Use your fingertips to add a little water to the edge of the pastry, fold it in half and press it together. Then crimp the edges and repeat the same process with the rest of your pastry and chilli.
Place your empanadas over a lined baking tray. Take your egg wash and brush each empanada. Sprinkle a little salt on top of your pastries and bake for about 15-20 mins, or until the pastry is golden brown. Serve warm and enjoy!
Download Our Free Guide To Chilli Con Carne
Your free Chilli guide will be emailed to you immediately.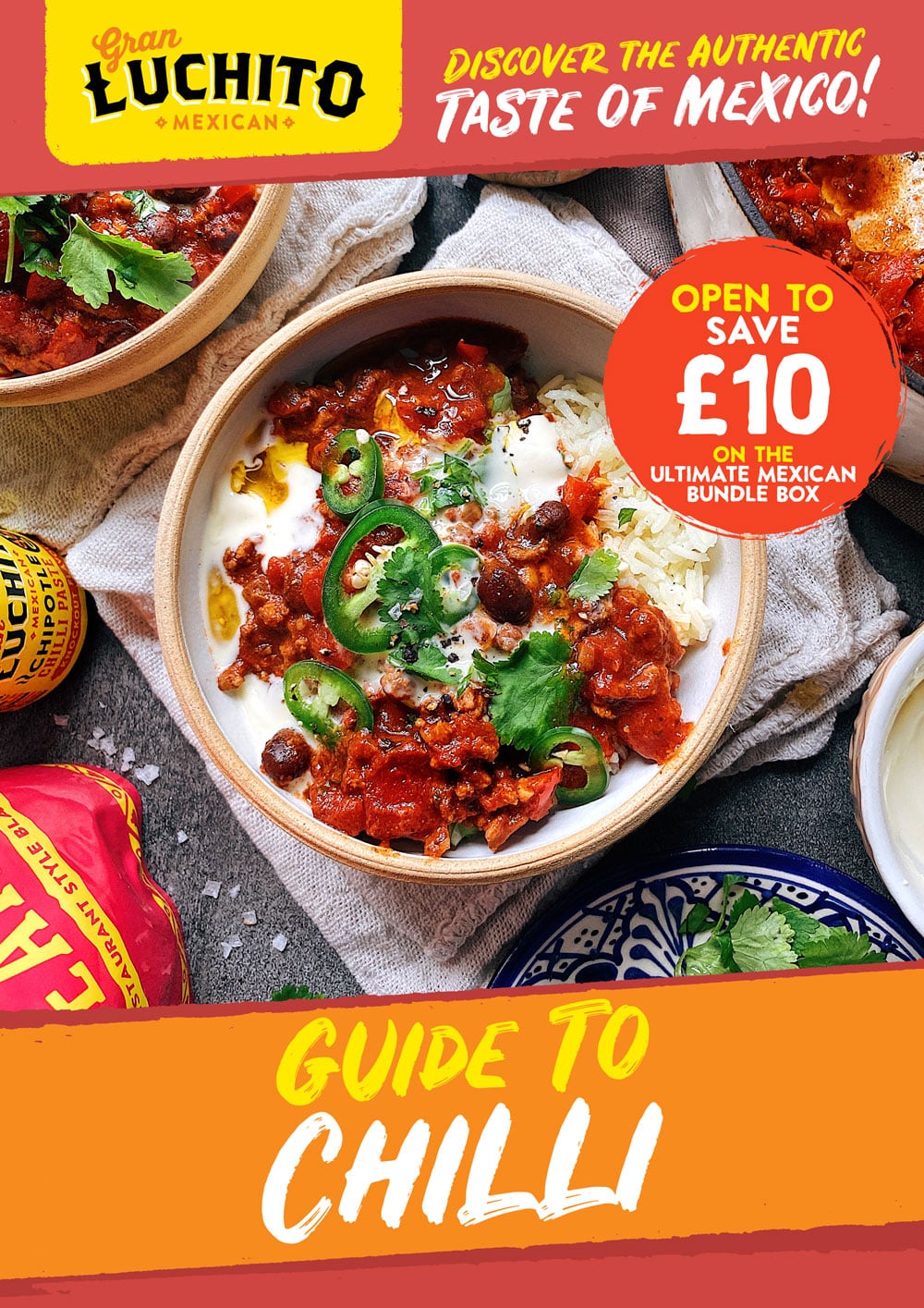 What To Serve With Beef Empanadas
Serve them with another favourite Mexican snack known as Sopes.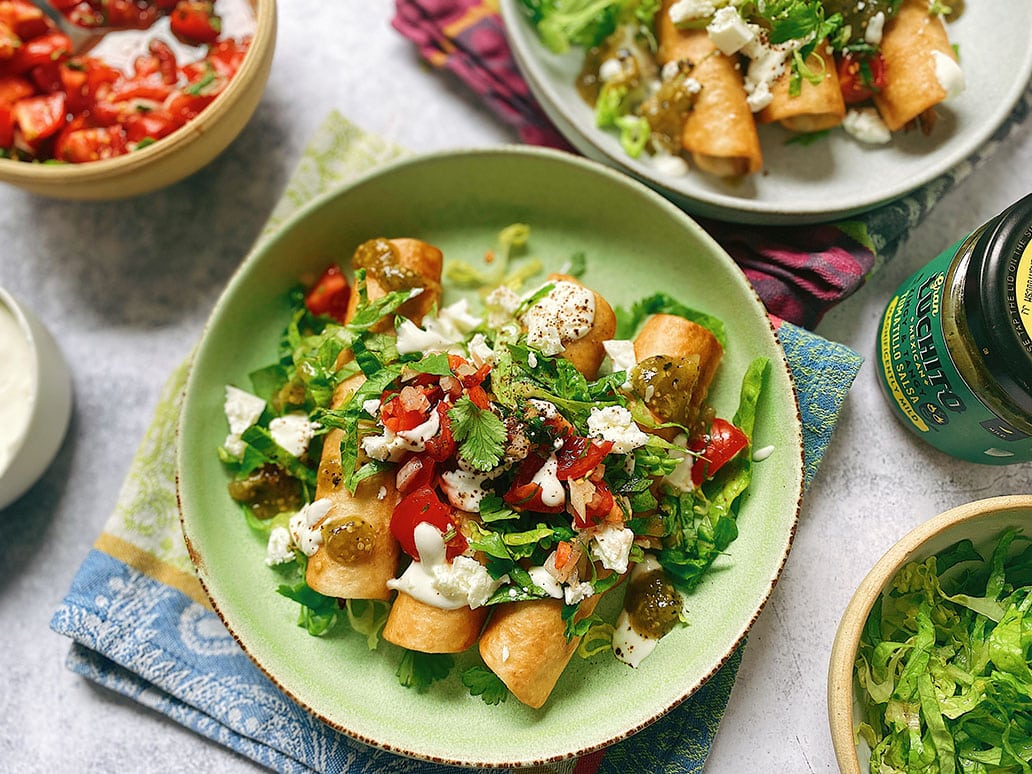 Alongside some Chicken Taquitos.
Similar Recipes You Might Like to Try
Comments / Questions / Tips

Subscribe now for a free copy of the Gran Luchito e-cookbook filled with delicious, authentic Mexican recipes and join our mailing list for all the latest recipes, news and blog updates.