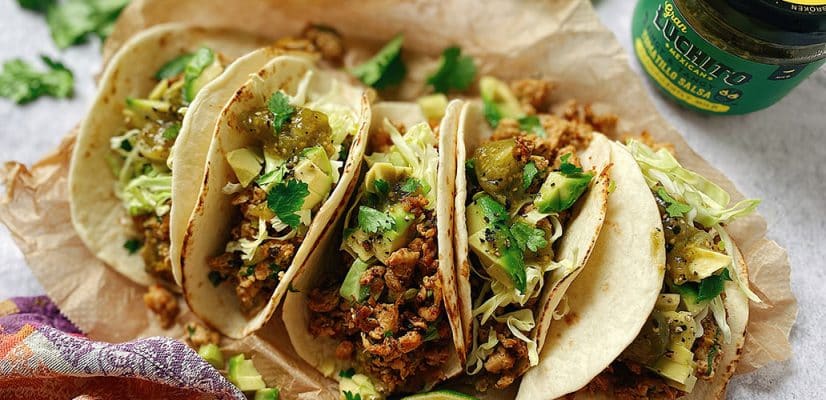 Turkey Mince Tacos
If you haven't experimented with turkey mince tacos yet, it serves as an excellent substitute for beef mince. Whether you seek a leaner option with health advantages or simply crave a change, turkey mince fits the bill. With its gentle, delightful taste, it perfectly complements taco fillings. Our Turkey Mince Tacos recipe captures the essence of flavour and freshness, making it a convenient go-to meal for busy weeknights.
For this turkey mince tacos recipe, we fry the mince with our Gran Luchito Smoky Chipotle Fajita & Taco Mix, but you could also use our Gran Luchito Garlic & Guajillo Fajita & Taco Mix which has a milder flavour. After simmering the turkey mince with orange juice and tamari, the mince is finished off with a squeeze of lime and coriander for freshness. It then gets wrapped up in our Gran Luchito Soft Taco Wraps, with slices of avocado, fresh cabbage for crunch and dollops of Gran Luchito Tomatillo Salsa.
Prep time

Cook time

Total time

Ideal for

Mexican

Make it

Mexican

Serves

2
Nutrition: Per serving
kcal 110
fat 4.7g
saturates 1.1g
carbs 7.7g
sugars 2.3g
fibre 1.2g
protein 9.1g
salt 0.42g
How to make it
In a large pan, add a little olive oil and place on a medium / high heat.
When hot, add the turkey mince and leave to get nicely browned. Break it up with a spatula and cook until browned all over.
Lower the heat to low/medium and add the Smoky Chipotle Fajita & Taco Mix and the chopped spring onions,

stir and let it cook for a minute or two.

Finally add the tamari sauce and orange juice and let it simmer on medium heat for 10 more minutes approx. 

After 10 minutes, remove from heat. Squeeze half a juicy lime over, and add a big handful of roughly chopped coriander on top. 

Serve with warm

Soft Taco Wraps, shredded cabbage, slices of avocado and Tomatillo Salsa

.
What to serve with Turkey Mince Tacos
You cannot go wrong with classic taco side dishes:
Download Our Free Guide To Tacos
Your free Taco guide will be emailed to you immediately.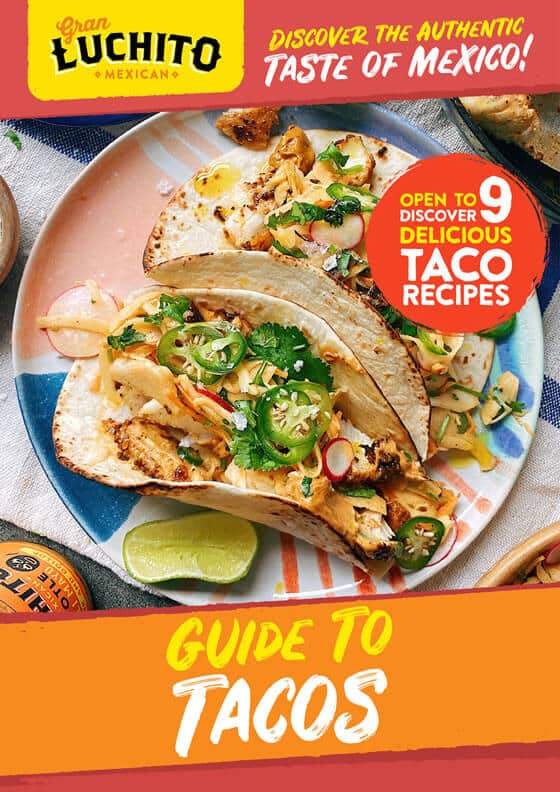 Similar Recipes You Might Like to Try
FAQs
What are the health benefits of turkey mince?
Turkey is not only super lean, low in fat and high in protein but it also contains: Vitamin B3 and B6, Iron, Potassium, Phosphorus, Selenium and Zinc
How can you tell when turkey is cooked?
Turkey mince will turn from pink and transluscent to white and opaque when cooked.
Comments / Questions / Tips

Subscribe now for a free copy of the Gran Luchito e-cookbook filled with delicious, authentic Mexican recipes and join our mailing list for all the latest recipes, news and blog updates.

wpDiscuz