Crispy Chicken Tacos
One of the best things about Tex Mex is these crispy chicken tacos. With just a few simple ingredients and Gran Luchito authentic Mexican flavours, you can make delicious crispy chicken tacos right in your own kitchen. Crispy chicken tacos are great for entertaining a large group of people, whether you're having them for dinner on a weeknight or serving them at a party.
What you need:
Chicken breast, cut into thin strips as if you were making fajitas, cooks fast but also makes it easier to add into your hard shells.
Gran Luchito Hard Shells Taco, make sure to bake them in the oven first for extra crunch.
Mexican seasoning: Gran Luchito Ancho BBQ Fajita and Taco Mix is all you need.
Guacamole. A fresh garnish is always needed to compliment all the textures.
Salsa, don't forget salsa! Choose your favourite from Tomatillo, Mango Habanero or Chipotle.
Sour Cream helps to bring all the flavors together and cools down any heat from the spices and salsa.
To complete your Tex Mex spread, why not serve these crispy tacos with our recipe for Loaded Nachos or with a side of Frijoles and Corn Ribs with Macha Mayo.
This recipe makes 10 crunchy chicken tacos.
Prep time

Cook time

Total time

Ideal for

Dinner

Make it

Mexican

Serves

3
How to make it
Place the chicken strips in a bowl, then add the Ancho BBQ Fajita & Taco Mix, the olive oil, lime juice and season with a pinch of salt and pepper. Mix everything with a spoon making sure the chicken is well coated in the seasoning. Once ready, let it rest for 10 to 15 minutes.
In the meantime prepare a quick guacamole, in a bowl add the avocado flesh and mash it roughly with a fork. Then add red onion, tomato, lime juice, extra virgin olive oil, a pinch of salt and pepper, mix everything with a spoon and once ready set aside.
Preheat the oven to 180˚C, 360 ˚F
Heat up a frying pan over medium-high heat, once the pan is hot enough add the chicken strips and juices. Let them get a good colour for 2 or 3 minutes on each side, and then cover the pan with a lid and allow the chicken to cook through. When the chicken is ready, remove the pan from the heat and set aside.
Place the Hard Shell Tacos carefully on a baking tray, then place the tray in the oven for 3 to 4 minutes. Remove them from the oven and get ready to serve your tacos.
Add a few strips of chicken on each Hard Shell Taco, then add a spoonful of guacamole, a good amount of Chipotle Salsa and a bit of sour cream on top. Serve with lime wedges on the side.
What to serve with Crunchy Chicken Tacos
Download Our Free Guide To Tacos
Your free Taco guide will be emailed to you immediately.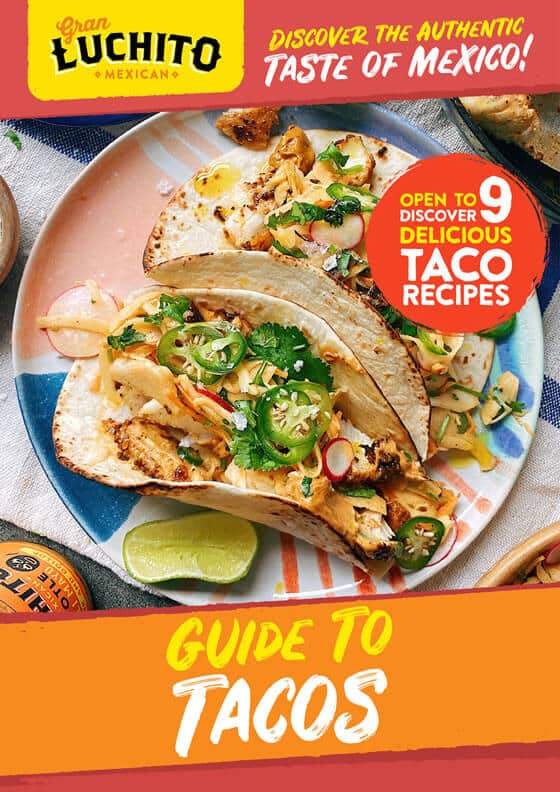 Similar Recipes You Might Like to Try
FAQs
Can Crispy Chicken Tacos be frozen?
Yes, you can freeze Crispy Chicken Tacos by wrapping them individually in plastic wrap or foil and storing them in an airtight container in the freezer for up to three months. To reheat, simply microwave or bake them in the oven until heated through.
Can Crispy Chicken Tacos be made ahead of time?
Yes, you can make Crispy Chicken Tacos ahead of time by preparing the chicken and toppings separately and storing them in the fridge until ready to assemble the tacos. However, it is best to assemble the tacos just before serving to prevent the tortillas from becoming soggy.
Are Crispy Chicken Tacos healthy?
Crispy Chicken Tacos can be high in calories, fat, and sodium, depending on how they are prepared and what toppings are added. However, you can make them healthier by using lean chicken, whole wheat tortillas, and fresh, low-fat toppings such as tomatoes, avocado, and cilantro.
Comments / Questions / Tips

Subscribe now for a free copy of the Gran Luchito e-cookbook filled with delicious, authentic Mexican recipes and join our mailing list for all the latest recipes, news and blog updates.