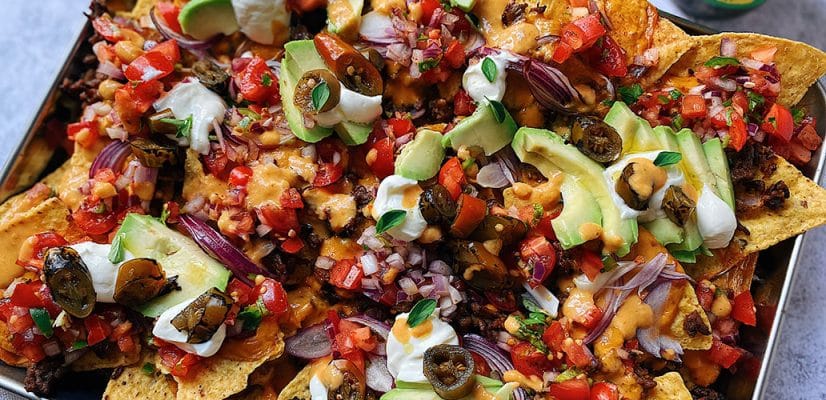 Loaded Nachos
It's no secret that we love nachos here at Gran Luchito and we must say they taste especially good when prepared with our Gran Luchito Lightly Salted Tortilla Chips.
This Loaded Nachos recipe is perfect for cheese sauce lovers, as they are covered with our special homemade chipotle Nacho Cheese Sauce which will make any nacho recipe, especially this loaded nachos recipe, taste amazing.
We recommend that you assemble and serve your nachos as soon as they're ready, in order to enjoy them at their peak. A good tip is to have all your toppings ready to go and put it all together once your guests arrive, or just before you're about to put on that film!
Don't forget to make a batch of Pico de Gallo ready to be scooped on top, alongside some Gran Luchito Fire Roasted Serranos.

---
Found On Amazon In United Kingdom and Germany.
---
Prep time

Cook time

Total time

Ideal for

Snack

Make it

Mexican

Serves

4
Nutrition: Per serving
kcal 179
fat 13g
saturates 5g
carbs 8.5g
sugars 2.5g
fibre 0.7g
protein 6.4g
salt 0.43g
How to make it
Make your pico de gallo first. Add all the ingredients into a bowl, and season with a pinch of salt and freshly ground pepper. Mix with a spoon and set aside. 

Add a drizzle of oil into a frying pan over high heat, and once it's hot enough add the onion and stir. Once it gets softened, add the beef mince and the

Chipotle Paste

. Stir and let your mince brown. Season with salt and pepper, once ready set aside.

Now it's time to prepare your nacho cheese sauce. In a medium saucepan, fry the onion and garlic gently with a drizzle of olive oil.

Next add the butter, and once it melts add the flour. Stir and let it cook for a minute. Pour in the milk, and stir continuously until it gets slightly thicker in consistency (3-5 minutes), then remove from the heat.

Pour the creamy mixture into the blender and blend until smooth. Place the mixture back into the pan over a low heat. Stir in the

Chipotle Paste

and finally fold in the grated cheese, let the cheese melt and fully integrate. Once ready, remove your cheese sauce from the heat.

Get ready to assemble your nachos in a small tray. First layer the Lightly Salted Tortilla Chips, then add a few spoonfuls of the cooked beef on top, and finally a good drizzle of chipotle cheese sauce. Repeat the same process and add the sliced onion on top. Once that's done, bake in the oven for 6 minutes at 200°C / 390°F.
Once ready, remove the tray from the oven and garnish with the pico de gallo, slices of avocado, scoops of sour cream and the Fire Roasted Serranos. Serve and enjoy!
What To Serve With Loaded Nachos
Serve these Loaded Nachos with a side of:
Download Our Free Guide To Nachos
Your free Nachos guide will be emailed to you immediately.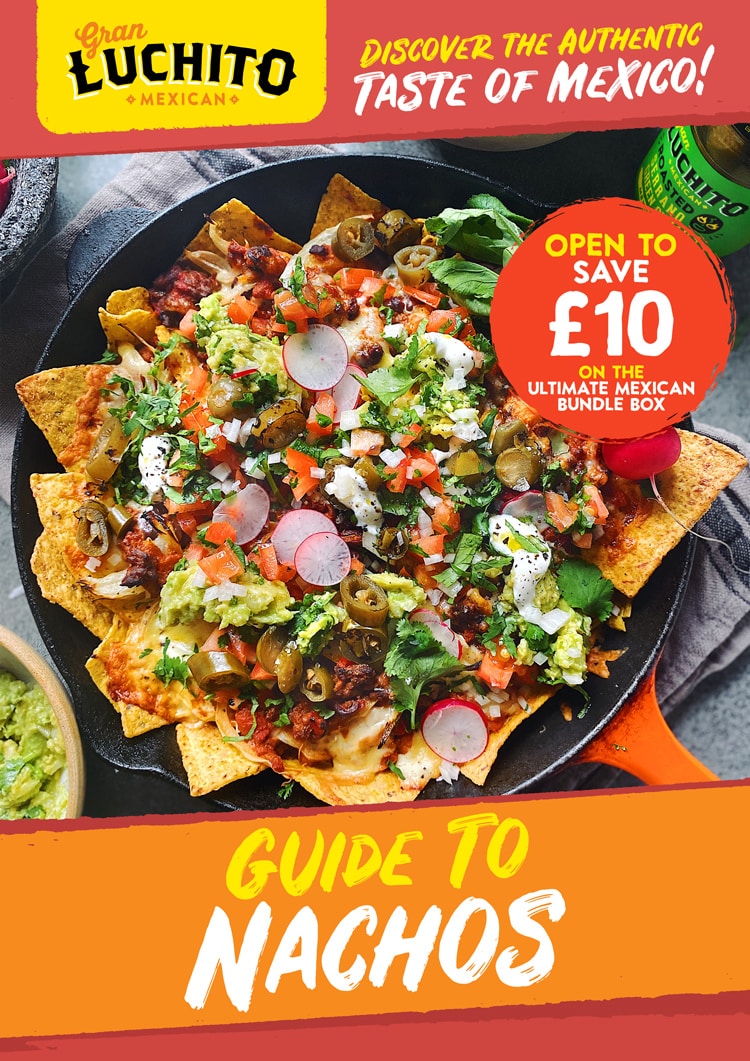 Similar Recipes You Might Like to Try
FAQs
How to reheat loaded nachos?
They won't be as good as fresh nachos, but it is possible. You heat up your oven very hot, and make sure as much of the toppings are taken off the tortilla chips as possible, and set aside. Transfer your chips to the oven for 5 mins or so until reheated. Then load your toppings back on again!
What's the best cheese for loaded nachos?
An oozy and melty cheese, like Monterey Jack, combined with cheddar for a sharp and bold flavour.
How do you layer loaded nachos?
Don't overcrowd your nachos. Build them up - first tortilla chips, then grated cheese, followed by two or three minutes in a very hot oven to quickly melt the cheese on the first layer. Then take out of the oven and repeat with more layers. Any ingredients you want to retain freshness and crunch should be added after the nachos go into the oven. We're talking herbs, greens, tomatoes, fresh salsas, avocado, and guacamole—none of these things are good warm. You don't want soggy nachos.
Comments / Questions / Tips

Subscribe now for a free copy of the Gran Luchito e-cookbook filled with delicious, authentic Mexican recipes and join our mailing list for all the latest recipes, news and blog updates.