Air Fryer Chicken Fajitas
With an air fryer, you can have these fajitas with delectable charred edges and tender chicken ready in no time. This air fryer fajitas recipe will cut your cooking time in half while saving you a lot of messy spills.
This chicken fajita dish is ideal for a quick lunch for two, as it is recommended not to overcrowd the air fryer for best results.
With the help of Gran Luchito Ancho BBQ Fajita & Taco Mix, we whip up a speedy marinade and season the chicken and vegetables to make these fajitas taste like they came straight from a restaurant. This is all that is required to make scrumptious fajitas.
Serve your fajitas with warm Soft Tacos and a spoonful or two of our recipe for Macha Mayo.
Why not try these different variations too:
Pork tenderloin strips, spring onion, yellow pepper, olive oil, lime juice seasoned with Gran Luchito Crunchy Salsa Macha.
Halloumi strips, red onion, red peppers, olive oil, lime juice, seasoned with Gran Luchito Guajillo Fajita & Taco Mix.
Sweet Potato, onion, courgette, peppers, olive oil, lime juice, seasoned with Gran Luchito Chipotle Fajita & Taco Mix.
Prep time

Cook time

Total time

Ideal for

Dinner

Make it

Mexican

Serves

2
How to make it
Preheat the Air Fryer to 190˚C / 374°F, for 5 minutes. In a bowl place the chicken strips and vegetables. Add olive oil, BBQ Fajita & Taco Mix, the juice of a lime, and a pinch of salt and pepper, mix everything with a spoon making sure all the ingredients are well coated with the spice mix.
Place the fajitas into the air fryer tray, making sure they are distributed evenly. Then place the tray in and cook at 190 ˚C for 15 minutes, until you get nicely charred veggies and your chicken is cooked through.
While the fajitas are in the air fryer, warm up your Soft Tacos over a hot pan a couple of minutes on each side, then keep warm wrapped with a tea towel.
Serve your fajitas hot, squeeze a bit more lime on top and make some tacos. These fajitas are perfect with a spoonful of Macha Mayo and lime wedges on the side.
What to serve with Air Fryer Chicken Fajitas
Download Our Free Guide To Tacos
Your free Taco guide will be emailed to you immediately.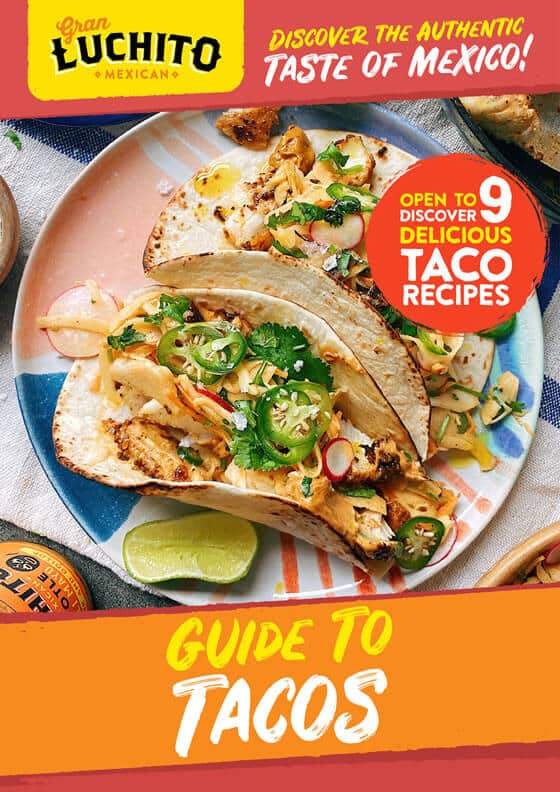 Similar Recipes You Might Like to Try
FAQs
What is the best way to reheat Fajitas in the Air Fryer
Heat your air fryer to 350 degrees Fahrenheit. Place the leftover chicken fajitas in the air fryer basket and heat for three to five minutes, until thoroughly heated.
Do you cut chicken fajita meat before cooking?
Slicing the chicken, peppers, and onions into 1/4-inch strips will prevent them from drying out during cooking. Tastier fajitas can be achieved by slicing the chicken breasts against rather than with the grain.
Why is my chicken not getting crispy in the air fryer?
Be sure the outside is completely dry before you add oil. The food will be less crispy and higher in fat if too much oil is used. To achieve the crispiest results, rub the meat or poultry with oil or marinade it.
Comments / Questions / Tips

Subscribe now for a free copy of the Gran Luchito e-cookbook filled with delicious, authentic Mexican recipes and join our mailing list for all the latest recipes, news and blog updates.