Air Fryer Burrito
Air fryer burritos are a convenient method of preparing burritos, allowing you to obtain a lovely and warm burrito in just 5 minutes.
Burritos prepared in an air fryer are a healthier, more convenient, and customizable way to enjoy a tasty Mexican-inspired lunch. With so many benefits, it is hardly surprising that they have become so popular in so many households.
For weeknight convenience, we've reduced the number of ingredients in this dish without sacrificing flavour. They are a great way to experience a popular Mexican dish without the extra calories and fat of traditional frying, making them an easy meal alternative.
What you need to make these air fryer burritos:
Cooked rice.
Grated Cheese.
Guacamole
Air fryers are also a perfect method to reheat your burritos, making them nice and warm in the middle without turning soggy. It is also ideal to heat up frozen burritos in an air fryer, all you need to do is add a bit more time in the air fryer and in about 15 minutes your burritos will be nice and warm.
This is a basic recipe for burritos made in the air fryer but you can use any filling you want, next time why not try :
A few things to remember when making burritos on an air fryer:
Preheat the air fryer. This will make cooking time much faster and you will achieve best results.
Don't overcrowd the air fryer. Place just enough burritos to cook at one time, depending on the size of your appliance, we recommend 2 at a time.
If you want your burritos lightly crispy and golden on the outside you can add a coat of olive oil spray before placing them in the air fryer.
What to serve with air fryer burritos:
Prep time

Cook time

Total time

Ideal for

Dinner

Make it

Mexican

Serves

3
How to make it
Preheat the air fryer for 4 minutes, 190 ˚C / 374°F.  Place the Refried Beans in a bowl (not necessary to reheat).
Warm up a Burrito Wrap over a hot pan, just enough to make it slightly softer and easier to fold.
Place the Burrito Wrap over a clean surface then add 1/3 of the beans, top it with 1/3 of the white rice, add 1/3 of the grated cheese and a few spoonful of Chipotle Salsa. Fold the edges of the burrito and then wrap tight (see video for reference), make two more burritos in the same way.
Once they are ready, place the burritos in the air fryer, and cook them for 5 minutes at 180˚C.
In the meantime prepare a quick guacamole in a bowl, combine the avocado, mash it roughly with a fork, then add the onion, tomato, lime juice, coriander, extra virgin olive oil, a pinch of salt and black pepper.
Once the burritos are ready remove them from the air fryer tray. Cut them in half and serve them with the guacamole, spoonful of soured cream and more Chipotle Salsa on top.
What to serve with Air Fryer Burritos
Download Our Free Guide to Tacos
Your free Taco guide will be emailed to you immediately.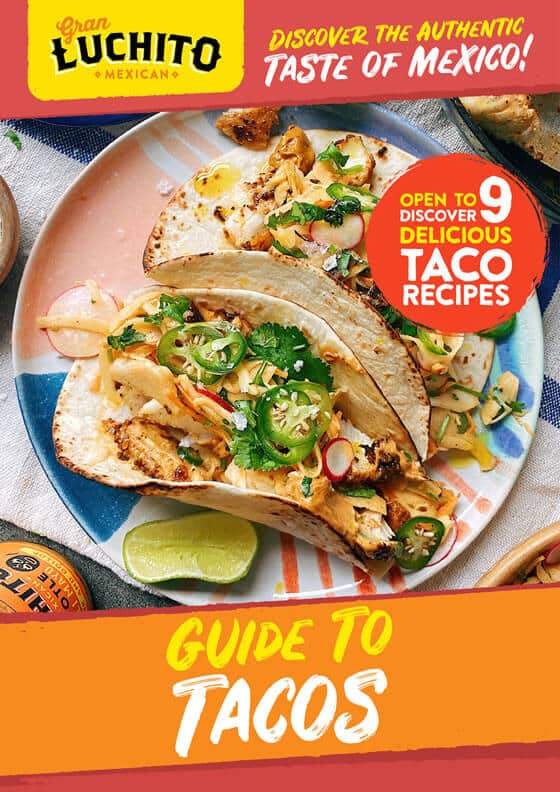 Similar Recipes You Might Like to Try
FAQs
How do you crisp a burrito in an air fryer?
This approach is quick and straightforward, and the resulting burrito is delightfully crisp. Just wrap the burrito in aluminum foil, preheat the air fryer to 350 degrees Fahrenheit, and cook for eight minutes.
How do you layer a perfect burrito?
Assembly order matters. Hot-to-cold keeps cheese melty. After the melted cheese, layer the beans, rice, meat, sauces, and crema. Maintain a single horizontal line down the tortilla.
How do you wrap a burrito?
Add a generous amount of grated cheese to the intersection of the ends just prior to finishing rolling. Lastly, place the tortilla, face down, in a air fryer. So, the cheese will melt and seal the burrito, preventing any ingredients from spilling.
Comments / Questions / Tips

Subscribe now for a free copy of the Gran Luchito e-cookbook filled with delicious, authentic Mexican recipes and join our mailing list for all the latest recipes, news and blog updates.