Smothered Burrito
If you're already a burrito fan you should definitely try our Smothered Burrito recipe. We take the humble burrito to another level by covering it in delicious green enchilada sauce with a good amount of grated cheese. It goes in the oven until it's deliciously warm and the cheese melts on top. 
We first start by preparing a lovely chicken filling, which we do by frying onions, garlic, and carrots. We then add shredded chicken (you can make use of leftover chicken here), a bit of Gran Luchito Tomatillo Enchilada Sauce, and a good splash of single cream that helps to bring it all together and give that delicious creamy texture to your filling, that we know and love.
A good amount of creamy chicken, a spoonful of Gran Luchito Cantina Beans, and a sprinkle of grated cheese is added into one of the Gran Luchito Burrito Wraps, then you simply wrap it as if you were making a burrito with the edges tucked in. Once you have made all the burritos, they can be placed in a baking dish and covered in our Tomatillo Enchilada Sauce and more grated cheese.
These homemade smothered burritos are seriously satisfying, and normally one burrito is enough for one portion. We hope you enjoy!
Prep time

Cook time

Total time

Ideal for

Dinner

Make it

Mexican

Serves

3
How to make it
Preheat the oven to 180˚C/360˚F. Heat up a frying pan with the olive oil over medium heat. When ready, add the onion and garlic, stir and let it cook until the onions soften. Then add the carrots and let them cook for 5 minutes. After that, you can add the shredded chicken, single cream, and 1/3 of the Tomatillo Enchilada Sauce. Season with salt and pepper, and stir until all the ingredients are combined, then cook for a further 2 to 3 minutes. Once ready, remove from the heat and set aside.

Prepare a medium size baking dish, and have the enchilada ingredients ready (filling,

Cantina Beans

,

Burrito Wraps

,

Tomatillo Enchilada Sauce

, and cheese). Add a good amount of chicken filling, beans, and a handful of cheese onto one of the B

urrito Wraps

. Wrap it into a burrito-like shape (as seen on the video) and place it in the baking dish. Repeat the same process and make 3 burritos in total.

Pour the

Tomatillo Enchilada Sauce

 on top of the burritos, then add the remaining grated cheese and place them in the oven for 15 to 20 minutes.

When ready, remove the smothered burrito recipe from the oven and serve while it's still warm. Garnish with fresh avocado, onion, and lettuce. 
What To Serve With A Smothered Burrito
We recommend serving this smothered burritos recipe with a side of Mexican Salad or Lime and Coriander Rice.
Download Our Free Guide To Mexican Classics
Your free guide will be emailed to you immediately.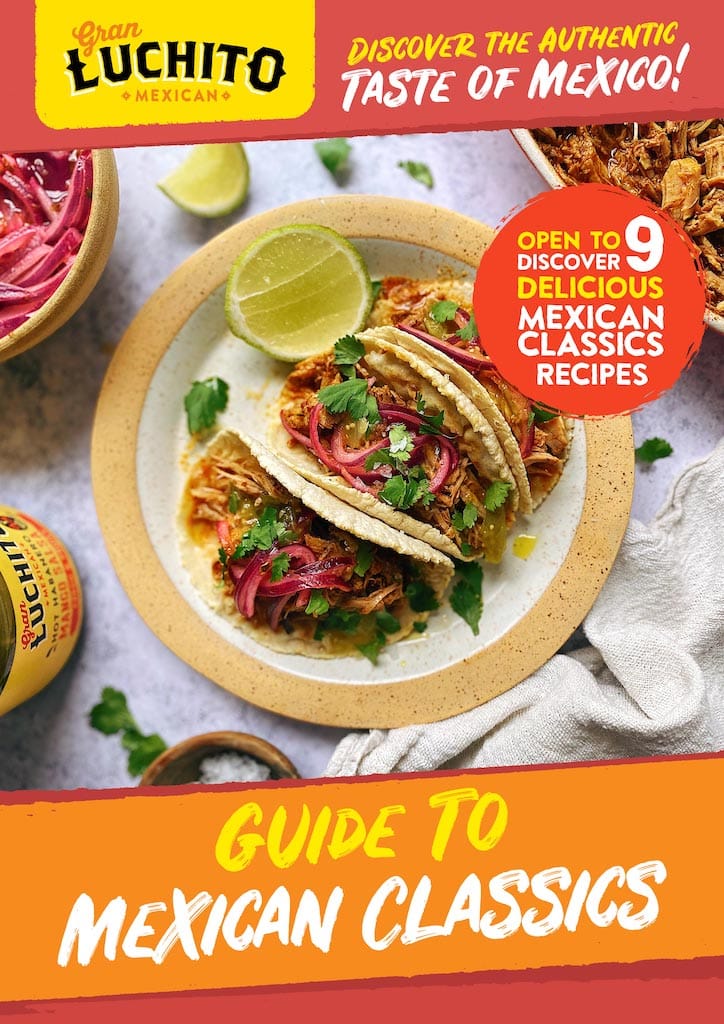 Similar Recipes You Might Like to Try
FAQs
What does a smothered burrito mean?
A smothered burrito is a dish that combines a soft flour tortilla filled with a variety of ingredients and then topped with a savory sauce and baked in the oven until warm with the cheese melted on top.
How do you reheat a smothered burrito?
Preheat your oven, and wrap your burrito in tin foil, then place it in the oven to warm up. Alternatively cover the dish with tin foil that the burrito is in, included melted cheese, and put that in the oven to reheat.
Are smothered burritos healthy?
This depends on the ingredients and the size of the portion you are eating. If it contains lean protein, lots of veggies and not too much cheese, then they can be very healthy, yes.
Comments / Questions / Tips

Subscribe now for a free copy of the Gran Luchito e-cookbook filled with delicious, authentic Mexican recipes and join our mailing list for all the latest recipes, news and blog updates.

wpDiscuz