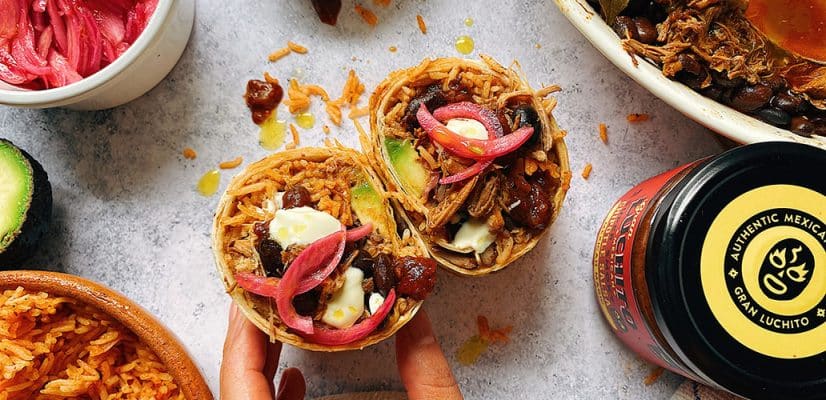 Pulled Pork Burrito
If there's a favourite burrito recipe here at Luchito it's got to be this one! There is something about the combination of slow cooked pork with Gran Luchito Cantina Beans and Gran Luchito Chipotle Paste that is so delicious and satisfying. It also provides a seriously tasty burrito filling to wrap up into your Gran Luchito Burrito Wraps.
To make this Pulled Pork Burrito even more perfect, make a batch of our recipe for Mexican Rice and quick pickled red onions. You can also use white steamed rice but we totally recommend to go the extra mile and make your own Mexican rice at home. It will make this pork burrito recipe even more special.
Not sure what side dishes to have? Check out our What To Serve With Burritos blog! We've got it covered.
Pork and bean burritos aren't for everyone, having said that, pulled pork with rice and beans might be! If you love pulled pork, but want something lighter without the wraps, then try our Pulled Pork Burrito Bowl.
Prep time

Cook time

Total time

Ideal for

Lunch

Make it

Mexican

Serves

4
Nutrition: Per serving
kcal 140
fat 10g
saturates 3.4g
carbs 5.4g
sugars 2g
fibre 0.4g
protein 7.3g
salt 2.6g
How to make it
Place the meat in the slow cooker and all the ingredients listed for pulled pork. There's no specific order or fancy way about it! Just add all the ingredients into the slow cooker (apart from the cantina beans), cover with a lid and let it cook on high mode for 5 to 6 hours.
In the meantime prepare your Mexican Rice and the quick pickled onions by adding the red onion into a small bowl with the lime, vinegar, extra virgin olive oil and a pinch of salt. Let it rest until the onion softens and gets a lovely pink colour.
When your pork is ready, uncover and shred the tender meat with the help of two forks. Add the Cantina Beans and mix in with the meat, then combine everything, and reserve. (Reheat before serving, you can do this in a baking dish covered with tin foil in the oven at 180°C / 350°F, for 20 min).
Warm up two Burrito Wraps over a hot pan and once warm place them over your kitchen counter, they should overlap slightly. Then add a good amount of Mexican rice and a good amount of warm pulled pork.
Top your burrito with slices of avocado, spoonfuls of Chipotle Salsa, the red pickled onions and a spoonful of creme fraiche, you can also add grated cheese here.
Wrap up your burrito tightly and serve whilst it's still warm. You can reheat your burritos in the oven if necessary. Repeat the same process to make more burritos, and enjoy!
What To Serve With Burritos
Here are some delicious sides that go with this pulled pork burrito recipe:
More About Burritos
Our How To Make Burritos blog will help you to master everything you need to know about making homemade Burritos. And our Burrito Recipes is our collection of tried and tested Burrito recipes with more flavours, protein and veggie options. For more sides inspiration, take a look at our What To Serve With Burritos blog.
Similar Recipes You Might Like to Try
FAQs
Can you make the pulled pork on the same day as the burritos?
Yes, you can, although you'll need to start early in the morning to give the pork enough time to cook. You could also do it the day before, or a few weeks before (and then freeze it until it's needed). If frozen, the best way to defrost it is to do it in the fridge overnight.
What kind of rice to use in a burrito?
You can use whichever rice grain you prefer! However, good old fashioned long grain white rice is your best bet for a traditional Mexican-style burrito. You could also use steamed Basmati, Jasmine or Brown rice.
What to do with a leftover burrito?
You can keep any leftover burritos in the fridge for 4-5 days. To cook them you can just place them in a pan and cook over a medium heat until they are brown and crispy, and the cheese is melted on the inside. Or you can freeze them for about 3 months.
Comments / Questions / Tips

Subscribe now for a free copy of the Gran Luchito e-cookbook filled with delicious, authentic Mexican recipes and join our mailing list for all the latest recipes, news and blog updates.