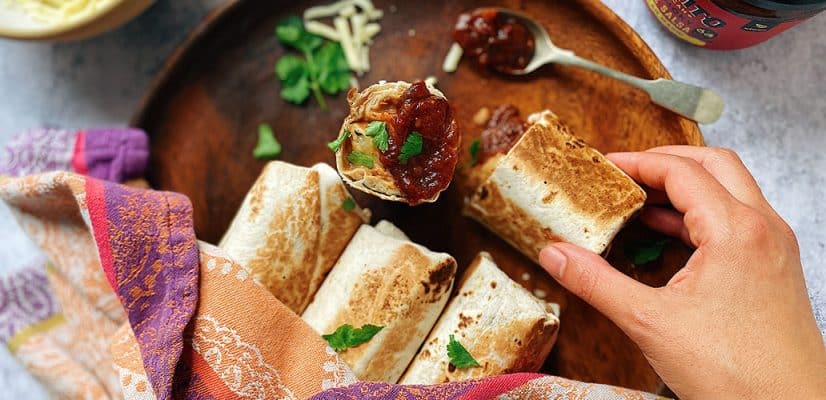 Refried Bean Burrito
Prep time

Cook time

Total time

Ideal for

Snack or Lunch

Make it

Mexican

Serves

4
Nutrition: Per serving
kcal 163
fat 6g
saturates 3.1g
carbs 19.2g
sugars 1.4g
fibre 0g
protein 7.2g
salt 1.2g
How to make it
Squeeze all the

Gran Luchito Refried Beans

into a small saucepan, then heat them up over a low heat until they start bubbling away (you can add a bit of water to avoid them from sticking).

Once your beans are ready, place them on the side and add a generous amount into one of the cold

Gran Luchito Burrito Wraps

. Add grated cheese on top and wrap tight, repeating the same with the rest of your Burrito Wraps.

Once they are ready, heat up a non-stick pan and warm up two at a time, making sure they get lovely and toasty all around. Repeat the same process with the rest of your burritos.

Serve warm with Gran Luchito Chipotle Salsa on the side.
What To Serve With Refried Bean Burritos
Serve these sides with a refried bean burrito:
Similar Recipes You Might Like to Try
FAQs
Is a bean burrito healthy?
Our Refried Bean Burrito is a healthy burrito as it's made from scratch using healthy ingredients. Refried beans are a good source of nutrients like fiber, iron, magnesium, and zinc. They are really just beans with some seasoning, mushed up. Refried doesn't mean fried twice, it's just an English translation of refrito which in Spanish means cooked well.
What to serve with bean burritos?
Mexican Rice, Coleslaw, Elotes or street corn, guacamole, chips and salsa, a Mexican soup, a salad and a cold beer!
How many calories in a small bean and cheese burrito?
Comments / Questions / Tips

Subscribe now for a free copy of the Gran Luchito e-cookbook filled with delicious, authentic Mexican recipes and join our mailing list for all the latest recipes, news and blog updates.