Seafood Enchiladas
We've designed an amazing Seafood Enchiladas recipe, especially for the seafood lovers out there! The filling is so scrumptious and creamy. It's prepared with potatoes and onions that have been cooked together until tender, then king prawns and white crab meat are added into the mix, a touch of creme fraiche, and lemon to bring it all together. 
Gran Luchito Tomatillo Enchilada Sauce is the perfect pairing for these easy seafood enchiladas. We add the sauce all over our wrapped tacos with the creamy seafood filling, and then top them with grated cheese. The enchiladas are finally baked in the oven until they get deliciously golden brown on top.
With the help of our ready-made Tomatillo Enchilada Sauce and some Gran Luchito Soft Taco Wraps, you can prepare this healthy seafood enchiladas recipe at home in no time, and have a delicious meal to bring to your family table in a few easy steps.
Prep time

Cook time

Total time

Ideal for

Dinner

Make it

Mexican

Serves

4
Nutrition: Per serving
kcal 153
fat 7.4g
saturates 3.7g
carbs 14.8g
sugars 2.2g
fibre 0.6g
protein 7.0g
salt 0.87g
How to make it
Preheat the oven to 180˚C/360˚F. Heat up a frying pan with the olive oil and butter over medium heat. Once the butter melts add the onion, stir, and let it soften. Add the potatoes and allow them to get a bit of colour for a couple of minutes. Add the water and bring the temperature to a minimum. Place the lid on and let it simmer for 10 to 15 mins or until the potatoes are cooked through.

When the potatoes are cooked through, add the prawns, let them cook and get slightly pink in colour. Then add the crab meat, creme fraiche, lemon zest, lemon juice, and season with salt and pepper. Finish with the parsley scattered on top, remove from the heat, and reserve.

Get your

Soft Taco Wraps

ready and a baking dish. Add a nice amount of seafood filling into each soft taco

and wrap into a taco-like shape. Place it in the baking dish and repeat the same with the remaining filling and soft tacos,

until you fill up the baking dish.

Open the Tomatillo Enchilada Sauce and pour the sauce over the top. Cover them evenly with the sauce and add the grated cheese on top. Bake in the oven for 15 to 20 minutes until golden brown on top. Serve this recipe for seafood enchiladas warm, and enjoy!
What To Serve With Seafood Enchiladas
Serve these creamy seafood enchiladas with one of these two recipes:
Download Our Free Guide To Enchiladas
Your free Enchilada guide will be emailed to you immediately.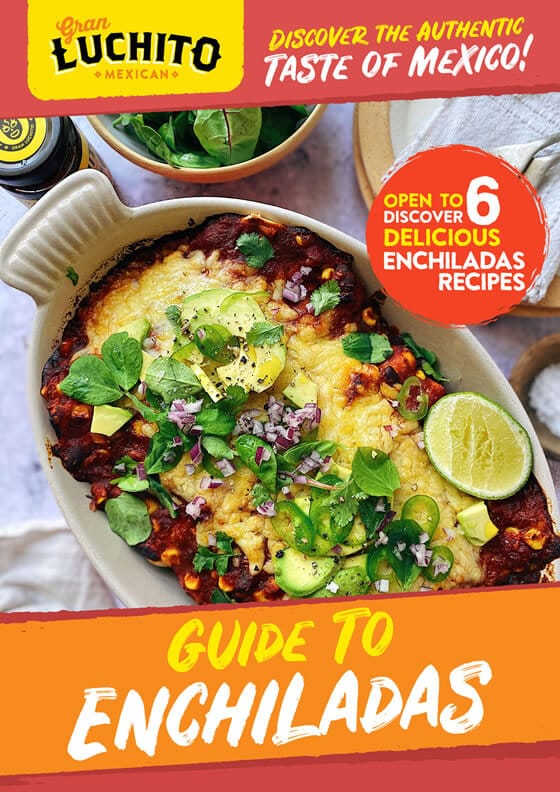 Similar Recipes You Might Like to Try
FAQs
Is cheese and seafood good together?
When paired correctly, cheese and seafood works beautifully together. If you think about it, combining an alfredo sauce with seafood pasta brings out incredibly balanced flavours. It's a really famous seafood cheese sauce combination.
What side dishes go well with seafood enchiladas?
We'd say go for either a salad or a rice dish. Our Lime and Coriander Rice recipe or Arroz Primavera work beautifully well, and our Mexican Salad recipe or Mexican Bean Salad.
How healthy are seafood enchiladas?
Enchiladas are not typically what one considers healthy. They're loaded with a lot of heavy, saturated fat and refined carbs that make them something you don't want to eat regularly. However, the seafood in these make them a healthier alternative to ones perhaps loaded with chorizo or beef.
Comments / Questions / Tips

Subscribe now for a free copy of the Gran Luchito e-cookbook filled with delicious, authentic Mexican recipes and join our mailing list for all the latest recipes, news and blog updates.