Slow Cooker Enchiladas
Slow cooked tender brisket makes this enchiladas recipe especially delicious. The trick to these Slow Cooker Enchiladas is to use the cooking juices once the meat is ready, and then reduce those juices until they thicken and you can combine it with the meat. Concentrating all the meat juices into a gravy-like sauce will make your filling taste amazing.
Then you only need to add some of the Gran Luchito Cantina Beans and steamed white rice into the mix to make these easy slow cooker enchiladas even more special. The black beans will make it more satisfying, and the rice will soak up the meat juices.
Every ingredient has a function in this recipe to make a delicious slow cooker enchiladas casserole worthy of any special occasion, or get-together with friends. It's also perfect for making a big batch and feeding large groups of people.
Serve this slow cooker enchiladas recipe with a side of our classic Black Beans and Rice recipe, or our delicious and creamy baked Elotes recipe.
Prep time

Cook time

Total time

Ideal for

Dinner

Make it

Mexican

Serves

5
How to make it
Begin by preparing the meat. Place the brisket in the slow cooker and add the stock, beer, 1/3 cup of the

Chipotle Enchilada Sauce

(reserve the rest), bay leaves, cumin, pepper, and coriander. Cook on high mode for 6 hrs until deliciously tender and easy to shred. Once ready, remove the beef from the slow cooker and shred it with the help of two forks. In the meantime, in a saucepan, add the cooking liquid and simmer on a medium temperature until it thickens slightly (about 15-20 mins). When it reduces to half, pour the sauce into the shredded meat and mix it in, then reserve.

Open the packet of Cantina Beans and warm them up in a small saucepan. Get ready to make your enchiladas with the brisket, beans, rice, Soft Taco Wraps, grated cheese, and the remaining Chipotle Enchilada Sauce.
To make your enchiladas, add two spoonfuls of brisket onto a Soft Taco, then add a spoonful of Cantina Beans and a spoonful of rice. Now wrap it into a burrito-like shape. Place it in a baking dish and repeat the same process with the rest of the filling, beans, and Soft Tacos, until you have a baking dish full of enchiladas, all lined up.
Cover the enchiladas with the rest of the Chipotle Enchilada Sauce and scatter the grated cheese on top. Bake in the oven for 15 to 20 minutes, until golden brown on the top.
Remove the enchiladas from the oven and drizzle the sour cream on top. Garnish with the chilli and coriander, serve warm and enjoy!
What To Serve With Slow Cooker Enchiladas
We suggest serving these enchiladas with a side of Black Beans and Rice and/or some delicious creamy baked Elotes.
Download Our Free Guide To Enchiladas
Your free Enchilada guide will be emailed to you immediately.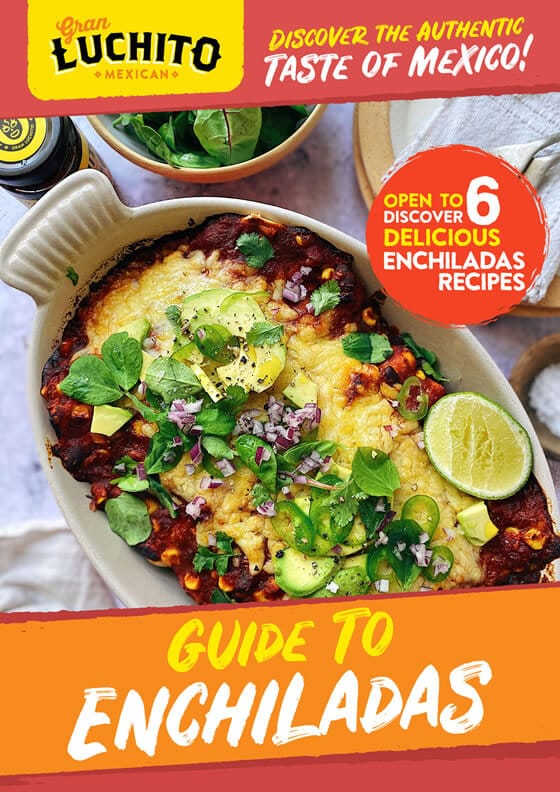 Similar Recipes You Might Like to Try
FAQs
How do you make pulled beef in a slow cooker?
As in our recipe, in step 1, place the beef in the slow cooker and add the brisket ingredients. Cook for 6 hrs until deliciously tender and easy to shred.
Can you freeze cooked enchiladas?
Cooked tortillas can become soggy or rubbery after being frozen, so it's best to freeze uncooked enchiladas instead. Before baking frozen enchiladas, you do not need to thaw them. The best way to preserve the texture of tortillas is to freeze them uncooked and bake them right before serving.
Are these slow cooker enchiladas healthy?
The components of our recipe are all very wholesome and healthy, yes. However, enchiladas generally should not be eaten regulary because of the saturated fat and refined carbs. Enchiladas in moderation!
Comments / Questions / Tips

Subscribe now for a free copy of the Gran Luchito e-cookbook filled with delicious, authentic Mexican recipes and join our mailing list for all the latest recipes, news and blog updates.