Steak Nachos
Yum

If you're looking to take your homemade nachos game to the next level, then this Steak Nachos recipe is for you. Served with tender slices of steak, Gran Luchito Refried Beans, grated cheese, and caramelized onions, what's not to love?!
We wanted to evoke the flavors of carne asada with the best nachos: smoky grilled steak, charred onions served with a side of beans, and Gran Luchito Lightly Salted Tortilla Chips. Just get a very cold beer and dream of warm sunny days! Having said that, this nachos recipe is good all year round, so whether you prepare them to entertain, or simply as a treat for yourself to accompany your favourite movie, it's always a good time to make steak nachos at home.
Here are a few tips:
What cuts of steak to use: we recommend using a cut that will have a lot of flavour but will also be tender when cut into slices. Rib Eye, Sirloin, or Rump Steak work really well for carne asada nachos.

What cheese to use: any good melty cheese is good, such as Gruyere, Monterey Jack, or Gouda. We especially like a mixture of grated Mozzarella and Cheddar.

For amazingly smoky flavour on your nachos, try preparing the caramelized onions with 1 tablespoon of

Gran Luchito Chipotle Paste.
Prep time

Cook time

Total time

Ideal for

Snack

Make it

Mexican

Serves

4
Nutrition: Per serving
kcal 198
fat 11g
saturates 4.1g
carbs 14.7g
sugars 1.6g
fibre 0.6g
protein 9.9g
salt 0.78g
How to make it
Preheat the oven to 200˚C/390˚F. Begin by preparing the caramelized onions. Heat up a pan with 2 tablespoons of olive oil over high heat. Add the onions, let them brown and become softer for 8-10 minutes, stirring continuously. Simply season with salt and pepper. Once ready set aside.

Heat up another frying pan with the olive oil over medium heat. Once hot enough, add the chorizo meat and let it get lightly crispy. Squeeze the Refried Beans onto the pan. Add 1/2 cup of water and stir it in, let it simmer for 4 to 5 mins, then set aside.
Use a large baking tray or dish and begin to layer your nachos. First, add a good layer of Lightly Salted Tortilla Chips, then spoon half of the chorizo refried beans on top. Add half of the caramelized onions and finally half of the grated cheese. Build another layer with the remaining tortilla chips and toppings. Place the nachos tray in the oven for 10 minutes, or until the cheese is lovely and gooey.
In the meantime, heat up a pan with olive oil over high heat. Season the steaks with a good pinch of salt and pepper on both sides. Once hot enough, add the steak to the hot pan and cook for 2-3 minutes on each side (depending on the thickness). Add the butter, let it melt in the pan, and use it to baste your steak. Cook for another minute. Once ready, remove it from the pan and let it rest for 6 minutes before cutting.
Remove the nachos tray from the oven, then add spoonfuls of sour cream on top. Let it melt over the warm nachos. Cut the steaks into thin slices and arrange them on top. Add Fire Roasted Serranos to your liking, scatter coriander on top, serve with the lime wedges on the side, and enjoy!
What To Serve With Steak Nachos
We recommend serving these nachos with a side of these two recipes to complete your party spread:
Download Our Free Guide To Nachos
Your free Nachos guide will be emailed to you immediately.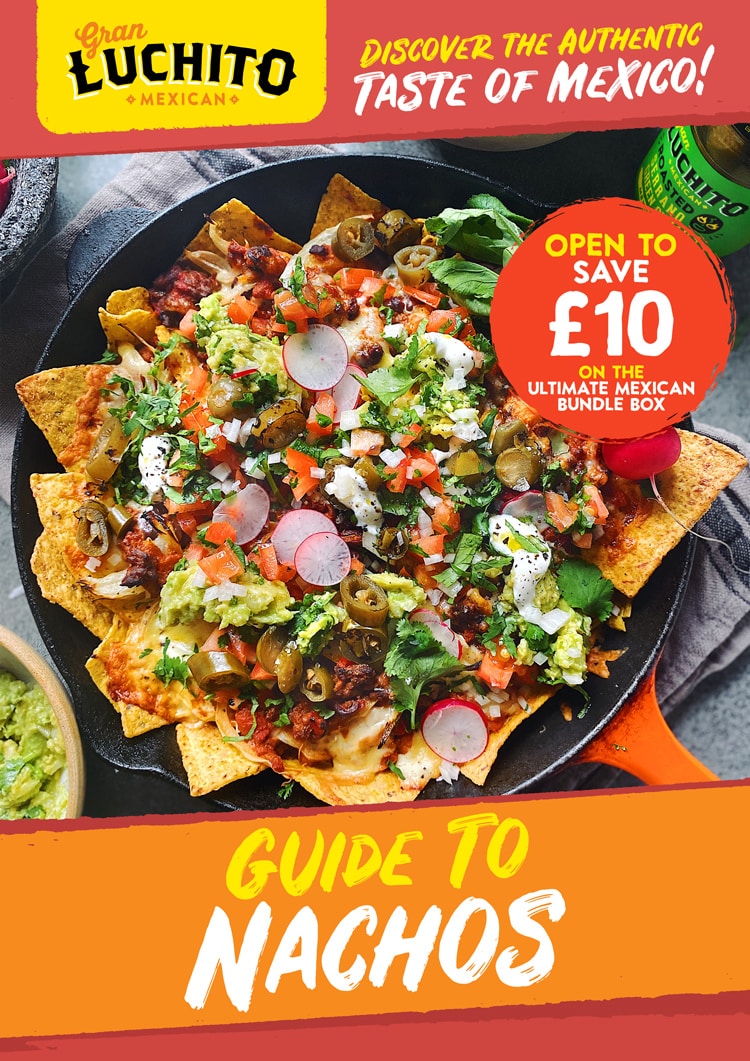 Similar Recipes You Might Like to Try
FAQs
How many calories are in steak nachos?
In our steak nachos recipe there are 198 calories in a 100g portion.
How to eat leftover nachos?
Preheat the oven to 150°C/300F. While it heats up, remove any cold toppings from the nachos. Line a tray with baking paper and spread the tortilla chips out as much as possible on the tray. Place the tray of nachos in the oven and heat until crisp. Put the cold toppings back on top.
What is a nacho?
A tortilla chip topped with melted cheese and often additional savory toppings (such as hot peppers or refried beans). But did you know, nachos are named after their inventor? Ignacio Nacho Anaya created the iconic dish in 1943.
Comments / Questions / Tips

Subscribe now for a free copy of the Gran Luchito e-cookbook filled with delicious, authentic Mexican recipes and join our mailing list for all the latest recipes, news and blog updates.