Slow Cooker Fajitas
We love the convenience of this Slow Cooker Fajitas recipe, where all you need to do is to put all the ingredients into the slow cooker, add our Gran Luchito Red Fajita Simmer Sauce, and let the slow cooker do it's magic.
What you get is beautifully moist chicken, ready to be shredded and mixed in with all the juices, the Red Fajita Simmer Sauce and peppers. A slightly different way to make chicken fajitas that we think you'd love too.
Simply serve these delicious slow cooker chicken fajitas on a pretty platter with all the trimmings on the side, ready for everyone to enjoy making their own tacos.
Prep time

Cook time

Total time

Ideal for

Dinner

Make it

Mexican

Serves

4
Nutrition: Per serving
kcal 113
fat 4.4g
saturates 1.4g
carbs 9.5g
sugars 1.8g
fibre 0.7g
protein 8.4g
salt 0.39g
How to make it
Place the chicken pieces into the slow cooker. Layer them with the peppers and spring onions, add the cumin and olive oil, pour in the

Gran Luchito Red Fajita Simmer Sauce

and add a pinch of salt and freshly ground black pepper. Cover with the slow cooker lid and cook for 6 hours. If you have a pressure cooker mode on your slow cooker then it can be done in 40 minutes.

Once your chicken is done, remove the lid and shred the chicken with the help of two forks. Discard any bones and mix the meat with the peppers and juices.

Warm up the

Gran Luchito Soft Taco Wraps

and keep them warm wrapped in a tea towel.

Place your slow cooked shredded chicken onto a nice platter, then bring to the middle of the table alongside your warm tortillas, avocado, sour cream, limes wedges and coriander. You're now all ready to make your own tacos! 

We also recommend serving them with our Gran Luchito Hot Habanero Mango Salsa or Gran Luchito Tomatillo Salsa, for that last perfect touch.
What To Serve With Slow Cooker Fajitas
These fajitas would be perfect with a side of either of these:
More About Fajitas
Our How To Make Fajitas blog will help you to master everything you need to know about making homemade Fajitas. And our best Fajita Recipes is our collection of tried and tested Fajita recipes with more flavours, protein and veggie options. For further inspiration on side dishes, check out our blog on What To Serve With Fajitas.
Download Our Free Guide To Fajitas
Your free Fajita guide will be emailed to you immediately.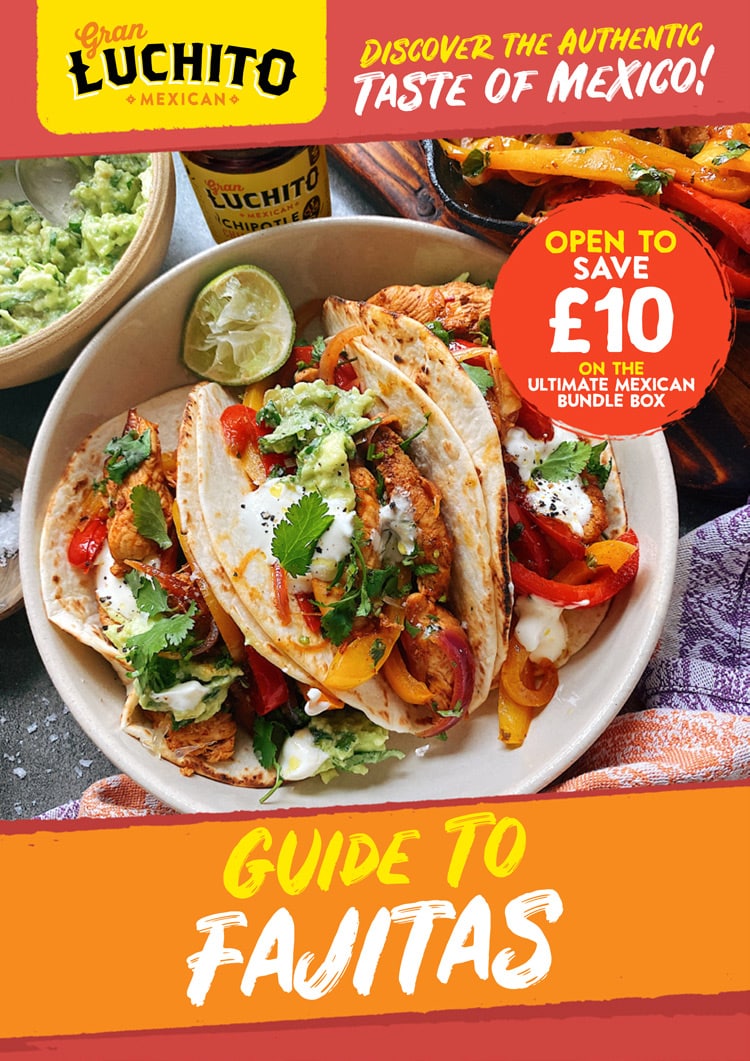 Similar Recipes You Might Like to Try
FAQs
Is the Red Fajita Simmer Sauce spicy?
No, it's on the milder side, so that those of you who don't like things too spicy can enjoy it.
Why does this recipe use a mix of chicken thighs and breasts?
Our chef Susy uses a mix of thighs and breasts, as the thighs have more fat (hence more flavour), and the breasts keep it lean. So a little bit of a mix is best!
Can you put frozen chicken in the slow cooker?
It's not recommended to cook frozen chicken (or any meat) in a slow cooker as it takes a long time for the meat to reach cooking temperature. This increases the chance of bacteria. It's always recommended to defrost meat in the fridge before cooking it in the slow cooker.
Comments / Questions / Tips

Subscribe now for a free copy of the Gran Luchito e-cookbook filled with delicious, authentic Mexican recipes and join our mailing list for all the latest recipes, news and blog updates.