Estimated reading time: 13 minutes
Discover the enchanting Caribbean Coast of Mexico, a renowned beach destination that captivates travellers from around the world. With its pristine beaches, azure waters, and luxurious accommodations, this coastal gem attracts thousands of visitors every month. From Cancun to Tulum, and all the way to Chetumal, explore the resort towns that make this side of Mexico so irresistible. Join us on a journey from the charming village of Puerto Morelos to the all-inclusive haven of Cancun.
Welcome to our Guide to Caribbean Coast Mexico! Let's dive in.
---
Where Is The Riviera Maya
The Riviera Maya is a region located in Southeast Mexico in the state of Quintana Roo stretching from Cancun down to Tulum.

The Riviera Maya became a popular tourist destination due to its interesting history and beautiful 75-mile coastline which features white sand beaches and turquoise waters.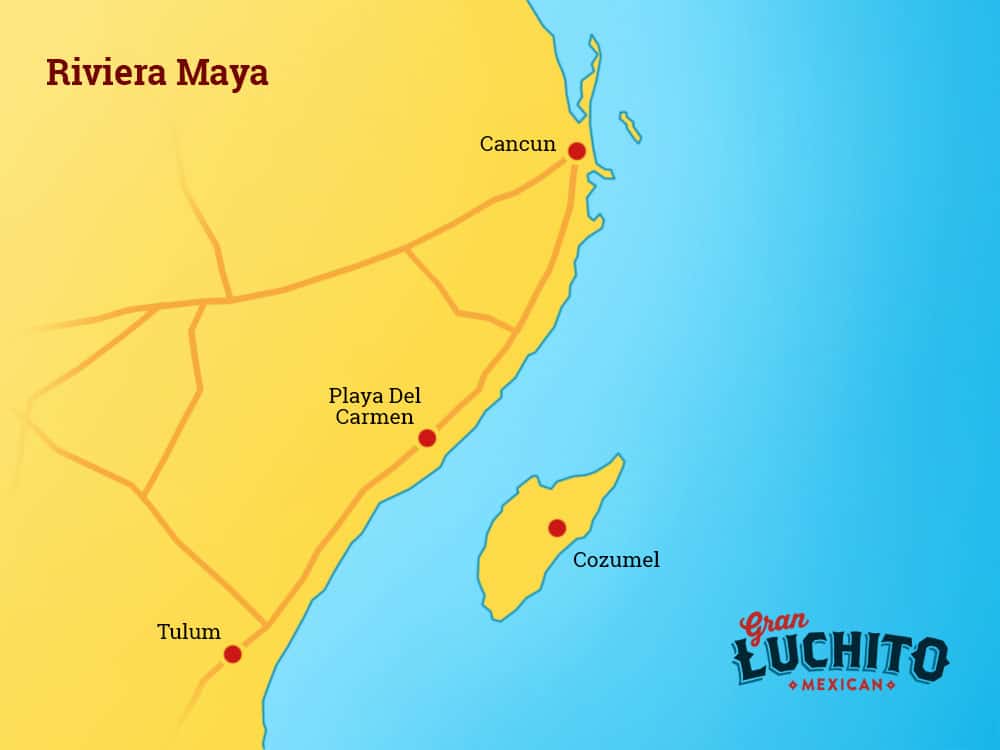 ---
History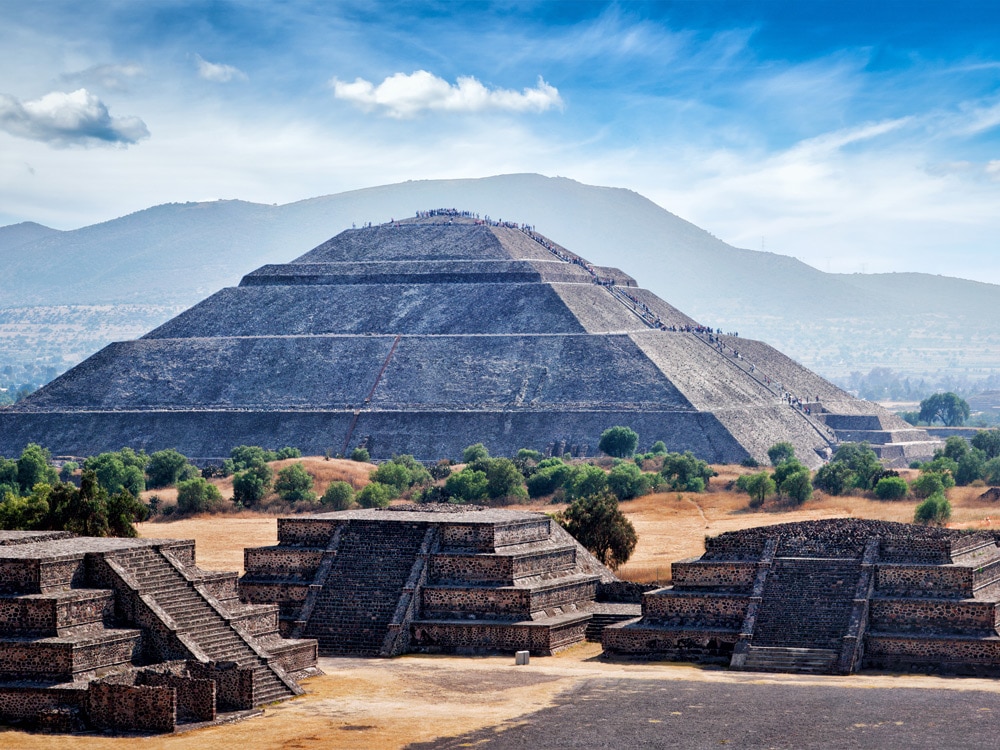 The Riviera Maya, along with Belize, Honduras, Guatemala, and El Salvador, serves as the ancestral homeland of the Mayan Civilization, dating back to 2000 B.C. Around 750 B.C., advanced Mayan societies emerged, constructing majestic pyramids and establishing thriving cities. These innovative civilisations also made significant contributions to agriculture, astronomy, and mathematics, which continue to impact humanity to this day.
Following their impressive reign spanning 18 centuries, the major Mayan cities eventually met abandonment, leaving historians puzzled and sparking numerous conspiracy theories regarding their mysterious disappearance. During the Spanish Colonization in the 15th century, the remnants of the Mayan empire were rediscovered. Among the notable discoveries were the awe-inspiring Chichén Itzá and the captivating Tulum Ruins, drawing visitors from all corners of the globe to this day.
---
Where to visit on the Caribbean coast of Mexico
1.

Cancun
The Riviera Maya, in conjunction with Belize, Honduras, Guatemala, and El Salvador, served as the ancestral homeland of the ancient Mayan Civilization dating back to 2000 B.C. By 750 B.C., sophisticated Mayan societies had emerged, constructing remarkable ancestral cities and monumental pyramids. Their advancements in agriculture, astronomy, and mathematics continue to influence humanity today.
After flourishing for 18 centuries, the major Mayan cities eventually experienced abandonment, sparking numerous intriguing theories among historians regarding their enigmatic disappearance.
In the 15th century, during Spanish colonisation, the remnants of the Mayan empire were rediscovered. Noteworthy finds, including the impressive Chichén Itzá and the captivating Tulum Ruins, continue to enthral visitors from across the globe.
Tacos al pastor is a must-try dish when visiting Cancun in Mexico because it is a delicious and iconic dish that is unique to the region.
---
2. Puerto Morelos
Once just a fishing village, Puerto Morelos hasn't changed much considering the huge developments in the last decade. It's a very laid-back hippie destination, popular due to its nearby coral reef and great snorkelling tours offered by the local fishermen.
The local beach restaurants are also popular for their freshly made fish. Puerto Morelos is also renowned for its nearby "Ruta de los cenotes", a country road lined by spectacular cenotes. These are natural sinkholes scattered all over the Yucatan peninsula and a symbol of this region.
Looking for a delicious and refreshing dish? Try tuna tostadas!
Tuna tostadas are a popular dish in Mexico, and they are especially popular in Puerto Morelos, a coastal town with easy access to fresh seafood.
---
---
Discover The Authentic Taste Of Mexico With The Gran Luchito Mexican Chilli Gift Box
Discover the authentic flavours of Mexico with the Gran Luchito Chili Gift Set. Features our smoky Chipotle Paste made with a blend of chipotle and rare Mexican chillies, spicy and crunchy Salsa Macha and zesty Chipotle Lime Paste.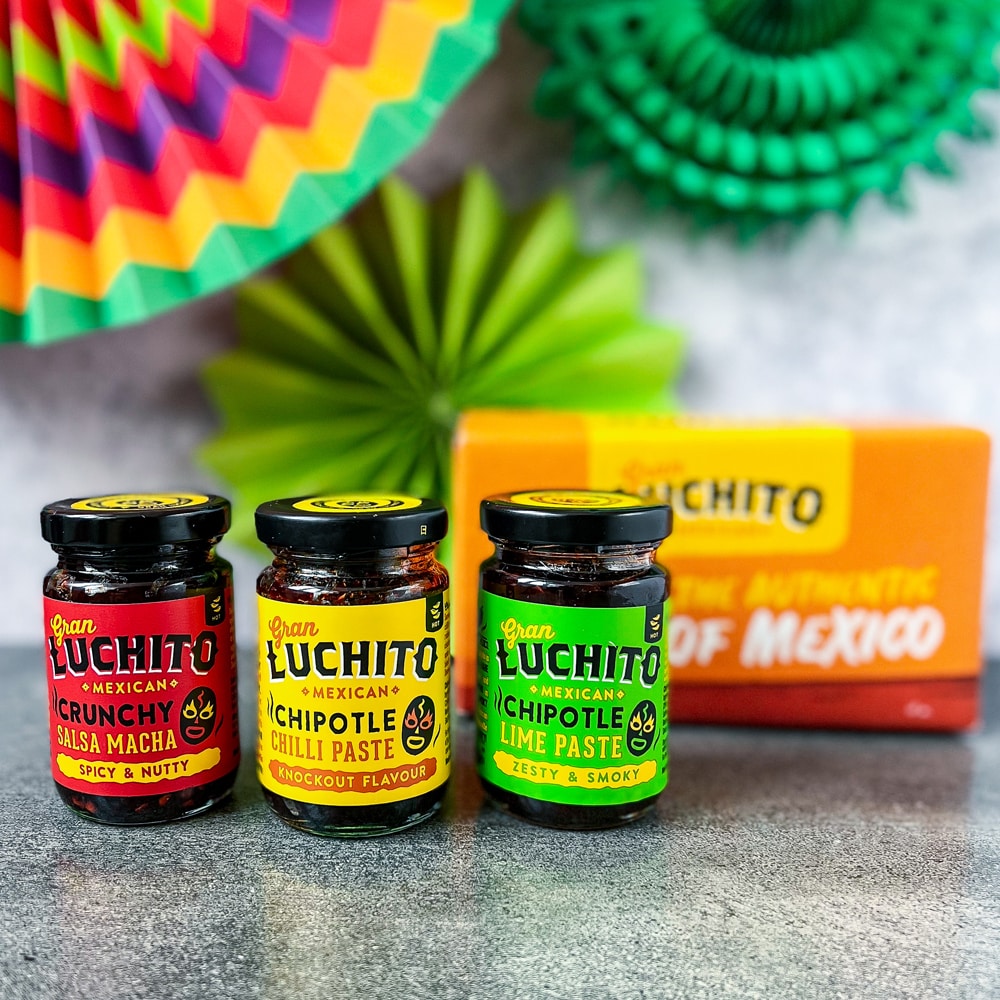 ---
---
3.

Playa del Carmen
Playa del Carmen is a vibrant beach town with something for everyone. It has a beautiful beach with both peaceful spots and lively beach bars. There are accommodation options to suit all budgets, from upscale resorts to apartments, boutique hotels, and hostels. The food scene is diverse, with international dishes, local specialities, street food, and vegan choices. The nightlife is exceptional, with live music on the beach and rooftop bars.
Playa del Carmen is conveniently located in the heart of the Riviera Maya, between Tulum and Cancun. The main street, Quinta Avenida, is lined with vibrant shops selling souvenirs and trendy clothing, along with delightful restaurants. Visitors gather here to stroll, soak up the atmosphere, and enjoy the offerings.
Grilled shrimp is a must-try dish in vibrant Playa del Carmen.
Playa del Carmen is a coastal city with easy access to fresh seafood, and grilled shrimp is a popular dish that showcases the fresh flavours of the region.
---
4.

Akumal
Highlighted in our esteemed Mexican beach guide, Akumal is a serene beach refuge renowned for its enchanting turtles that graciously swim alongside visitors.
This peaceful coastal resort is perfect for those seeking the tranquillity of beach life, away from the lively energy of party towns.
Nestled amidst the captivating Caribbean Sea, Akumal offers a selection of idyllic beach hotels and luxurious villas, providing a dreamlike holiday experience.
Cochinita Pibil is the best food to try when in Akumal, as the slow-roasted pork shoulder is a delicious and hearty dish that pairs perfectly with the laid-back atmosphere of the town.
---
5.

Tulum
Tulum is the ultimate trendy destination, captivating jet-setters, artists, and designers worldwide. Once a humble fishing village, Tulum has blossomed into one of Mexico's most luxurious and sought-after destinations.
The bohemian vibes of the shabby-chic and expensive hotels on the beach, and the trendy restaurants, are the main attractions in Tulum. It also has a spectacular beach. On the mainland side, Tulum is surrounded by archaeological sites and cenotes. There is a lot to discover here, and many things to do.
Tulum is one of our favourite destinations and is perfect for those who seek an alternative to big chain hotels. Tulum's laid-back vibe attracts visitors from all over the world seeking to experience the authenticity of a small coastal city. With Mayan Ruins, a boho-chic beachfront and artsy downtown, there are plenty of Instagram-worthy backdrops to capture.
In our Guide to Tulum, we share our recommendations for the best places to stay, eat and enjoy.
Ceviche is a must-try dish when in Tulum. This refreshing and delicious dish is made with fresh fish or seafood that is cured in citrus juices, such as lime or lemon juice. Ceviche is often seasoned with onions, cilantro, and chilli peppers. It can be served on its own or with tostadas or tortillas.
---
Discover Our Authentic Mexican Recipes
---
6.

Isla Mujeres
Only a 30-minute ferry ride from Cancun, Isla Mujeres is a little Caribbean gem! It has a beautiful beach (Playa Norte) with pristine turquoise water and a marine park where you can snorkel and dive. In the summer you can join a tour to see the majestic whale sharks.
There, you can swim with them while they hunt for food in the Caribbean waters. You can also rent a golf cart and drive around the island, or just bask on the white sandy beach. Don't miss the spectacular sunsets that you wouldn't be able to see from the mainland coast. The island has a cute little town with a very laid-back vibe.
A fajita bowl is a great dish to try when in Isla Mujeres because it is a delicious and filling meal that is made with fresh, local ingredients.
---
7.

Cozumel
Cozumel is a bigger island located right in front of Playa del Carmen. It's where the huge cruises come into, so part of the island around the port is quite touristy. Having said that, if you walk a few steps into town, off along the coast, you will find a very peaceful local Mexican town. Cozumel is also one of the world's top diving destinations. It's located right by the second largest barrier reef in the world, the Mesoamerican Barrier Reef System, also known as the Mayan Reef. It starts in Isla Contoy and continues all the way down to Honduras. If you are a diver, it's something you don't want to miss!
Cozumel is a small island located slightly off the tip of the Yucatan Peninsula near Cancun. Although it is possible to take direct flights to Cozumel from the US, most travellers reach the island by boat or ferry directly from Cancun.
Cozumel is paradise on earth for scuba divers. Its main town, San Miguel, is perfect for foodies and anyone looking for crafty souvenirs to bring home. Its various white sand beaches make it a floating Cancun, but less crowded and more preserved.
Pescado Empanizado is the perfect food to enjoy when in Cozumel because it is a delicious and crispy dish that is made with fresh, local fish.
---
8.

Isla Contoy
Isla Contoy is a hidden island paradise in the Caribbean Sea that was once only accessible to biologists and researchers. However, it has now opened its doors to the public, with strict controls in place to protect the delicate ecosystem.
The island is home to pristine beaches, diverse marine life, and lush vegetation. Visitors can enjoy snorkelling, swimming, bird watching, and hiking.
Isla Contoy is committed to conservation and sustainability, and only a limited number of visitors are allowed each day. This helps to protect the island's natural beauty and biodiversity.
If you're looking for a dish to try while in town, try Chipotle Prawn Tacos. This is the dish to enjoy when in Isla Contoy because it is a delicious and unique dish that is made with fresh, local seafood.
---
Things to do on the Caribbean coast of Mexico
1. Visit Merida
Merida, the capital of Yucatan, is also known as the White City. It is a city full of history and tradition, with colonial architecture influenced by Arabic, Spanish, and local styles. The city is like an open-air museum that tells the story of its turbulent past. Visitors can explore the city's many museums, markets, and historical sites. On Sundays, there is a mesmerising display of local folklore in the main plaza. It is important to be aware of the summer heat, which can be very hot.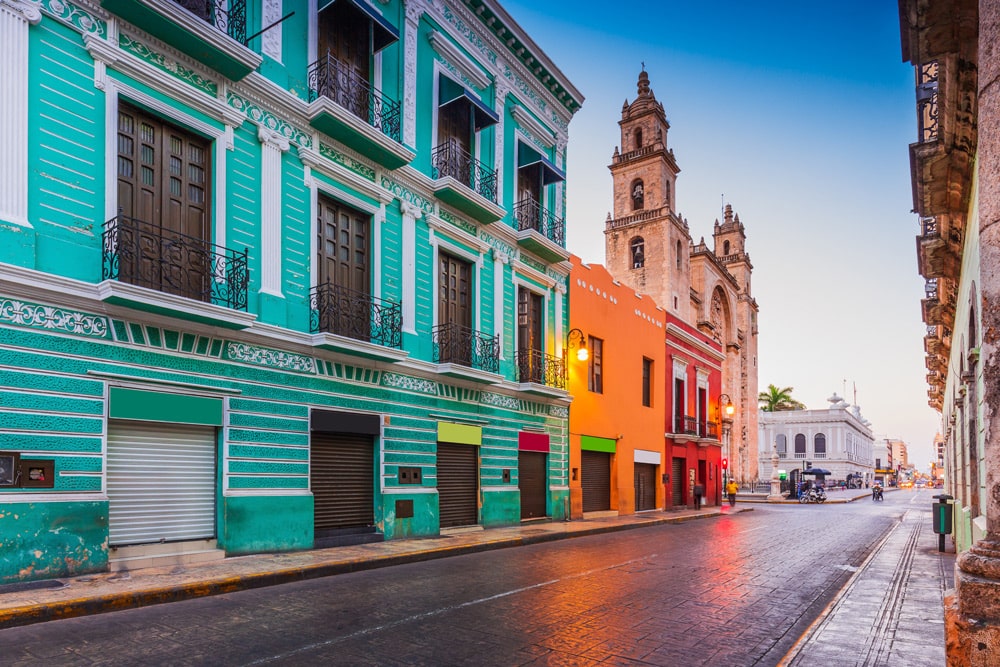 ---
2. Visit the Archaeological Site of Chichén Itzá
Chichén Itzá is one of the 7 wonders of the world and a great representation of the grandeur of the Mayan civilisation. It is therefore high up on the list of things to do in the Yucatán Peninsula. The majority of the tours that take you there include a knowledgeable, certified guide and a few other stops, such as a visit to a spectacular cenote and the colonial town of Valladolid. You can also rent a car and create a DIY itinerary. In this case, we recommend you sleep nearby the site and try to get in the early morning before the crowd. At the entrance, you can easily hire a guide if you wish to know some of the interesting history behind this incredible ancient site.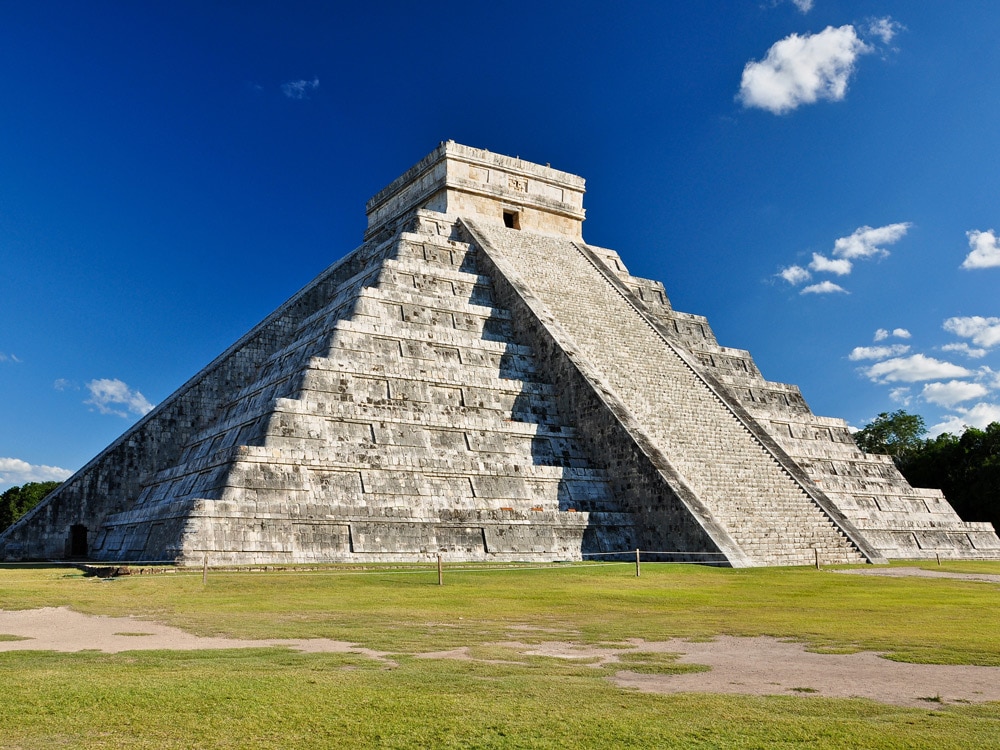 ---
3. Immerse Yourself in Nature Exploring the Biosphere of Calakmul
Right in the middle of the peninsular, in the state of Campeche, the biosphere of Calakmul is one of the largest protected areas in Mexico. In addition to the archaeological site, this area is home to incredible biodiversity including many bird species and jaguars.
The closest town of Xpujil is also surrounded by other minor archaeological sites, also interesting to explore, and local communities that offer tours around their villages to show you their beautiful products, from spectacular wooden objects to handmade jewellery, textiles and other handicrafts.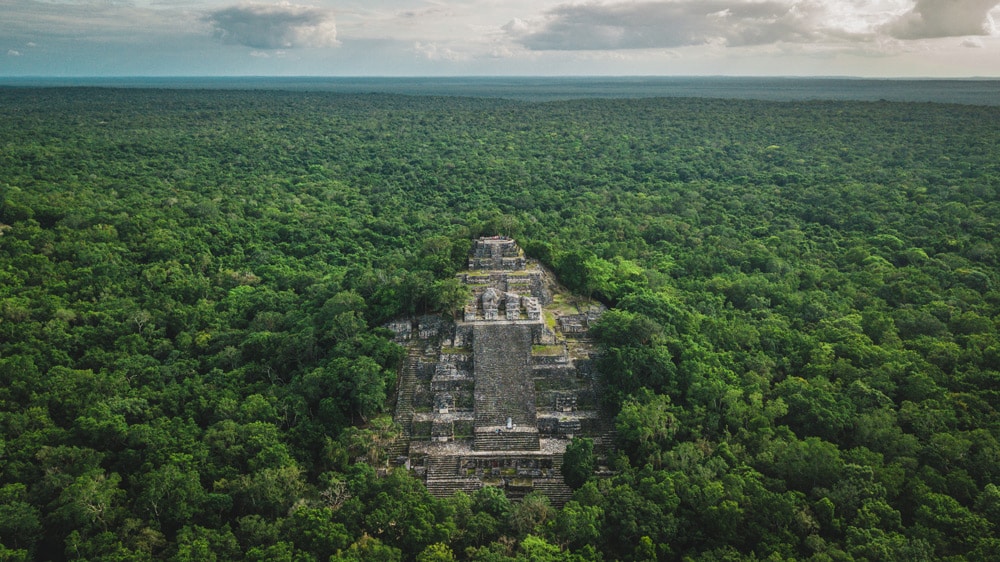 ---
4. Bike Around Cozumel
Situated only a 30-minute ferry ride from Playa del Carmen, Cozumel is considered the mecca for scuba divers but also an interesting place to visit for nature and outdoor lovers as well. Lots of snorkelling is also available and for sports fans, you can bike around the island to enjoy its spectacular landscapes, especially when you reach the east coast.
---
5. Go Scuba Diving
Scuba diving is a big thing here. Many operators offer great daily dive trips to see the rich marine life including sharks, turtles, manta rays and much more. From November to March, get up close and personal with majestic bull sharks as they arrive in Playa del Carmen for the breeding season. Cave diving in cenotes is another exciting must-do diving experience here, as well as checking out the MUSA, located next to Cancun, an underwater contemporary museum of art consisting of over 500 permanent life-size sculptures from English artist Jason deCaires Taylor.
---
That's it for our Guide to Caribbean Coast Mexico! Have you visited any of these locations? We'd love to hear any travel tips or advice you may have on them. If you do end up going, don't forget to tag us with #granluchito.
Check out our other blogs in the Caribbean Coast region: