The Caribbean Coast of Mexico is one of the most renowned beach destinations in the world, and certainly the most popular in the country. The coastline attracts thousands of visitors every month, who come to enjoy its pristine beaches and turquoise waters, as well as getting pampered in the most glamorous hotels. The coastline goes from Cancun to Tulum, and all the way south to Chetumal. It also includes the Islands of Cozumel, Isla Mujeres and Contoy. In this Guide to Caribbean Coast Mexico, we will explore all of the resort towns that make this side of Mexico so appealing. From the small fishing town of Puerto Morelos, to the all-inclusive mecca of Cancun. Here we go!
Cancun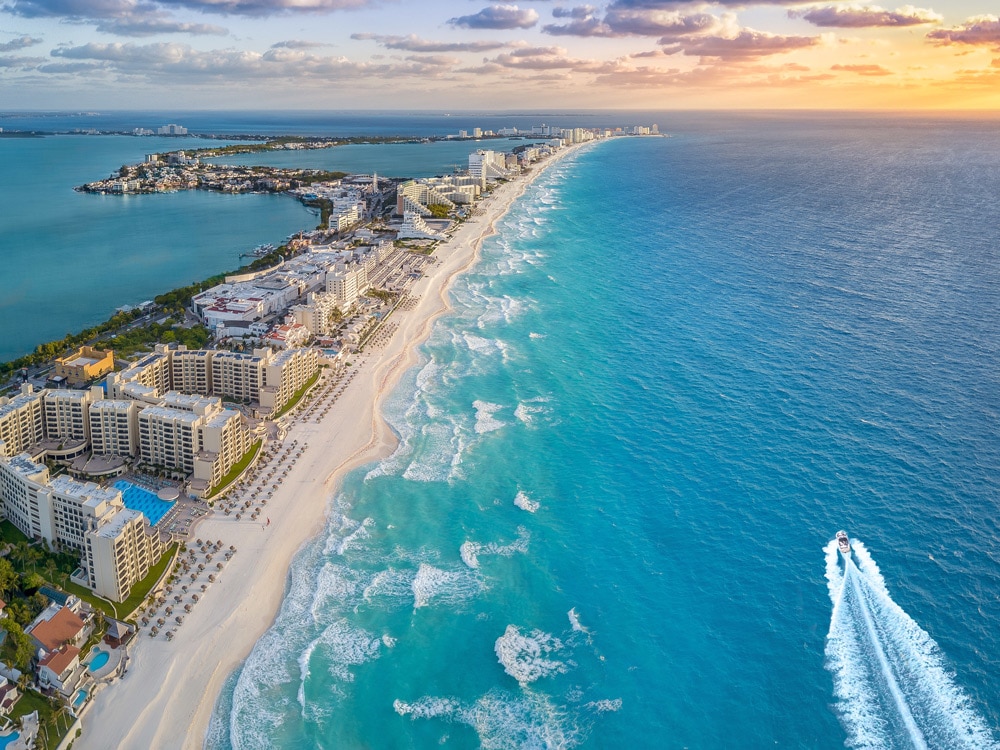 32 kilometres of soft white sand, lined by spectacular hotels, Cancun has always been considered the top destination for spring breakers and all-inclusive tourism. Due to the availability of large meeting rooms and spacious hotel bedrooms, it has also become a popular destination for business meetings and trips. The nightlife is also busy which undoubtedly makes the location more attractive. Being close to Cancun International Airport is also a bonus, as you can dip your feet into the turquoise Caribbean water 30 minutes after you land!
Puerto Morelos
Once just a fishing village, Puerto Morelos hasn't changed much considering the huge developments in the last decade. It's a very laid back hippie destination, popular due to it's nearby coral reef and great snorkelling tours offered by the local fishermen. The local beach restaurants are also popular for their freshly made fish. Puerto Morelos is also renowned for it's nearby "Ruta de los cenotes", a country road lined by spectacular cenotes. These are natural sinkholes scattered all over the Yucatan peninsula and a symbol of this region. 
Playa del Carmen
Mostly known as a party town, Playa del Carmen is the perfect destination for everyone. Its endless beach offers both quiet areas as well as beach bars with non-stop music. Accommodation ranges from high-end resorts, apartments, mid-range boutique hotels and hostels. Food lovers will find a variety of restaurants for all tastes, from international cuisine to local Mexican specialities, street food, and vegan options. Nightlife is also topnotch, with live music on the beach, rooftop bars, and the famous Cocobongo for spectacular shows.
Akumal
Akumal is a quiet beach resort that became popular for it's turtles that will spontaneously swim with you. It's a suitable destination for those who love the tranquillity of beach life, far from the hustle and bustle of the party towns.  A couple of beach hotels or luxurious villas offer dreamlike holidays in the heart of the Caribbean sea.
Tulum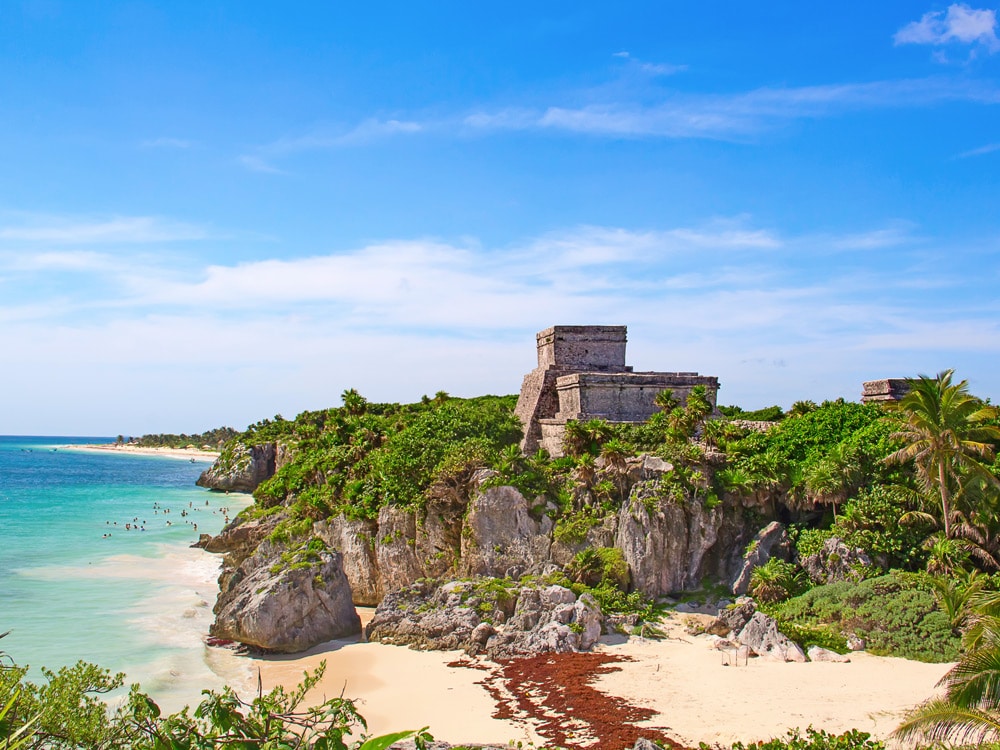 This is the trendiest destination of them all. Tulum has been attracting jet-setters, artists, and designers from all over the world, not only to enjoy a holiday but to settle and find inspiration. It was a small fishing village about 30 years ago, and is now one of the most expensive destinations in Mexico. The bohemian vibes of the shabby-chic and expensive hotels on the beach, and the trendy restaurants, are the main attractions in Tulum. It also has a spectacular beach. On the mainland side, Tulum is surrounded by archaeological sites and cenotes. There is a lot to discover here, and many things to do. 
Isla Mujeres
Only a 30 minute ferry ride from Cancun, Isla Mujeres is a little Caribbean gem! It has a beautiful beach (Playa Norte) with pristine turquoise water, and a marine park where you can snorkel and dive. In the summer you can join a tour to see the majestic whale sharks. There, you can swim with them while they hunt for food in the Caribbean waters. You can also rent a golf cart and drive around the island, or just bask on the white sandy beach. Don't miss the spectacular sunsets that you wouldn't be able to see from the mainland coast. The island has a cute little town with a very laid-back vibe.
Cozumel
Cozumel is a bigger island located right in front of Playa del Carmen. It's where the huge cruises come into, so part of the island around the port is quite touristy. Having said that, if you walk a few steps into town, off along the coast, you will find a very peaceful local Mexican town. Cozumel is also one of the world's top diving destinations. It's located right by the second largest barrier reef in the world, the Mesoamerican Barrier Reef System, also known as the Mayan Reef. It starts in Isla Contoy and continues all the way down to Honduras. If you are a diver, it's something you don't want to miss!
Isla Contoy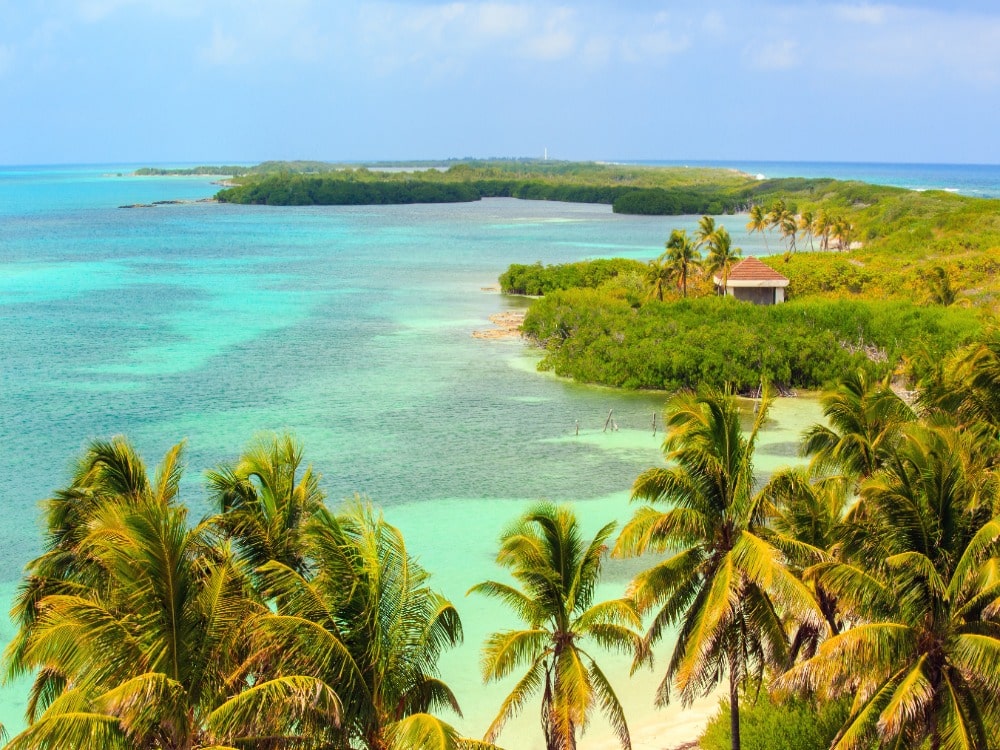 Isla Contoy was previously an off-limits island. It was a protected marine park only accessible to biologists, researchers and occasional limited visitors. It has now been opened to the public, although very controlled, and made sure that the human presence doesn't affect the delicate eco-system.
That's it for our Guide to Caribbean Coast Mexico! Have you visited any of these locations? We'd love to hear any travel tips or advice you may have on them. If you do end up going, don't forget to tag us with #granluchito.
Check out our other blogs in the Caribbean Coast region: Things to do in the Yucatán, Guide to Riviera Maya Mexico, Things to do in the Riviera Maya, Guide to Cancun, Things to do in Cancun, Where to Stay in Cancun, Cancun Restaurants, Guide to Tulum, Where to Stay in Tulum, Tulum Restaurants, Where to Stay Playa Del Carmen