We've been lucky enough to travel all over Mexico, and Tulum is definitely at the very top of our list of favourite beach destinations. Known for being a luxurious paradise filled with hipsters, this magical town has something for everyone and all budgets. Our guide to Tulum will give you an overview of what to do and where to find the best accommodations, food, nightlife, and beaches in Tulum.
Where is Tulum?
Though pretty close to Cancun (its about 1.5 hours drive south of Cancun Airport) – Tulum could not be more different than its northern neighbour. Chilled and friendly, people from all over the world flock to Tulum for a holiday like no other.
The first thing you need to know about Tulum is that the town and the beach are about 5km from each other. Both are worth visiting but you need to decide at which one you wish to stay.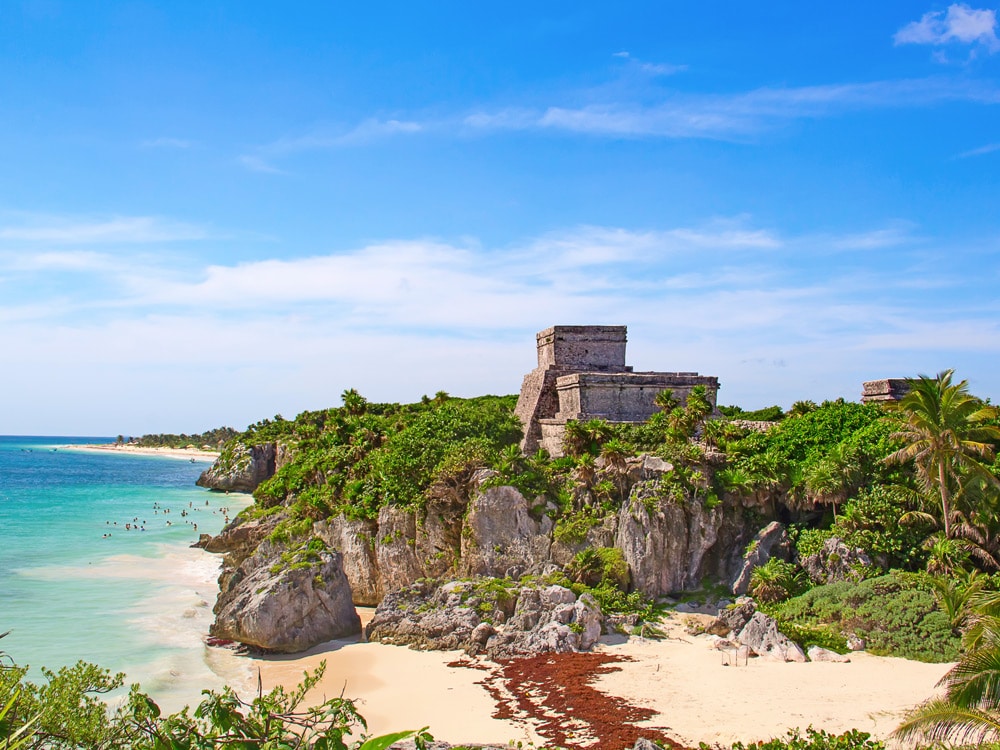 ---
Things To Do In Tulum
Sail in the Spectacular Lagoon of Bacalar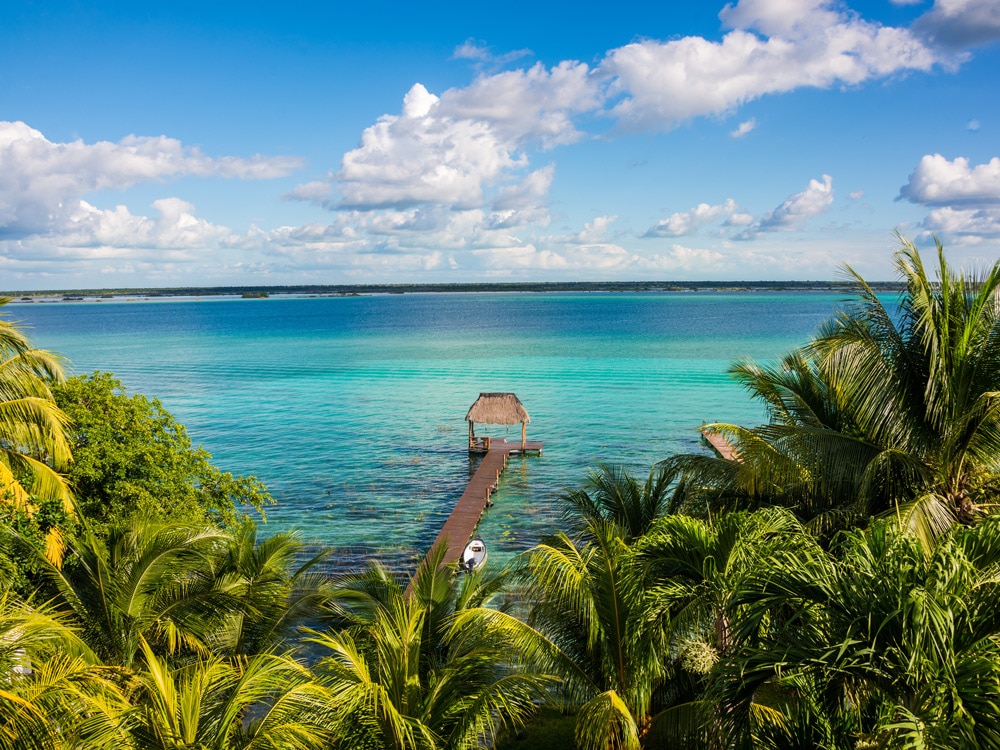 About 2.5 hrs drive south of Tulum, this lagoon, also known as the Lagoon of the 7 Colours due to the water's mesmerising shades of blue. Bacalar lagoon will leave you speechless with its beauty. The small town is also a quaint hub with lots of cute restaurants and nice little hotels. The best way to visit Bacalar is to join a sailing tour – an eco-friendly and relaxing option.
For a treat, we suggest you should stay at the iconic Akalki which is one of the few real eco-lodges and has been there for ages. The hotel is located just outside Bacalar and it's the perfect place to rest and rejuvenate especially if you stay in one of the overwater bungalows.
Go Swimming In A Cenote
The Yucatán peninsula is also popular for something like 3000 cenotes scattered around the region. The cenotes are natural sinkholes that were used in the Mayan civilization as spiritual and religious centres.
Now they attract millions of visitors from all over the world who enjoy their refreshing water, divers who practice cave diving and explore their mysterious underwater world and photographers chasing a perfect shot of such photogenic wonders.
---
Discover The Authentic Taste Of Mexico With The Gran Luchito Mexican Chilli Gift Box
Discover the authentic flavours of Mexico with the Gran Luchito Chili Gift Set. Features our smoky Chipotle Paste made with a blend of chipotle and rare Mexican chillies, spicy and crunchy Salsa Macha and zesty Chipotle Lime Paste.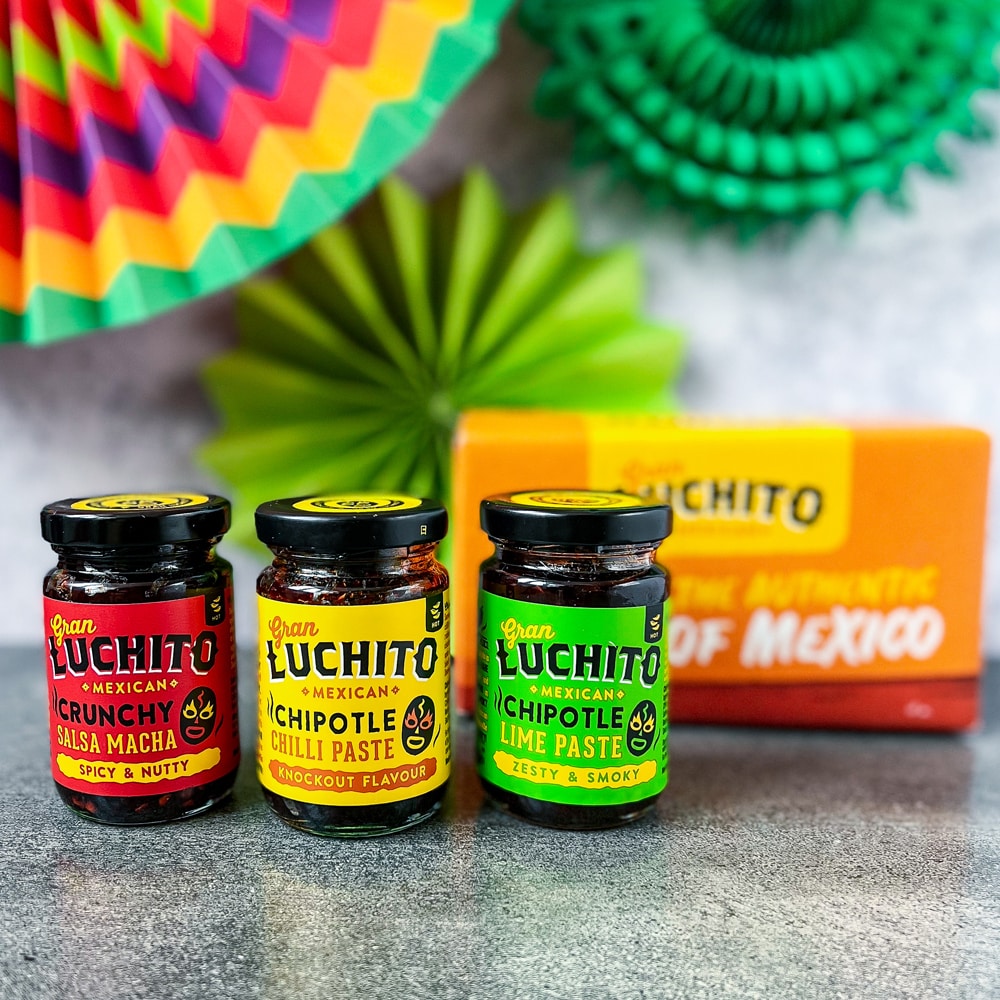 ---
Visit an adventure park in the jungle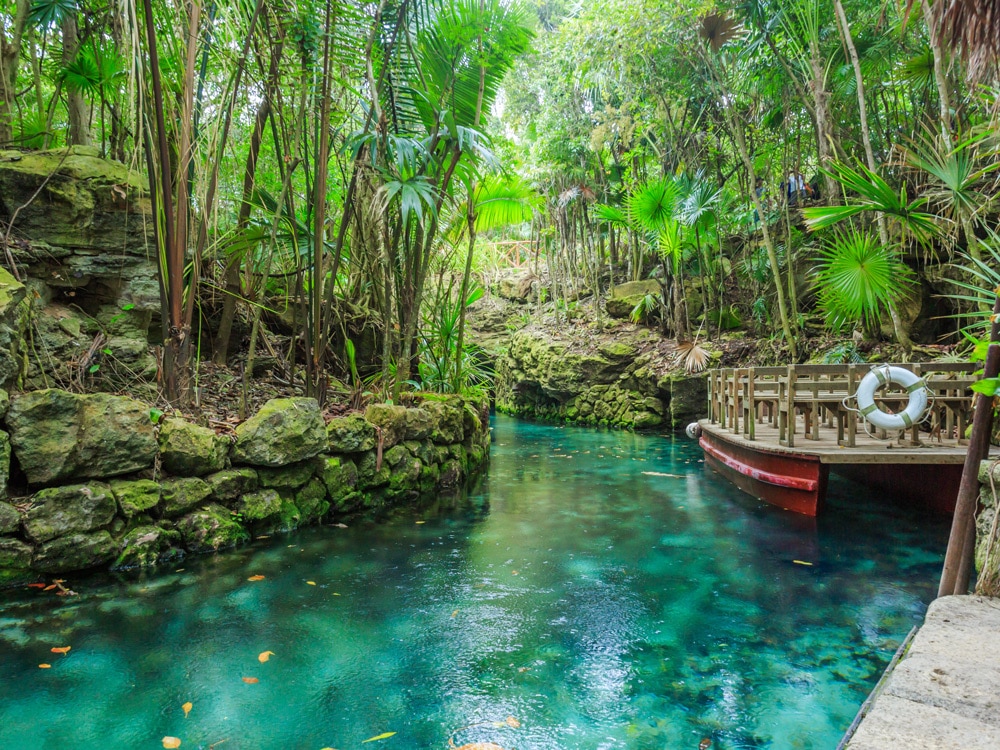 The adventure parks of the Riviera Maya combine natural open spaces and human-made water parks. Usually built in between the sea and the jungle, you can dive and snorkel at on-site cenotes, caverns, and subterranean rivers inside the parks.
For the more adventurous you'll find diving with dolphins, zip-lining, hiking, and rafting. The most popular water parks alongside the Riviera Maya are Xcaret, Xplor, Xel-Ha, and Xenses.
---
Where To Stay In Tulum
The most important choice you have to make when choosing where to stay in Tulum is whether you want to be on the beach or in Tulum town. Tulum town and the beach are about 5km apart and offer quite different experiences. The hotels in Tulum town are typically more authentic Mexican whilst the beach caters more for international travellers. If you're not sure where to stay and if you have the time we would recommend that you split your visit one quarter Tulum town and three quarters Tulum Beach. On shorter trips head straight to the beach.
Zazil Kin – Tulum Beach
The Hotel and Cabañas Zazil Kin is a budget-friendly option that offers the comfort of nice bungalows just a few feet away from the beach. Yes, Zazil Kin has its own private beachfront which is very hard to find without a big budget.
Furthermore, it offers a restaurant in Tulum and other activities such as snorkelling, diving, and windsurfing at affordable prices.
---
Hotel Tiki Tiki Tulum – Tulum Town
Hotel Tiki Tiki Tulum is set in the jungle and with minimalist design is perfect for those who like to travel in style. This boutique hotel offers everything you need for a comfortable and authentic stay in Tulum.
---
Azulik Tulum – Tulum Beach
Azulik Tulum is definitely one of the most dreamy places to stay in Tulum. While it is an eco-friendly accommodation, the villas are certainly luxurious and boho-chic.
Casa Malca
At the far (and quiet) end of Tulum beach, the Casa Malca is a worthy entrant in our list of the best hotels in Mexico. Rumoured to be the former hideout of Colombian Drug lord Pablo Escobar, the beachfront restaurant serves excellent Tacos and possibly the best margarita we've had in Mexico. Therefore it's a must-do!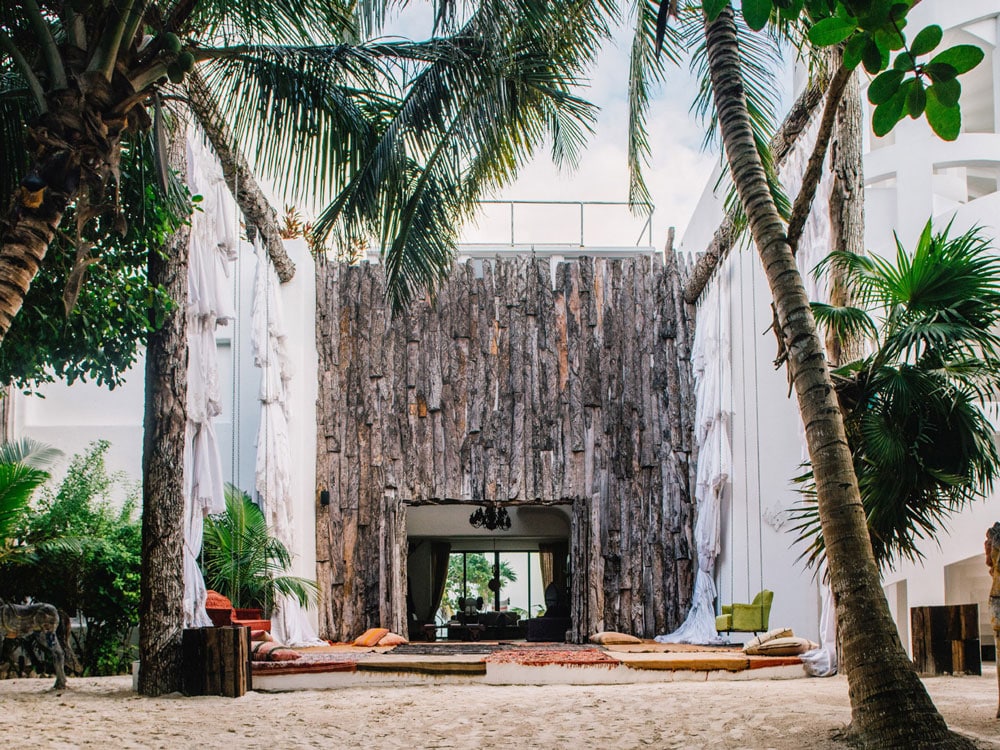 ---
Where To Eat In Tulum
Whether you're staying in town or on the beach Tulum has some fantastic restaurants. As a rough rule of thumb, In town, Tulum restaurants tend to be more authentically Mexican and a little cheaper whilst restaurants on Tulum beach are definitely more expensive and tend to offer more 'international food'.
Sabor de Mar – $ – Tulum Town
This small restaurant is definitely the best place to eat seafood in Tulum at an affordable price. Some of its delicacies, such as their famous torres and fish tacos, will make you want to go back every day! Just keep in mind that it is usually busy due to its small size.
---
Hartwood Tulm – $$$ – Tulum Beach

Probably the most famous of Tulum restaurants, book ahead or be prepared to queue.. On the beach (about halfway down the strip) Hartwood specialises in cooking on fire..
---
NU Tulum – $$$ – Tulum Beach
Led by Chef César Castañeda, alongside 6 talented chefs, NU Tulum demonstrates a devotion to the origin, culture, and coexistence of Pre-hispanic and the Colonial eras. What you experience is a set of dishes that have entirely their own style.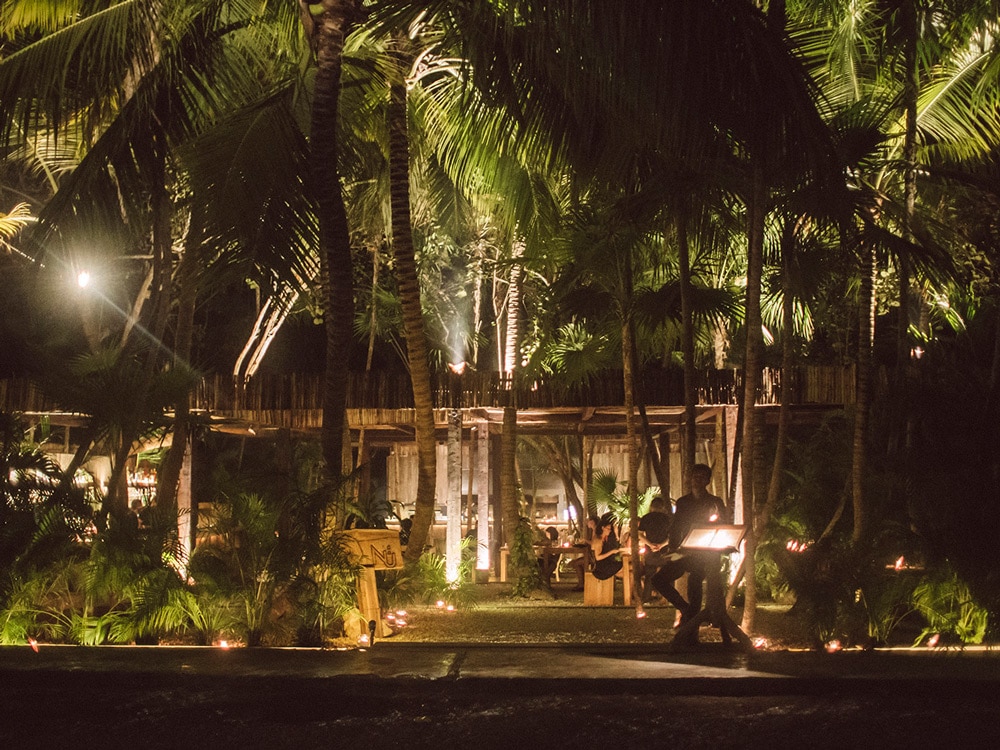 ---
Zine Food & Films – $$ – Tulum Town
Zine Food & Films is an independent movie theatre in the middle of the jungle. Combined with a cinema, you can get late night drinks and dine there. With a variety of food options, it's a great choice for vegetarian, vegan and/or gluten-free travellers.
---
Discover Our Authentic Mexican Recipes
---
What Are The Beaches Like In Tulum?
Tulum is known for its white sandy beaches and turquoise water and certainly made the list of Best Beaches in Mexico. Check out our picks for the best beaches in Tulum.
Playa Paraíso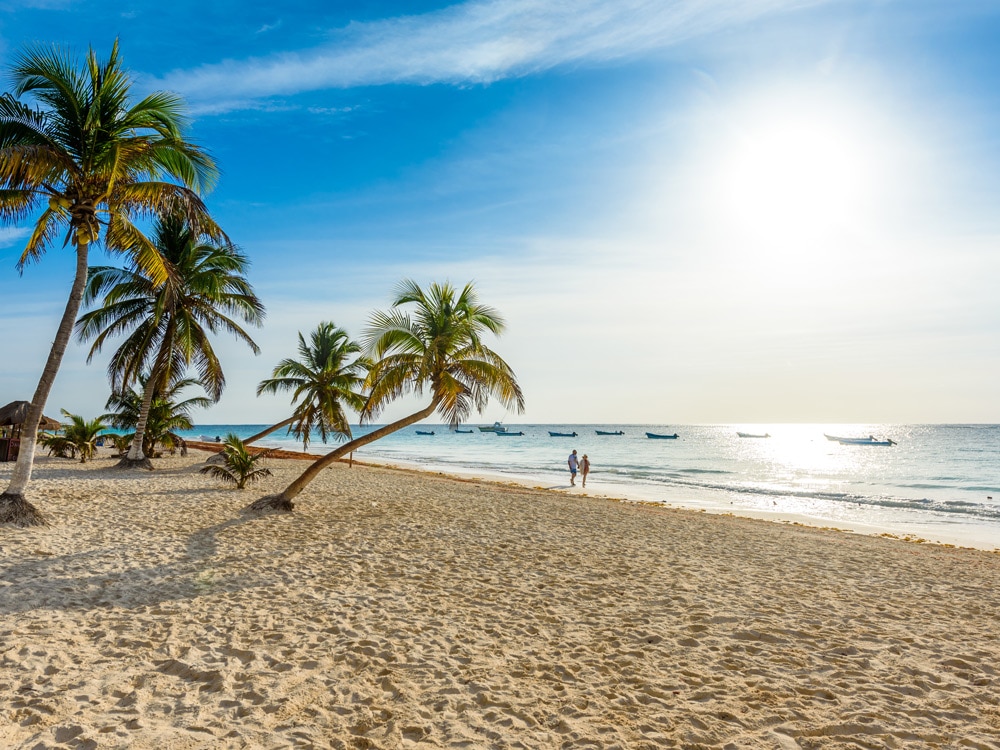 Also known as Paradise Beach in English, this magical setting is probably one of the most popular destinations amongst Tulum's visitors. It has a fabulous stretch of white sand surrounded by palm trees, clear waters, and a few cliffs. Perfect for sunbathing, finding a beautiful beachfront restaurant, and having sunset walks.
Las Palmas Beach
A bit more secluded than Playa Paraíso, Las Palmas Beach benefits from fewer tourists, fewer beach vendors, and more virgin beach territory to explore.
Secret Beach (at Sian Ka'an Reserve)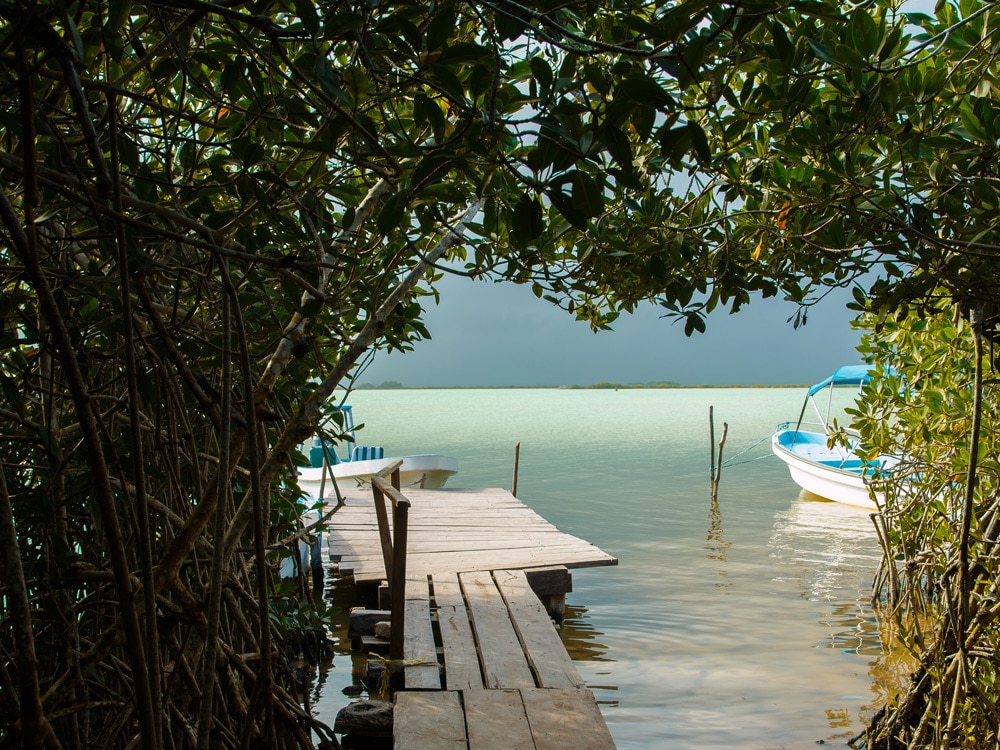 Secret Beach lives up to its name without a doubt. It is certainly off the beaten path and far away from the tourist crowds.
Whats The Nightlife Like In Tulum?
Papaya Playa Project
This beachfront club is a world-class music hub that has hosted many well-known DJ's from the underground electronic music scene. In addition, it is usually venue for the various Tulum's music festivals that happen all-year-round.
PPP, Km 4.5 Carretera Tulum-Boca Paila, Tulum, Quintana Roo 77780, Mexico
+52 1 984 871 1160
Best for underground music lovers
Todos Santos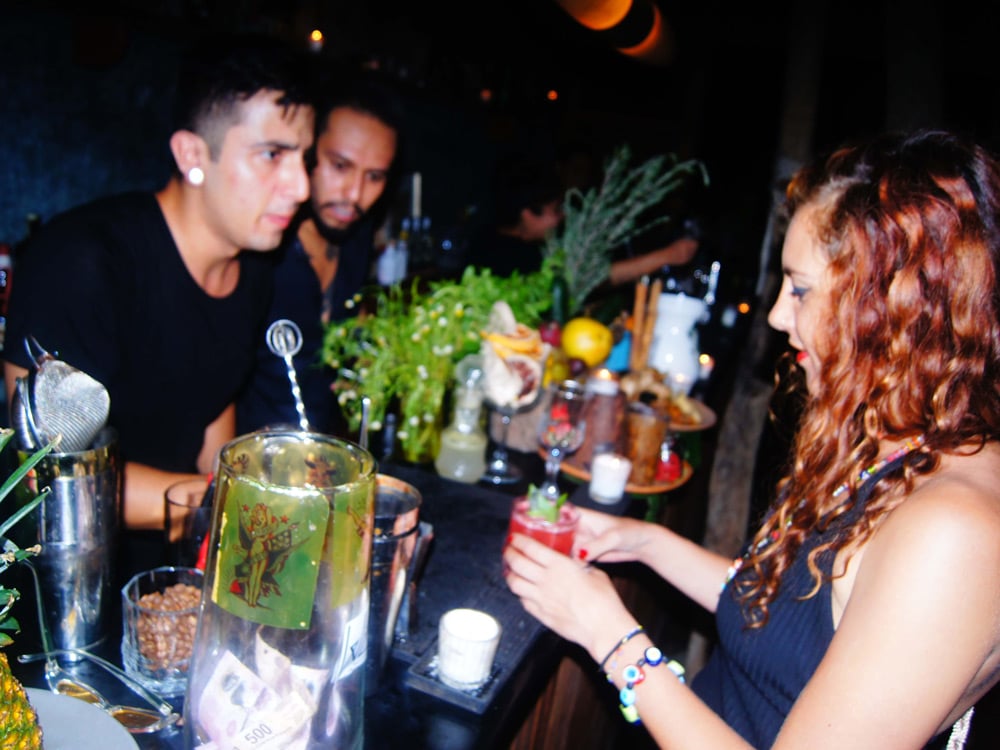 Todos Santos is a bar that honours its namesake town in Baja California. Likewise, this bar in the heart of Tulum also pays homage to the laid-back and relaxed ambiance that rules in Baja and in the Tulum area. Best for: Casual weekday and weekend bar reunions
Todos Santos, Av. Tulum, Quintana Roo, Mexico
+52 984 211 0760
Pasito Tun Tun
Finally on our list is Pasito Tun Tun which is a local favourite because of its extensive mezcal and beers offering. Its bohemian decor makes it one of the best places to chill with friends while you stay in Tulum. Best for Craft mezcal tasting, casual evenings with friends, and snacks.
Pasito Tun Tun, Calle Centauro Sur 249, Tulum, Q.R., Mexico
+52 984 688 8550
In conclusion, that's our roundup of the best hotels, restaurants, beaches and nightlife for any budget. We hope you've enjoyed it and would love to see your travel pics and recommendations. Don't forget to tag us with #granluchito.